Reviewing the best Color Inkjet Printers for under $700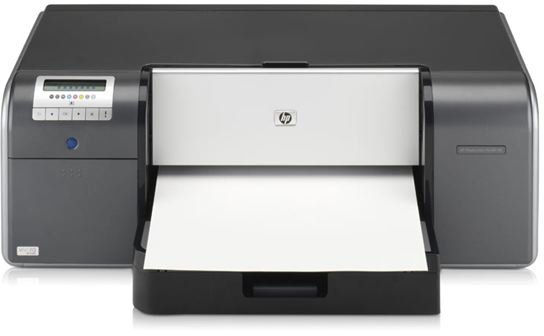 Best Photo Printers Under $700
Not sure what about choosing the right printer for you. Read »> Buying the right printer
Below is a list of the best Photo Printers you can buy for under $700. All offer highly impressive print quality (dare we say Photo Lab quality?), outstanding flexibility and control of print media, image editing and advanced features.
HP Photosmart Pro B9180
Price at time of review - $650 (4 out of 5)
The Good
Great looking printer, only creates a medium size footprint and delivers consistent results.
Professional pigment-ink photo quality, can easily deliver re-sellable prints.
Crystal clear image projection onto a wide variety of output media. Photo quality lasts.
Exceptional 8 color ink palette and color management, providing gallery level vibrancy, brightness and contrast.
Outstanding print speeds for such a high quality color inkjet printer.
High capacity ink cartridges are long lasting and practical to assemble. Making the unit cost effective.
Control panel is intuitive, with a great depth of service and configuration in one easy to navigate menu system.
The HP Color Centre tool is highly informative to help get the most from the printer.
The Bad
Some drop off in quality with 'no name' brands of media. Thus, considering the price of the printer and quality it 'can' deliver, it is recommended you buy HP consumables.
Running costs can be high, especially if running constant or heavy duty print jobs.
Paper handling can be 'clunky'; care needs to be taken when positioning trays and feeders.
Requires some level of manual calibration.
Canon Pixma Pro 9500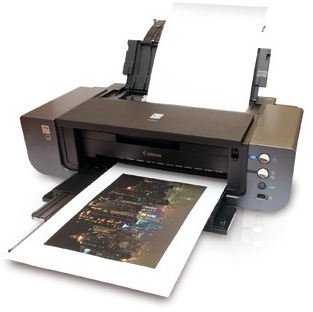 Price at time of review - $650 (4 out of 5)
The Good 
Solid design, pleasing on the eye, with a reasonably small footprint for such a high spec printer.
Robust and highly reliable. A real workhorse printer.
Professional photo quality for super fine, gallery quality printing.
An almost photo lab quality printer, best in class for pure B/W photo printing.
Outstanding color to on-screen matches. Vivid with perfect contrast and brightness.
Cartridges are reasonably priced for such a high spec printer.
Bets in class for large format print quality, and has extensive capabilities for a whole range of other media types.
Delivers great results with all major printer paper types, especially fine etching paper.
The Bad
Doesn't provide truly photo lab quality with glossy paper, but the difference is very slight.
Deepest shades can appear matted, making gloss-optimized inks a must for the expert photo enthusiast.
Not for the novice user, setting up paper and color configuration is complicated for optimum/professional output.
Slow to print in comparison to HP Photosmart B9810.
Epson Stylus R2400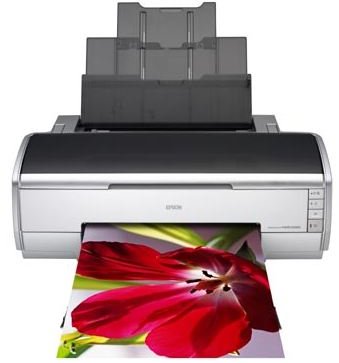 Price at time of review - $600 (4 out of 5)
The Good
Outstanding design, a great little compact unit for such a quality printer. Small footprint, minimal eye-sore.
UltraChrome K3 inks produce stunning color and even more outstanding B/W.
Resilient print output (Epson say it's fade resistant for 200 years but is anyone going to test that in a lifetime!)
Excellent paper handling and paper paths provide superb results - matte, glossy, canvas, roll, posterboard, etc.
The Bad
Cartridges are reasonably priced but don't have the longest lifespan once installed, i.e. can clog up if unused for a duration of time. As such not the most economical with ink usage.
Configuration and profiling could be more intuitive, troubleshooting guides not up to much.
Paper feed requires care when using non-standard media, although I've not heard of, nor come across problems with wasted ink or media.
The printer is not the quietest of those reviewed here, but for such a small and robust workhorse unit this is a marginal issue.
HP 2800DT Business Inkjet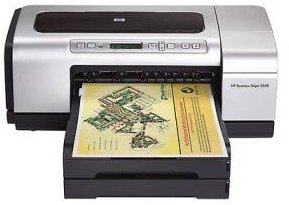 Price at time of review - $550 (4 out of 5)
The Good
Professional, slick design chassis - a superb compact printer, minimal footprint, optimum performance.
Print speeds are best in class for speed to quality comparisons. 18ppm color, 21ppm b/w, which isn't far off the manufacturers stated 24ppm color and 21ppm b/w.
Print quality of documents and presentation material is best in class, making this a sure winner for home office/small business users.
Exceptional print management and job scheduling, with a great bundle of software which helps deliver plug and play operability.
Does not require the hands on expertise of the other photo quality printers in this range.
All in all a superior business inkjet.
The Bad 
Not the ultra smooth professional delivery of the Epson R2400 or Canon Pixma Pro 9500.
Photographic quality is ever so slightly grainier than those mentioned above, (it is marginal but to the professional eye, it is noticeable).
Duplex printing is slow when producing color copy, i.e. brochures, leaflets. As is wide format printing.
Xerox Phaser 8560N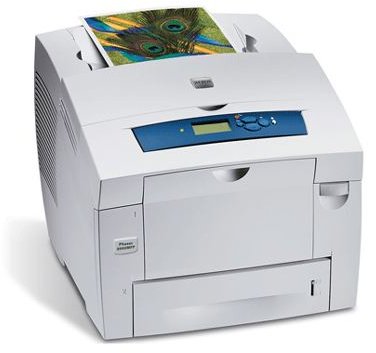 Price at time of review - $500 (3 out of 5)
The Good
Excellent design build, clean lines, professional look and feel but a large footprint.
Best in class for speed and resilience. Can withstand considerable use without the need for manual intervention or re-calibration. The Xerox Phaser range can churn out quality copy all day.
Outstanding input and output tray capacity, feeder for all types of media works a charm.
Duplex printing is impressively quick and of an excellent quality.
Crisp text based printing, professional b/w quality and vivid color printing.
Cost per page is around the cheapest in all the color inkjet ranges.
Replacing individual inks is simple and cost effective.
The Bad
Xerox heat sensitive ink technology is not on a par with the Epson UltraKrome K3 inks.
Bulky printer, has the look and feel of a LaserJet. Needs to be viewed in person prior to purchase. Check dimensions before buying for the home or small office.
Ink distribution is not quite as sharp as the Canon or HP models reviewed above. Thus color photos are not photo lab quality.
A noisy printer, even in standby mode. Which you want to use to conserve ink.
… and a special mention to…
Epson Stylus Photo R800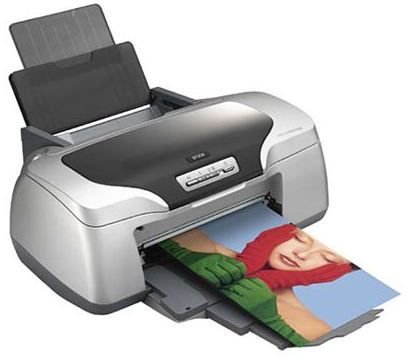 Price at time of review - $350 (5 out of 5)
This printer is not in the top 5 photo printers, but for the price, and certainly for the intermediate photo enthusiast who thinks $500+ is a little too much to spend, this is the one for you…
The Good
Solid design will stand considerable bumps and bruises.
Excellent A4 Printer for the photo enthusiast. Great plug-in and go printer.
Best in class picture quality, outstanding with watercolors. Superior to most printers even those in the higher price bracket.
General print quality is very sharp and lasts, with no considerable fade or smear.
Consumables and replacement costs are reasonable, in proportion to the cost of the printer.
The Bad
Output is not as vivid in color or bright as the Epson dye-based ink printers.
The Configuration/control panel could be more intuitive.
But for half the price of those above it is a great buy, if not quite producing photo lab standard prints.
 Looking for a quality Color Inkjet Printer on a budget. Review of Best Photo Printers (under $150)