Change Windows Vista Power Settings to Boost PC Performance and Windows Stability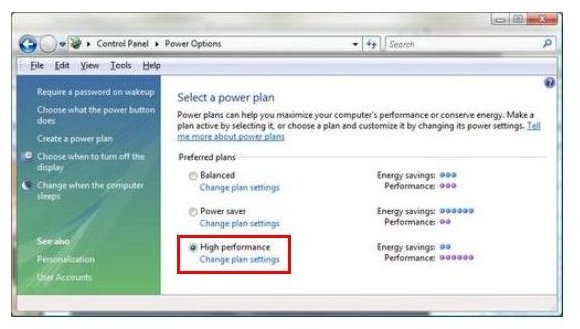 Tip #17: Turn off Windows Hibernation
Windows Vista's hibernation service typically runs in the background, and tends to use up quite a large amount of your system resources. It is automatically enabled on a laptop computer. If you do not use it on a regular basis, you can disable it to boost your Vista system's performance. Here's how to disable the Hibernate feature: :
Click on the Vista Orb to open the Start menu.
Open your Control Panel, and then Power Options.
Click on Change Plan Settings
Click Change Advanced Power Settings.
Now, expand the Sleep selection, and then expand Hibernate After.
Adjust the selector all the way down to zero.
Click Apply. And you are done!
Quick Note
Having hibernation enabled does in itself slow down system performance, but rather it takes up valuable disk space that could otherwise be used for other purposes.
Tip #18: Put Your PC to Sleep
Vista comes with a new power state called Sleep, which you can use to speed up your computer's transitions between On and Off states. Sleep combines the benefits of the Hibernate and Standby states. Using this feature, you can quickly and securely turn off Vista, yet ensure that it will restart in less than 3 seconds.
Tip #19: Manually Change your Power Mode to "High Performance"
Vista is equipped with a new feature that enables you to choose the power level at which your system utilizes CPU processing power. You can choose between three pre-configured power settings: Balanced, Power Saver and High Performance modes. By default, Vista is installed in either the Balanced mode (on portable PCs) or Power Saver mode. You can improve performance and speed up your system by manually changing the power mode to High Performance either temporarily or permanently. This comes in handy to adjust battery usage for portable PCs. Here's how:
Manually Adjust to the "High Performance" Power Plan
Click on the Vista Orb to open the Start menu.
Type Power Options into the Start Search text box.
Click on Power Options in the Programs list.
Provide a password or confirmation if prompted to.
Click on High performance.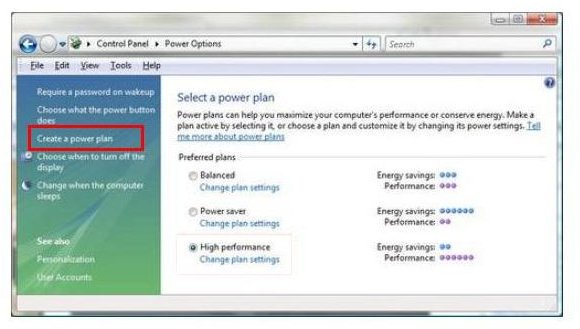 Available Power Options:
Balanced

Places equal priority on both performance and energy savings

Power Saver

Places priority on energy conservation, sacrificing performance

High Performance

Places priority on optimal performance, sacrificing energy conservation
Quick Tip
You can also access the Power Options command by right-clicking on the battery icon in your system tray.
This post is part of the series: 21 More Ways to Speed Up Vista
Here are some creative, careful, thoughtful, and useful tips for improving the performance of a Vista PC. From the quick and simple to the detailed, we show you how it's done.