Installing Windows Vista Updates to Improve PC Performance and Security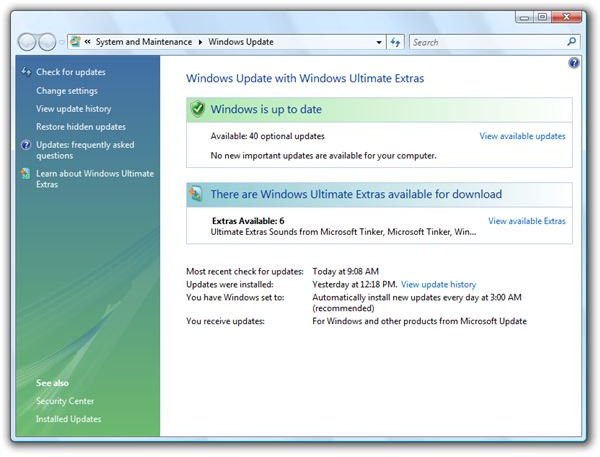 Stay Current with Windows Updates
Microsoft is continually issuing security and feature updates, so as to ensure that your system is as secure and as stable as possible. It is essential that you stay current with these Windows updates. You can manually look up and install these updates, or you can use the Windows Update utility.
Windows Update is a built-in utility that Microsoft uses to as a delivery platform for distributing its system updates, security patches, service packs, and device driver updates for Windows and other related programs. It is designed to enable you to stay current on critical updates and keep your system stable and secure. Windows Update is also a platform users can use to download add-ons, new features, and Ultimate Extras. Here's how to use it:
Tip #12: Run the Windows Update Utility
Log into your account as an administrator.
Click on the Vista Start button and select All Programs.
Click on Windows Update. This will launch the Windows Update program.
Click on Check for Updates in the left-hand pane. Windows Update will now check for any available updates via Microsoft's servers.
Click on the Install updates button. This may take a while depending on the number of updates that are being installed.
Click on the Restart button to finish the installation.
Note: If an Install Updates prompt does not appear, this just means that there aren't any new updates available for your PC.
Tip #13: Enable Automatic Updates with Windows Update
It is recommended that you configure the Windows Update utility to automatic download and install important and recommended updates for Vista. It is a convenient, effective way to ensure that your system is always up to date. Here's how:
Click on the Vista Start button and select All Programs.
Click on Windows Update and then select Change Settings.
Choose how you want Vista to install updates.
Click OK.
Restart your PC if prompted to.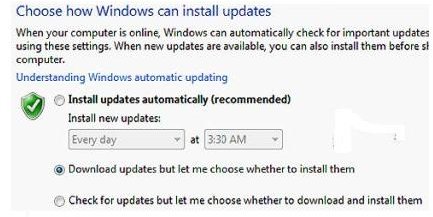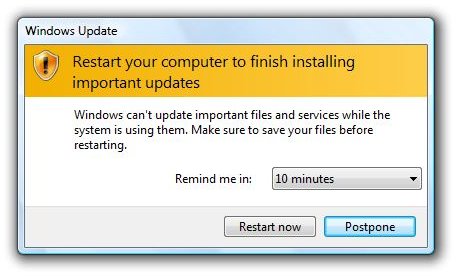 Tip #14: Install Optional Updates and Drivers
Even with Windows Update configured for automatic updates, the optional updates won't be installed automatically – you will need to specifically select them from the listed updates that Vista locates for your computer. Here's how:
Click on the Vista Start button and select All Programs.
Click on Windows Update.
Click on the Check for updates option in the left-hand pane. Allow Vista time to look up the latest updates for your system**.**
Click on View available updates if any updates are found.
Double-click on each update if you want to read its description to help decide whether or not to install it.
Click on Close to once you have reviewed the description.
Click Install to download and install the update if you want it.
Repeat steps 5 to 7 for each update.
Click on the Cancel button to close the Updates list screen.
Selecting Updates to Install
Windows updates come in three different flavors.
High priority

These are highly critical updates, which are essential for fixing security and performance issues in Vista. You should install these as soon as possible.

Software (optional)

These are non-essential updates for programs that run on Vista.

Hardware (optional)

These are non-essential device driver updates for your hardware components.
Quick Tip
Right click on an update and click on the Hide Update option if you don't want to install it. This will prevent it from showing up every time you open Windows Update. You can easily restore it by clicking on the Restore Hidden Updates option in the left hand pane.
Quick Tip
To prevent a particular Optional update from being listed each time you use the update service, right-click on the update and then select Hide update from the drop-down menu. You can always select Restore Hidden Updates if you later decide that you want it.
Tip #15: Vista Service Pack 1 (SP1)
Download and install the Vista Service Pack 1 (VSP1). This service pack comes with some critical updates for Windows Vista. These updates are geared toward improving performance as well as overall system responsiveness.
Tip #16: Uninstall Windows Updates that Affect Performance
Downloading and installing an update may cause you more problems than it fixes. If an update degrades functionality and performance, you can uninstall it and await a revised update. Here's how:
Click on Windows Update.
Click on the Installed Updates option in the lower left-hand corner. This will display all the installed updates on your PC.
Double-click on the update you want to uninstall. Click Yes.
Click on the Uninstall button.
Click the Restart Now button to reboot your PC to complete the uninstall process.
This post is part of the series: 21 More Ways to Speed Up Vista
Here are some creative, careful, thoughtful, and useful tips for improving the performance of a Vista PC. From the quick and simple to the detailed, we show you how it's done.