Getting Yourself Out of Excel Trouble: 4 Best Excel Troubleshooting Books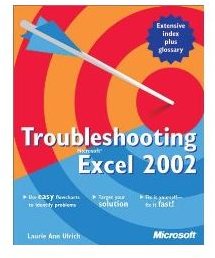 Troubleshooting Microsoft Excel 2002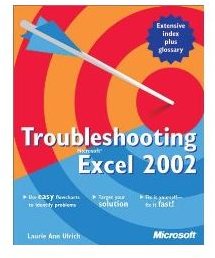 Laurie Ann Ulrich. Microsoft Press, 2002
Gives quick answers to the most common problems one usually encounters when using Microsoft Excel 2002. It features detailed, easy-to-understand, and easy-to-follow diagnostic charts that will help you in identifying the problem and suggested solution to fix the Excel problem as quickly and as easily as possible. A notable feature of this book is the flowchart that begins each chapter that would help you in identifying a solution to the problem discussed in the chapter. And as you continue reading, you will be presented with the needed steps that you need to perform in order to solve the problem at hand. In addition, the book provides screen images which illustrate what you would see on your computer screen as you follow the procedures for fixing the problem.
Escape from Excel Hell: Fixing Problems in Excel 2003, 2002, and 2000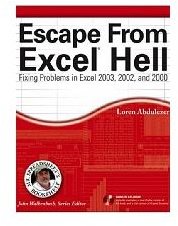 This book was written specifically for advanced and intermediate users of Microsoft Excel 2003, 2002 and 2000 that often encounter problems with formulas, failed formatting, printer purgatory, and other advanced Excel problems. A unique characteristic of this book is the three types of fixes it offers you. You can choose whether you want to escape from the problem in under 30 seconds, escape in under two minutes, or more elaborate methods of escaping the problem. The book also discusses other problems such as formula fixes, data and layout fixes for excel charts, and many more. Escape from Hell offers more than 2000 solutions to the most common advanced problems encountered by users in Microsoft Excel.
Troubleshooting Microsoft Excel Spreadsheets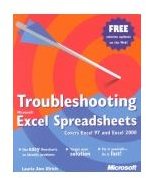 Laurie Ann Ulrich. Microsoft Press, 2002.
From the same author as the previous Excel Troubleshooting book, this book tackles the most common source of problem encountered by majority of the users of Microsoft Excel - Spreadsheets. The book presents steps to easily pinpoint a Spreadsheet problem and the corresponding steps you need to perform to solve the problem. Like the previous book, each of the sections of this book begins with a chart that would be of great help in diagnosing a spreadsheet problem. The book is colorful, well organized and outlined, easy to read, and written in the most common way of explaining the Excel problems and their corresponding solutions. Troubleshooting Microsoft Excel Spreadsheets covers both the 97 and 2000 versions of Microsoft Excel. Topics covered by the book include the following:
Microsoft Excel 97 and 2000 for daily users
Calculations
Formatting
Data collection and distribution
Excel extras, such as Microsoft Map and PivotTable analysis
Escape from Excel Annoyances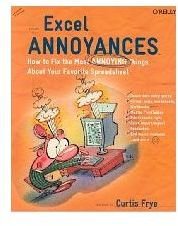 Curtis Frye. O'Reilly Media, Inc. 2004
If you're one of those who have struggled from irritating and annoying Excel bugs and errors, then this book is definitely for you. The book is well-written and answers questions concerning all the quirks, bugs, inconsistencies, and other hidden features of Excel. The book breaks down the wealth of information being offered by the software and transforms it into tip-of-the-finger categories. If you're a heavy Microsoft Excel user, this book will certainly help you a lot in troubleshooting Excel problems.