Working with Files in Windows XP - Improving PC Performance by Defragging Windows XP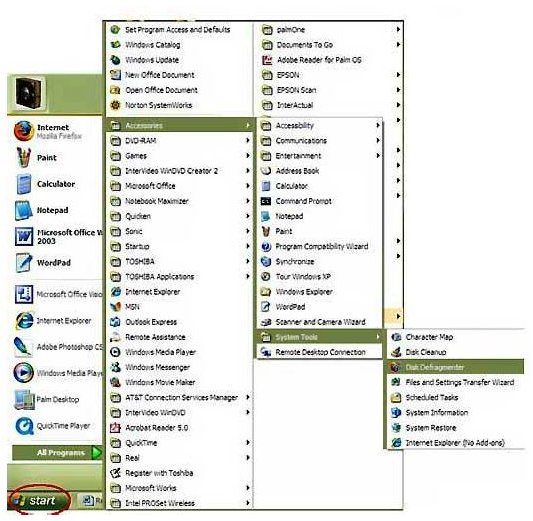 An Objective View of Your XP
Does it seem like Déjà vu every time your Windows XP operating system slows down? Have you ever had that experience of actually typing faster than your microprocessor? (Such as when you're typing, and then the text on the screen doesn't show up for a few seconds). Or perhaps you're having difficulty with your new computer just shortly after transferring files from your old computer. Whatever the problem is, if it looks like your computer is dragging its feet, then it probably is. The good news is that we can easily penetrate into the heart of this mystery by asking ourselves a couple of questions about what might be on the computer that is slowing down the whole system.
Jump Through the Hoops of XP Maintenance
If you're running Windows XP, then thou hast acquired great wisdom. We're the type of people who rationalize before we jump on the next operating system. We watch our expenses with a fixed eye. This means we keep systems that work, and minimize the purchasing of dicey software. Let the Web 2.0 fools click through a maze of romper-room icons to their hearts content. We have maintained the operating system that 80% of all businesses use.
We have sought to our defenses in difficult times. We've seen that our software is updated regularly. We have diverted the cyber booga-boos who spam grandma's inbox. But why then is 'old reliable' dragging its feet? Perhaps we've overlooked something that's bringing our operating systems to a crawl? How do we fix it?
Assuming that we've already seen to updating our software, we will now check our system files for ordinance. And it is a good idea to run a system backup before doing anything to the way files are organized on your computer. Run a system backup by clicking on the start menu, and then pointing your way through All Programs> Accessories> System Tools> Backup.
Grab a timer, note paper, and a pen. Note the time on a piece of paper, and then reboot your computer. Rebooting your computer is good maintenance practice regardless of your system's performance. Start the timer. After your computer is done loading, stop the timer. Note the time on a piece of paper. You will refer back to this piece of paper when it comes time to check the progress of your computer's performance.
"My Computer Doesn't Work, Dag-Frag it!"
Defragging is never to be underestimated. The retrieving of documents is made much smoother if you don't have your files and folders scattered all over the hard drive. By defragging our computers, we're moving the files around to allocate space more orderly on the hard drive.
Defragging your hard drive may sound like we're doing something brutal, but nothing could be further from the truth. Defragging is something that every computer user should do. If you're a business person and you don't understand computers, do not fear the defragmenter program in Windows XP. You're operating system will run better if you use it.
It's easy to defrag your computer. Go ahead and move your mouse-pointer over to the start menu. Left-click on the start menu. Point to All Programs> Accessories> System Tools > Disk Defragmenter. The Disk Defragmenter program will open. Click on analyze. A pop-up window will be displayed, which will inform you of whether or not you need to defrag your computer's hard drive. You can also click on defrag to skip the analysis report.
When you're done defragging your hard drive, go ahead and restart your computer. Remember to note the time or set the timer. The operating system should load faster this time.
Other Disk Defragmenting Programs
If you want to check out some other disk defragmenting programs with more features than the built in defragmenter, check these out:
This post is part of the series: Windows XP Performance
Computer downtimes shouldn't reflect economic downtimes. Use an older operating system like XP. Read through this article to learn some tips about breathing life back into your old XP system!