How to Fix Crippled Stereo Mix on Your Laptop Using Virtual Audio Cable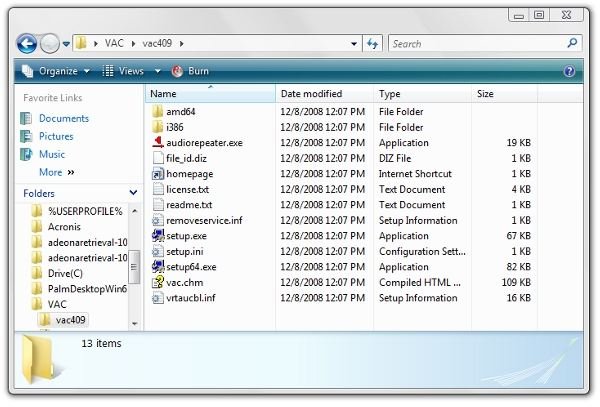 Introduction
Recently some manufacturers of notebook computers, particularly those produced or based in China, have been shipping laptops with the stereo mix feature disabled in firmware. A lot of discussion can be found online about it. On my particular ThinkPad, it can be enabled somewhat by a registry hack, but you have to disable the onboard microphone in order to use stereo mix, so it's not a great fix.
I think the manufacturers really had no idea how much they'd aggravate a whole swath of their users with this policy. I've read complaints ranging from disappointment over no longer being able to do karaoke with a newly purchased laptop, annoyance at not being able to do advertising voice-overs, to some real ire at not being able to perform audio mixing and recording by a church music director.
Virtual Audio Cable (VAC) has a reputation for being a tough program to learn and use. It can be. If you like to dig deep into the plumbing, there's enough theory, principles, background, associated content, and practices in the Help Guide to satisfy and bemuse. Here we're taking a more direct approach. We'll talk about what we need to set up VAC on a laptop that lacks the stereo mix feature and how to use it to record one or more sound sources, including "what u hear" and microphone mix, on a notebook.
Installation
VAC is a compact 272 KB download. You can find the download link here. You can read the entire page if you wish, or you can scroll down and click the link to download the 32-bit or 64-bit version. The version we tested was 4.09 32-bit, and the ThinkPad is running Vista Home Premium.
There are several files and a couple of folders present when the distribution file is unzipped. Of interest to us are "vac.chm" which is the compiled help file and the two executable files - setup.exe and setup64.exe.
I found no undesirable stipulations in the license. On the second setup screen, there is a check-box beside "I am an advanced user." You should only check this if a previous installation failed on your laptop. It also warns that previous versions, if any, should be uninstalled before continuing. The third image below is a warning from Vista that it can't verify the "publisher of this driver software." Microsoft still makes it impossible for private, single developers to get certificates, so you can click "Install anyway" and continue.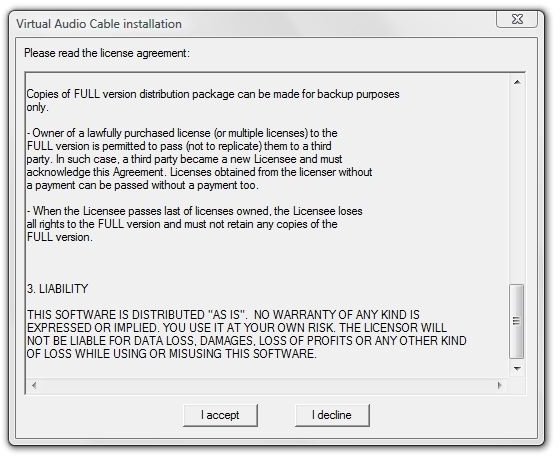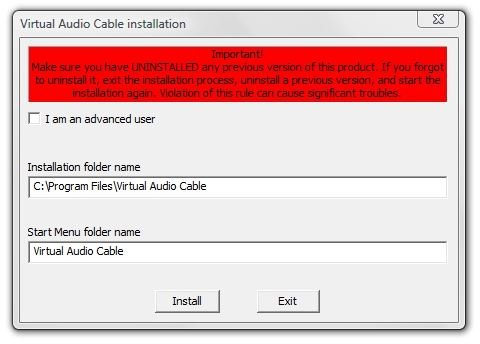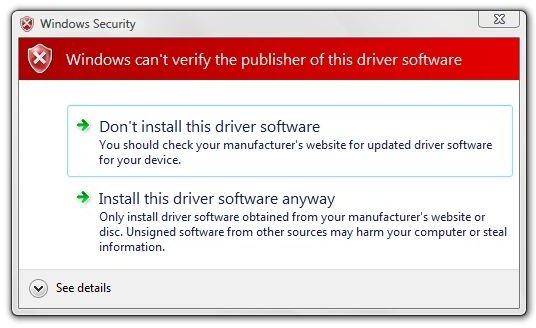 The final message is a small dialog that says, "Installation completed successfully."
Setting Up VAC
The image below shows what is added to the Vista Start menu after VAC installation.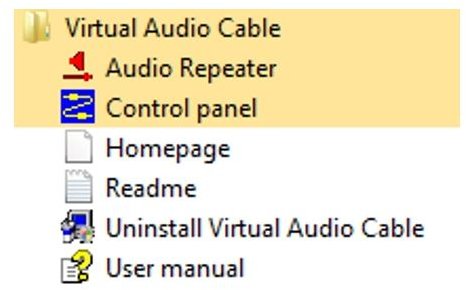 We can't completely avoid all program theory here, but the reason it's called "Virtual Audio Cable" is because it acts like what we used to call a "patch cord." It connects the output of something to the input of something else. In our case, we want it to connect the output of a sound producer on the laptop to the input of some recorder. We further want to connect more than ONE sound source to the recorder.
So don't feel overwhelmed when you see this startup screen.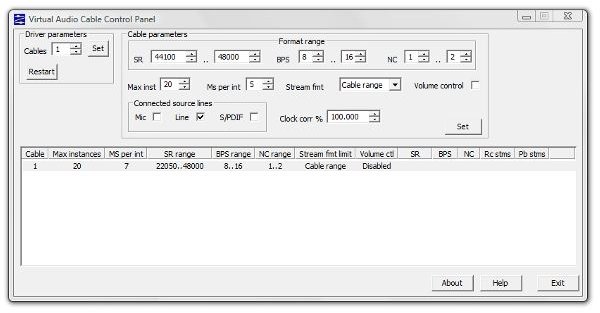 We'll be leaving this control panel open and looking at it from time to time, but for now, let's adjust the primary settings. Currently recommended settings are:
Maximum instances - 20
Milliseconds per interrupt - 5
Sampling rate range - 44100 to 48000
Bits per sample - 8 and 6
Number of channels range 1 and 2
Stream format limiting - Cable range
The trial version is limited to two instances, or cables.
Testing VAC
The next step is to find out if it's going to work on your notebook. To do this, we need to play back some sounds from an application that will recognize "Virtual Cable 1." This is not Windows Media Player, as it writes directly to Vista's sound mapper service. Instead, we'll use Nullsoft's popular and free (for the basic version) Winamp player application as our sound source.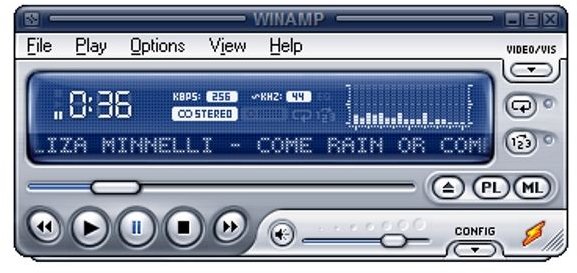 To redirect Winamp's output to VAC, click Options, then Preferences. In the Preferences dialog, scroll down in the left-hand pane and find the Plug-ins section. Then click on Output. In the right-hand pane, click on "Nullsoft DirectSound Output" and then click Configure. In the "DirectSound output settings" dialog, under the Device tab, click the blue horizontal bar and select "Line 1 (Virtual Audio Cable)." Then click OK and Close.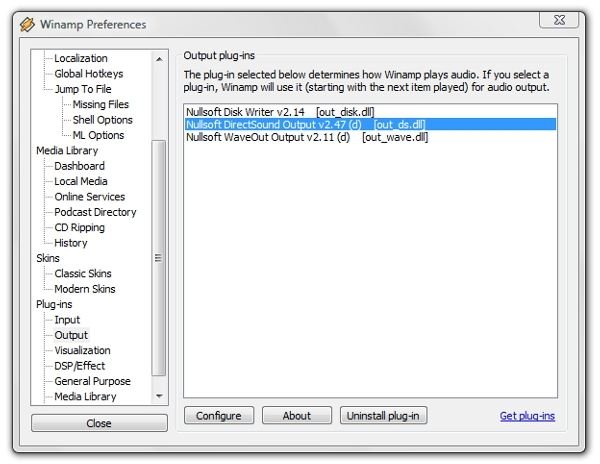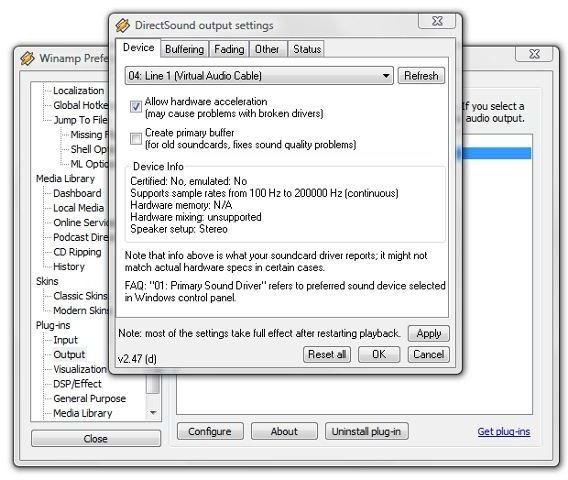 At this point, I had to close and restart Winamp before the connection showed in the VAC Control Panel.
The images below show VAC without a connection and VAC with a song being played in Winamp. Notice that the rest of the first line (Cable 1) is now filled out.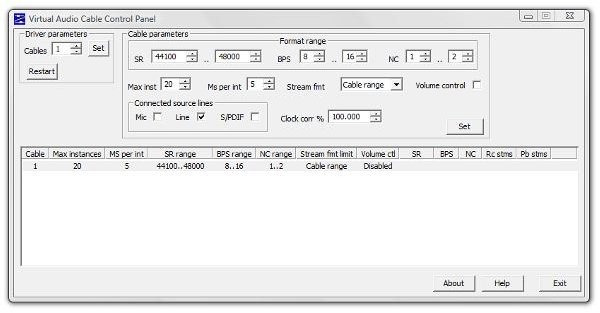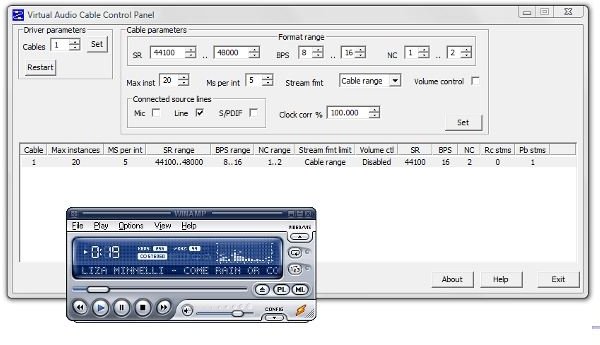 But there's no sound! That's right. We haven't established a recording connection yet, but VAC includes a utility program called Audio Repeater that can intercept the stream and play what's passing through the cable.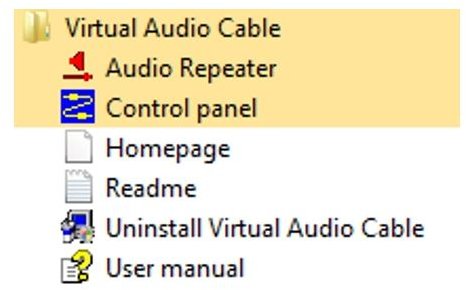 Start Audio Repeater and set "Wave In" to "Line 1 (Virtual Audio Cable)" and "Wave Out" to "Microsoft Sound Mapper." Then start your music player application, click the Start button in Audio Repeater, and you should have audio.
If using the trial version, you'll hear a female voice saying "Trial" frequently. This is a gentle urge for us to register the program.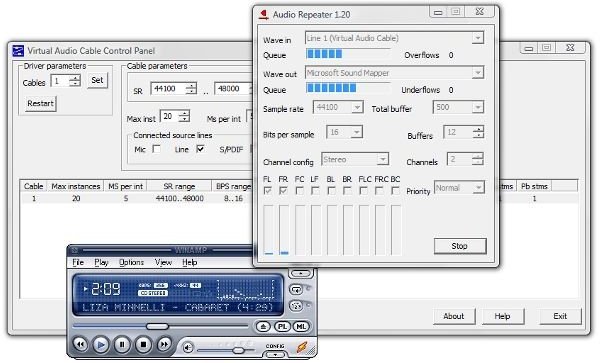 At this point, we've found out if VAC is compatible with our hardware. Audio Repeater's playing the music stream tells us that the virtual cable is indeed connected to the sound source. Since we're interested in both recording and mixing sources, let's now see if VAC will work as the default audio handler on the laptop.
For this, you'll need to click the speaker icon in the System Tray and select "Recording Devices." Under the Recording tab, click "Line 1 – Virtual Audio Cable" and click "Set Default." If using the trial version, which you should be at this point, you'll see the level indicator bumping upward irregularly. This is VAC repeating "Trial" over and over (whether you can hear it or not).
To hear it, start up Audio Repeater and click "Start."
Next: Testing Recording, What U Hear, Conclusion, Product Link, and Further Reading
Testing Recording
Now let's find out if other applications can play through it. For this, we'll need an audio recorder. A free one and favorite of mine is Audacity.
There are only a few Settings changes to be made in Audacity in order to allow it to record from our virtual cable. Click Edit, then Preferences. For Playback Device, "Microsoft Sound Mapper – Output" should be selected. For Recording Device, select "Line 1 (Virtual Audio Cable)" and then set Channels to "2 (Stereo)." That's it – that's all we need to change in Audacity. Click OK to close the dialog.
If we still have Winamp set to output to virtual cable one, then this is all the setup involved. Simply play the tune in Winamp, and VAC will connect the output of Winamp to the input of Audacity to record (click the red button to start recording). Audio Repeater will let you hear the audio while it's happening.
What U Hear
But what about restoring a "stereo mix" or "what u hear" functionality to a notebook that has it disabled? That's the point of this article, so let's try recording from a source that doesn't know about VAC – Windows Media Player.
There's some setup involved here, but we're getting closer to the way we'll be leaving it. Take heart – it won't take much longer.
In the images below, you'll see that I clicked on the speaker icon in the System Tray and selected "Recording Devices." Here, I've set "Line 1 Virtual Audio Cable" to the default recording device by clicking the label and selecting "Set Default." On the Playback tab, I've done the same for the Playback device. So I have VAC line one set for both the default playback and recording device.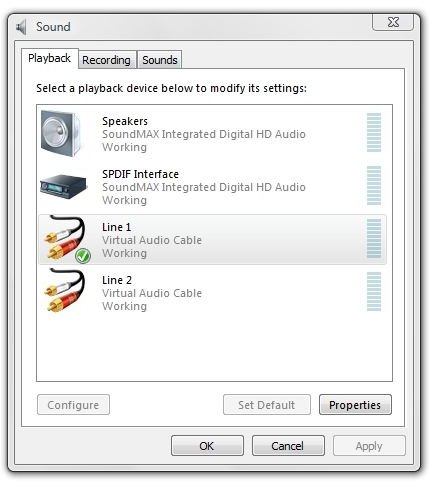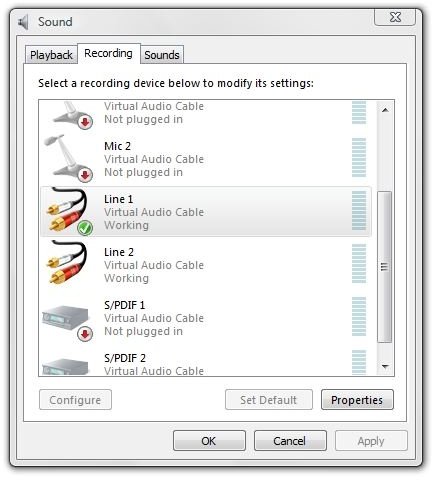 In Audio Repeater, I have the Wave in set for "Line 1 Virtual Audio Cable" and the output set for Speakers, which on my laptop is labeled "Speakers" (SoundMAX Integrated 1).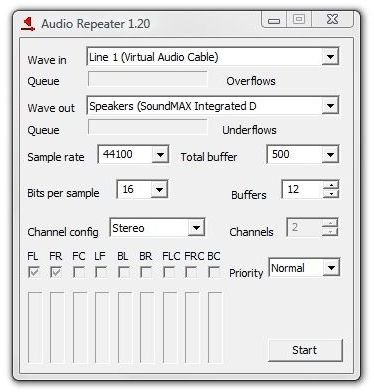 Here's what everything looks like together – Windows Media Player playing ZZ Top's "Sharp Dressed Man," Audio Repeater, the Virtual Audio Cable Control Panel, and Audacity.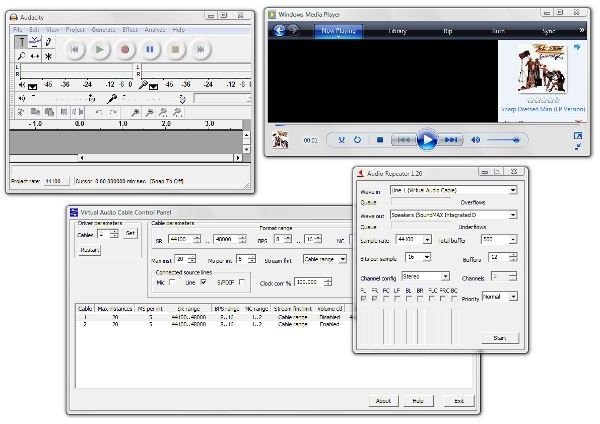 And here they are after (1) clicking Start in Audio Repeater, (2) clicking Record in Audacity, and (3) clicking Play in Windows Media Player. The waveform and red level indicators show that Audacity is recording.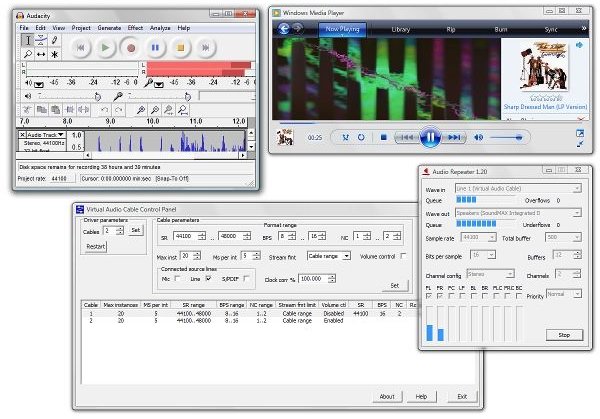 A potentially tricky part of this operation has to do with how Vista allocates sound connections. The cable connection did not exist until we used Audio Repeater to create the virtual cable connection. Then we started recording in Audacity before starting playing in Windows Media Player. We did it in this order because the program documentation states that this is the least troublesome and most successful method. The documentation also warns that some media players may not be enthusiastic about using the default audio player and may go looking for the hardware by themselves. This sequence will also help prevent this by making sure that the virtual cable is easy for the application to find.
If you need to use an external microphone to add a voice-over component, shut down Audio Repeater and any music players, and click "Mic" in the VAC Control Panel. Then click "Set." This will add the microphone input to the cable connection. It will be on the Play side of the connection. This image from the documentation should help you understand the connections.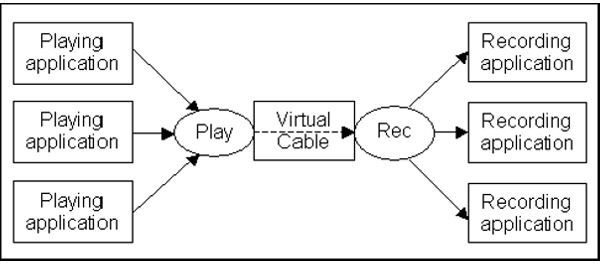 Conclusion
And so there you have it. Virtual Audio Cable by Eugene Muzychenko can fix crippled stereo mix in a laptop, even when the capability is removed in the firmware of the machine. It allows you to record "what u hear" and play multiple sound sources and record them as one stream. It allows you to use your internal or external microphone to add voice-overs or do karaoke.
There's lots more than one can do with VAC. An example in the Help files shows how to record Skype calls, even though the author admits that more specific applications are easier to use. If you'll sit down and read the Help file from end-to-end, you'll learn a lot about how the sound subsystem works in Windows. You'll be a hero, too, for having gotten through all of it.
As I mentioned in the beginning, I used a notebook that has stereo mix for this review. It's a ThinkPad T61p, and stereo mix can be enabled by doing a registry hack. It's not perfect – the onboard microphone is now always live and can't be disabled. To use "what u hear," I have to lower the sensitivity of the microphone all the way. (I had stereo mix disabled during this testing.)
I've also read that some Dell laptop owners have also found a way to hack their sound system by installing a driver intended for use in Windows XP. It has the unintended side-effect of disabling a headphone jack. (Fortunately, that particular series has two headphone jacks.)
Such is progress, or the lack of it. Eugene Muzychenko has given us back a little bit of what the overly cautious laptop manufacturers have taken away, and that's a good thing. We owe him our support.
Virtual Audio Cable - $30
Further Reading
Bright Hub Review of Tunebite Platinum 6.0 - Have protected content in the form of iTunes tracks or videos or copy protected Windows Media content that you want to play back on your various devices? Without altering the original files or removing DRM, Tunebite 6.0 allows you to convert your purchased content to play on your other devices.
How to Clone a Laptop Hard Drive with Acronis True Image Home 2009 - Hard drive filling up and declining hard drive prices getting your attention? If you're ready to move up to a bigger hard drive for your laptop, this tutorial will show you step-by-step in pictures how it's done in Acronis True Image Home 2009.
How to Track a Stolen Laptop - It's a jungle out there. According to a recent report, 672,000 notebooks are lost in airports every year in the US and more than half are never recovered. It makes sense to assume eventual loss and take precautions before the loss or theft happens. Free tracking application Adeona can help.