Upgrade from Windows XP Media Center to Vista

part 2 Migrating from Windows XP Media Center to Vista


The most frequent consequence of upgrading to Vista – especially if you do a clean install – is that you'll need to back up and restore your data, and reinstall the applications. For the most part, the most efficient way to move user settings from one installation to another is through the Easy Transfer Wizard we talked about in earlier articles, available on the Vista installation DVD and in the Vista operating system. The Transfer Wizard will move the following things as far as the Windows XP Media Center Edition is concerned: your user settings, documents, media files, applications-specific settings, and user-account information.
Your music files ripped to MCE, TV shows recorded through Media Center, and any other media obtained through MCE itself may need to be backed up if you're erasing everything. Any copy-righted protected material on your system that's played through a Media Player, such as WMS files ripped to the system from a CD with copy protection turned on, will have a corresponding license associated with it. The Transfer Wizard doesn't back up these licenses for you, but it will back up any protected files if you elect to do so (more on this below).
After finishing the move, any Microsoft DRM (digital rights management) licenses that have been moved will need to be activated on the new machine via an Internet connection, which happens whenever you attempt to play a protected piece of material. Obviously, Microsoft does this to prevent cheating, so that you don't move the same protected content to more than one computer at a time. WMP no longer lets you export and import DRM licenses manually, so you have to recertify any protected material on the new machine in this way (make sure to do this last). Also, if you have protected content downloaded from third-party sites like Urge or Napster, you'll need to find out from them how to move your license to Vista – do this before wiping your old operating system though.
And, before we forget, when you use the Transfer Wizard to restore your data in Vista, do this in an administrator level account that doesn't share a name with any of the accounts you're transferring. Then, when you're done restoring, you can just delete that account.
Easy Transfer even has an Advanced Options mode that will let you decide exactly what to copy and what not to copy. Sometimes you really don't need to move everything.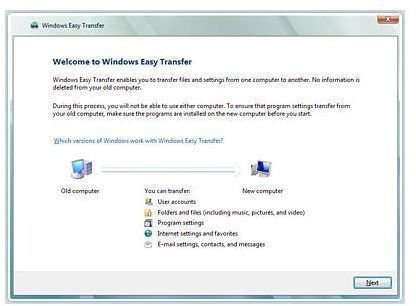 Finally Vista has a clever way you can work around having to back up and restore media files stored on the same partition as Windows system files. When you install Vista, you can elect to install to the same partition as the Windows XP Media Center Edition installation without reformatting the disc. If you decide to do this, the existing Windows installation – including the Windows directory, the application directories, and the user's Documents And Settings folders – is moved to a folder named WINDOWS.OLD. Then after you have installed Vista successfully, you can just transfer your old data out of the WINDOW.COM folder without a care in the world. Likewise, if you have a large music folder be sure to exclude the music directory from the Transfer Wizard. Then after the transfer rebuild it by pointing Vista's Media Player at your My Music folder on the old drive and let it rebuild the library of music selections for you.
This post is part of the series: The World of Windows Vista
Welcome to the world of Microsoft's Windows Vista. Here we will take you through the world of Vista, which is being created day to day by you the user and provide you with information, helpful hints and suggestions on how to use your Vista system better and get more production out of Vista.