How to Publish a Web Site with Microsoft Expression Web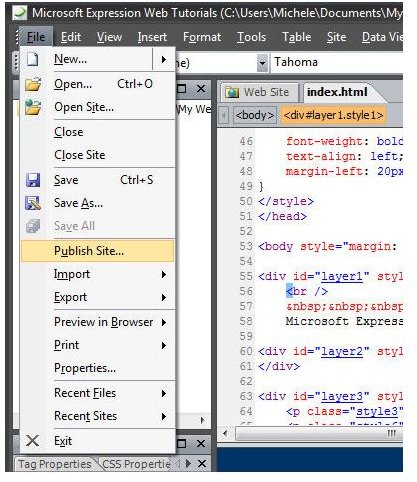 Ready to Publish Your Web Site?
Most high-powered HTML editors on the market today include some type of means for you to publish and maintain your web site from right within the application itself, and Expression Web is no different.
To access the web publishing options in Expression Web, make sure that the web site you want to publish is open and select Publish Site from the File menu on the main toolbar.
If this is the first time that you've tried to publish this site, the Remote Web Site Properties box, as shown in the screenshot below, will appear on your screen.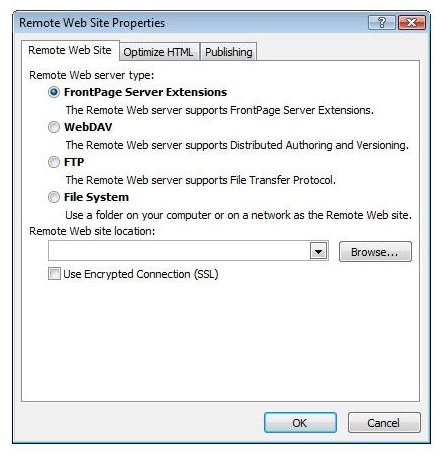 This is the area where you will have to make some decisions about how to publish your files to the web. In the next section, we'll take a look at the different options available.
Different Ways to Publish in Expression Web
Microsoft Expression Web offers four basic ways to publish a web site without ever having to leave the application. However, whether or not each of these methods can be used, will depend on your web hosting provider. Let's take a little closer look at each option.
FrontPage Server Extensions – Unlike FrontPage, Expression Web does not require FrontPage Server Extensions for web site publication and maintenance. However, if your web host provider supports this feature, you can take advantage of it to make publication of your site a little easier. This is particularly nice if you have a web site that was originally constructed in FrontPage, that you want to import into Expression Web.
One thing to note here is that even if the web server to which you want to publish your site supports FrontPage extensions, you may have to install them yourself. We'll go into more detail on that aspect in Part 2 of this series.
WebDAV – If you're publishing your site to a remote server that supports WebDAV (Web Distributed Authoring and Versioning), you can use this option to create and maintain your web site from Expression Web. For more information on this standard, check out this introduction to WebDAV.
FTP – While the FTP method of publishing a web site in Expression Web does require a little bit more work to set up than others, it's also the one most likely to be found on a more global basis.
Before using this option, you will need to get information from your web host provider on their FTP setup. Sometimes, your FTP username and password will be different from what you usually use to access other material. We'll talk more about this option in Part 3 of this series.
File System – This is the easiest option for publication, but it's only applicable if your web site is going to be published to a local or network drive. However, this is a great tool to use when you want to backup your web site to another location, or if you just want a little practice using some of the other publication options, such as accessibility checking and HTML optimization, available in Expression Web.
For more tips and tricks, be sure to browse through the other items in Bright Hub's collection of Expression Web user guides.
This post is part of the series: Publishing a Web Site with Microsoft Expression Web
In this set of guides, we'll cover how to publish and maintain your web site using Microsoft Expression Web.