Watch the Hottest Prime Time Shows on Hulu.com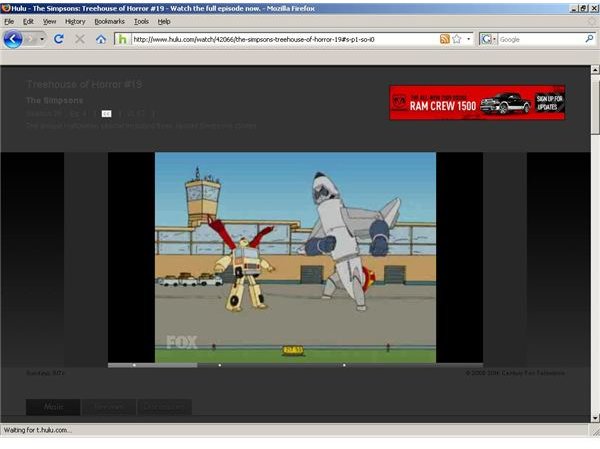 Welcome to the 2nd part of the 4 part Bright Hub series that looks at the online video site, Hulu.com. In this section, I will explore my experiences with watching a full length television program.
Choosing a program to watch was easy, and I settled on my favorite prime time cartoon in no time. The first thing I noticed about this site was the glitch, jerky commercial that streamed relentlessly. Alright Cindy, be patient, these aren't a reflection of the shows. Watching TV online means watching commercials online and I have never found a site that offers quality commercials which is a shame because if the commercial streamed through at a decent quality I might be more inclined to watch and enjoy the advertisement.
Then the show started. It hiccupped and I pressed pause, saying a silent prayer that the show would buffer. It did! It seemed like forever since I saw an online video buffer. The folks at Fox and NBC must think we all have Broadband, but out here in the woods I live with the reaction time of a satellite-based internet connection. In under 2 minutes, the buffer bar told me when the video was finished and ready to be viewed.
And the video played beautifully. I laughed at Homer, saw myself in Lisa, and checked my emails during the breaks. I couldn't view the video in full screen mode or in High Definition on my big screen TV. The regular size picture was still fairly large on my TV, but the picture still had a bar of ads on the top and a message board on the bottom. I used the Dim Lights feature which helped but an ad for a truck stayed lit in bright red at the top right of the screen. Oh well, that's what I get for watching free TV.
There were 3 commercial breaks and they were all for the same truck advertised at the top of the screen. I paused the video after each break to let it buffer, and this gave me a better video quality over streaming. I did find that with my connection, the audio played faster than the video when I left the show paused for too long, but when I asked my friends with broadband to try it out they had mixed results. Try experimenting with both to see which works best for your connection.
Next it was time to try watching a movie. Join me for part 3 of Watching TV Online with Hulu to learn more.
This post is part of the series: Watching TV and Movies Online with Hulu.com
This 4 part series introduces readers to Hulu.com and evaluates the site's ability to provide users with free full length TV episodes and movies. Learn how to play videos from Hulu.com on your desktop as well as how to set up an account and subscribe to your favorite programs.