The Essentials on Bebo - A Feature Packed Social Networking Site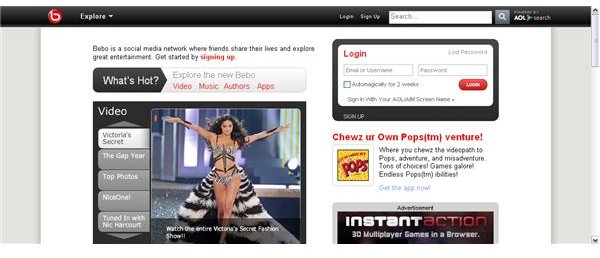 Bebo Homepage
Overview
Bebo talked and many of us listened. In fact, over 40 million people are now subscribed to a social network that is an acronym for, "Blog Early, Blog Often". What is the appeal of this site? The second article of the Social Networking 101 series addresses five essential questions about Bebo (who, what, when, where, and why) that make this social network so popular and helps you to make an informed decision when choosing a social network.
The 5 Ws
Who: Bebo is intended for anyone over the age of 13 with the average member being between the ages of 16 and 24.
What: A social networking site with rich, multimedia and interactive features such as:
Video Box – Upload your favorite videos from the web and set them to auto play on your profile, or allow users to play them at will.
Widgets – Choose from and install a variety of online applications such as Bunnyhead Labs, where you can adopt a virtual pet, or Rockyou.com Horoscopes, where you can view your daily fortune/forecast.
Quizzes – Create fun quizzes to find out more about your friends and family.
Polls – Get the latest opinions from other members.
Blogs – Publish your thoughts and ideas to the world, or if you prefer, only those closest to you.
Skins – Customize the look of your profile by creating/selecting a new "skin" (your background cosmetics/features).
Groups – Join other like-minded individuals by joining their group or form your own.
Bands – Support your favorite band/musician by subscribing to their online fan page on Bebo.
Whiteboard – Doodle, or draw, to your heart's content! The Whiteboard lets you post your latest artwork on your profile for other users to see.
When: Bebo was founded in 2005 by a husband and wife team named Michael and Xochi Birch. It was later purchased by AOL, the online division of Time Warner for approximately $850 million.
Where: This social networking site is most popular in the UK, New Zealand, Australia, US, and Canada.
Why: If you are looking for a social networking site that is chock-full of features, then Bebo might be for you. It not only serves as a communication centre, but also acts like an entertainment hub where you can subscribe to different media channels, doodle, create quizzes, or install other fun applications such as celebrity morph (an animation that transforms your current photo into your celebrity look-alike).
This post is part of the series: Social Networking 101
What is social networking? This article series defines social networking and includes practical advice on choosing a network, in addition to summarizing some of the most common social networks out there.