What is Facebook? An Overview of the Social Networking Mega Site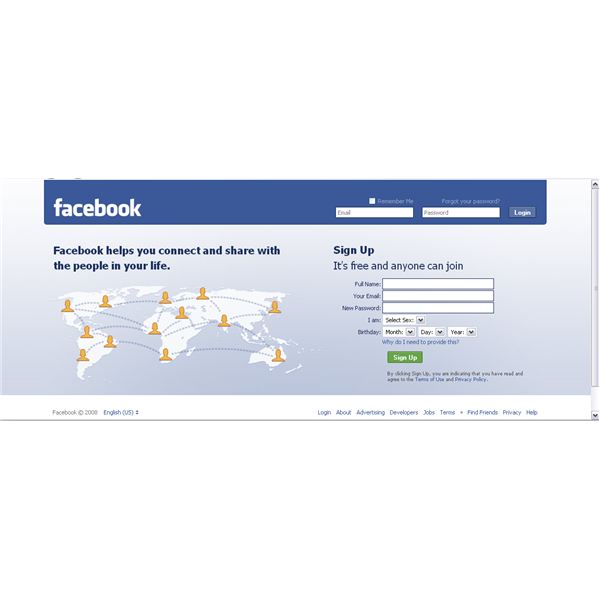 Facebook
Overview
If you've been online within the last year or so, you've probably heard of the name "Facebook". For the uninitiated though, this article in the Social Networking 101 series provides an overview of the popular site by addressing the 5 Ws (who, what, when, where, and why) that can help you to make an informed decision when choosing a social network.
5 Ws
Who: Registration is open to anyone 13 years or older with the average user being between the ages of 18 and 24.
What: Facebook is the second most popular social networking site behind MySpace with over 124 million members. Features of this site include:
Photos – Express yourself with an online photo album. This feature allows you to upload a profile picture to your Facebook page and create multiple albums that contain stories of your experiences, travels, and life in pictures!
Videos – Share your favorite videos by uploading them onto your page.
Link – Recommend sites to other users and vice versa.
Feed – Find out the latest news about people within your network as this feature informs you of any changes to the statuses and profiles of members in your social groups.
Mini-feed – Similar to the Feed feature but only contains information about yourself. You can edit this feature accordingly if you do not want to expose certain details.
When: Facebook is the brainchild of Mark Zuckerberg and was founded on February 4, 2004. Initially called "The Facebook" and reserved for Harvard college students, this social networking site grew in popularity, and registration soon opened up to students from other colleges and eventually to anyone 13 years or older.
Where: This social networking site supports multiple languages and is most popular in the US, UK, and Canada.
Why: Let's face it: Facebook is an increasingly popular social networking site and if you want to increase your chances of finding an old classmate or reconnecting with a long lost relative/love, Facebook might just be the way to do it! The advantage of using such a mainstream site is that informal troubleshooting is just a step away (your neighbors, kids, and friends most likely have it and can help you within minutes), and if you are looking to promote your skills, talents, or assets to the world, Facebook is just one of the ways to gain some exposure and allow people to reach you.
This post is part of the series: Social Networking 101
What is social networking? This article series defines social networking and includes practical advice on choosing a network, in addition to summarizing some of the most common social networks out there.