How to Improve Performance on Vista Using WEI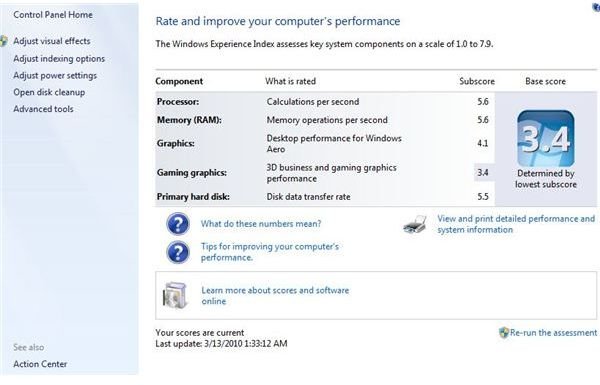 The Computer's WEI score
If you have loaded Vista on a computer system and you're having a few problems getting Vista to work as Microsoft says Vista should be operating, you need to use Microsoft's Windows Experience Index to determine what the roadblock is.
The problem is usually computer hardware being under-powered for Vista's needs. In this case, you need to find out what hardware is causing Vista to operate slowly and then upgrade the problem components. You may find after doing the research and determining the scope of the problem that you don't want to go to the trouble of making all the changes and would rather buy a computer with the version of Vista you want. The price of replacing and upgrading a computer's hardware can actually be more expensive than buying a new Vista computer.
If you want to determine which hardware components are impeding Vista you can examine your computer's WEI (Windows Experience Index) rating. This Vista-only capability tests a system's graphics, processor, memory, gaming graphics, and hard drive against the standards for each Vista package to see if Vista will run efficiently on your computer. After testing, the WEI assigns each tested area a score from 1 to 5.9 – 5.9 is the current highest level of performance for any hardware component. At this time it also gives your computer a base score that is based on the lowest of the five test scores; the weakest link of all your components, if underpowered, can create a traffic jam and slow down all the traffic on your computer so this makes averaging all the scores a recipe for disaster.
Finding and Using the WEI
The WEI is found by clicking the Start button, select Control Panel, choose System and Maintenance, and then click Performance Information And Tools. Your computer should already have a WEI score because Vista tests your hardware during installation and then uses the WEI score to optimize the computers performance. If however, the WEI score for your computer is greyed out, the operating system has detected a new component or updated drivers that could change your computers score so you should retest it.
You retest your computer by clicking the "Refresh Now" button. We found WEI gives a reasonable accurate assessment of your computer's hardware, but it is possible to improve your computer's WEI scores by installing the newer drivers for your hardware. Where would you find newer drivers? Some may come through Windows Update, and some may be found by examining the hardware manufacturer's website.
What are Individual WEI Scores and What Do They Mean
If an individual WEI score for a component is in the range of 1.0 to 2.0, it doesn't mean that you need to forget about Vista and go back to your old Windows XP, but that the indicated hardware rates near the minimum you need for Vista to run efficiently. A WEI score of at least 3 indicates a component is Vista Premium capable and thereby powerful enough to support the more advanced features included with Vista, such as most of the Windows Media Center tools. If a component has a score as high as 4 it should efficiently run all of Vista's advance features with no hiccups. A stratospheric WEI score of 5 or higher indicates your hardware is absolutely top shelf and even Vista's most power-hungry features will purr. If the scale seems small, only 1 to 5.9, don't worry as Microsoft introduces more powerful hardware in the years to come they will introduce higher scores than 5.9 to compensate.
If after assessing your computer's hardware you find two components have a similar score, let's say your processor and memory both score around a 2, then we suggest you upgrade your RAM memory before any other piece of hardware - and for a few very good reasons. First, Vista likes to store many visual effects, such as translucent borders and live thumbnails of Taskbar buttons, in your computer's system memory so that the operating system can quickly access the data when it needs to. Second, Vista also implements Super-Fetch technology to determine which programs you have been using most frequently, and then it stores the files for these programs in your computer's system memory. This essentially means, the more RAM memory your computer has, the more files Vista can store in the memory and the faster the operating system will run even the most power consuming programs.
The beautiful Aero interface Vista users have fallen in love with expects substantially more from your computer's graphics processor. After RAM memory, this is the next component you should think about upgrading to make Vista run more efficiently. We recommend the following order of upgrades if you decide to go this route instead of a brand new system: memory (RAM), video card, hard drive, and then CPU.
This post is part of the series: The World of Windows Vista
Welcome to the world of Microsoft's Windows Vista. Here we will take you through the world of Vista, which is being created day to day by you the user and provide you with information, helpful hints and suggestions on how to use your Vista system better and get more production out of Vista.