Opera Mini 4.2 is the Latest Opera Mobile Device Browser Is It The Best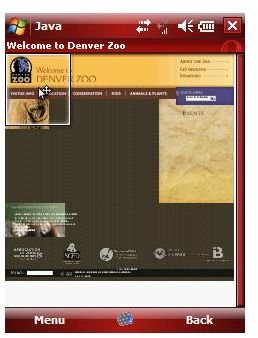 Opera Mini
In the Opera browser world, there is the desktop browser, which is an alternative to Internet Explorer and Firefox. Then, there is Opera Mobile which is a for-pay browser for use on mobile devices. Opera Mini is also for use on mobile devices, but it comes with a twist.
Generally, a web browser works by following URLs which you type in or click on a link. Either way, the usual web browser method is to go directly to the site requested and then receive the data sent back directly. Opera Mini is different. With Opera Mini, the browser doesn't connect directly to the website. Instead, it connects to servers at Opera. Then, those servers go out and get the data from the site you wanted, and that site responds to the servers which then compress and format the data before sending it to the Opera Mini browser.
The result is a potentially faster browsing experience because the servers connect at a much higher speed than any mobile network and the data that is sent across the mobile network is compressed and thus transmitted faster.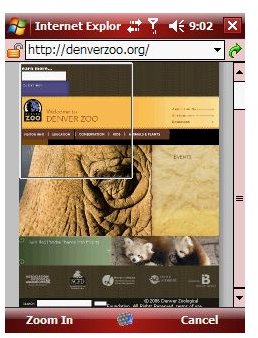 So, what's the catch? Since the servers can only respond with a specific compressed data stream to the Mini browser, dynamic websites don't really work very well. Video sites such as YouTube are pretty much unusable on Opera Mini. However, Opera claims to be working on a solution for this issue. According to the Opera website, newer Ericsson or Nokia phones already support this solution. Still, that leaves a lot of holes on the Internet. On the left is the Denver Zoo website on the Opera Mini browser. On the right, is the same site on Internet Explorer Mobile on "Zoom Out" While Flash isn't handled very well on any mobile browser these days, the static graphic on IE provides a better overall experience on websites like this.
Java
Opera Mini is a Java based application. On your PC, this isn't much of an issue, but mobile phones come with varying Java engines and some work better and faster than others. If you have one of the good ones on your mobile device, chances are Opera Mini can provide a fast and enjoyable experience for your web browsing needs. If not, you probably won't like Opera Mini much. Unfortunately, Opera does not make a robust Java client available for download with Opera Mini for users who need it.
Opera Mini 4.2 Experience (3 out of 5)
Opera Mini is fast, and for users looking to read websites filled with text like news sites, it makes a lot of sense. But, for users expecting a more "real computer" like web experience, Opera Mini 4.2 just has too many little quirks for most users. For starters, Opera Mini doesn't have an address bar so you can just type in an address. You have to select the menu to do that. Second, unlike the Opera Mobile browser, Opera Mini has no support for tabs.
When it comes to actually using Opera Mini for a full web browsing experience, too many sites just can't be rendered by the Opera servers properly to be displayed on the mobile browser. Opera has obviously covered the "Who's Who" of websites, so if you stick to high traffic places like Google, CNN, and so on, you'll be satisfied, but once you stray off the path, expect iffy results.
Additionally, my mobile phone didn't lock up often when using Opera Mini, but when it did, it locked up hard. No combination of buttons, touchscreen functions, or other tricks would bring it back. I had to pull out the stylus and force the full reset to get the phone back.
For now, I would stick with Opera Mobile if you want to use an Opera product.