How to Create Stunning PowerPoint 2007 Animations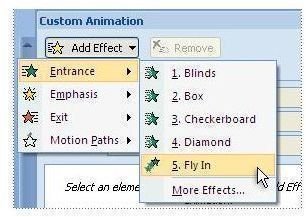 Animations in a Presentation
In Microsoft PowerPoint 2007, you have the ability to add animated effects that can be visual as well as audible. Animations provide a stimulating addition to your presentation and can emphasize specific elements to your production. You can add Entrance, Exit, Emphasis, and Motion Paths to the context of your presentation. In addition, you also have the ability to add sound to further accentuate elements of your Microsoft PowerPoint creation.
Entrance and Exit Animations: A Theatrical Performance
Whether you wish to adjust text or a graphic with an animation, PowerPoint makes it easy to customize the desired effect. An "Entrance" effect will display the context as it appears at the start of your slide. The "Exit" effect will display your selected bulleted item or graphic in a disappearance display at the click of your mouse.
Once you get to the slide you wish to add an entrance or exit animation to, select the first bullet of text or select an object. On the Animations tab within PowerPoint 2007, select Custom Animation in the Animations group. Under the Custom Animation task pane, click on Add Effect and then point your mouse to "Entrance" or "Exit." You will notice that once you select the effect, you can then choose how you want your text/graphic to enter or exit your slide.
Entrance and Exit Animations
Custom Animations
Microsoft PowerPoint 2007 provides an additional window on the right hand side of the screen that keeps track of the different effects that you have applied to your text/graphic (Custom Animation). This is very helpful as it provides you with reference and a quick preview to see how it will be displaying during your presentation.
It is important to note that the selected effects will appear in the Custom Animation list in the order that you add them.
Custom Animations Window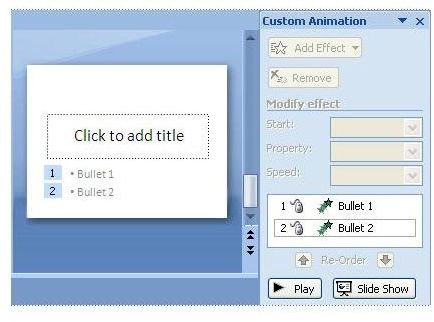 Adding Emphasis and Motion Paths: Personalize your Presentation
To add "Emphasis" to your bulleted text or graphic, you would follow the same steps as you would to add an "Entrance" or "Exit" animation. When you click to add "Emphasis", you can select from numerous animation displays that can add visual stimulation to your document. It is important to remember that you should always consider the audience who will view your presentation as you contemplate whether to add an "Emphasis" animation. Some graphics work well with some animated effects, others do not.
The "Motion Path" animations allow you to move the text or clipart in a specific direction within a slide. This can be a very helpful animation to add to your presentation if you are utilizing SmartArt tools (i.e., data flow diagram selection) where you want a specific image to demonstrate a visual "motion". It is important to note that before you apply a "Motion Path" to an object, you need to add the object, (such as a picture or clip art) to your slide.
It is important to remember that after you add one or more animation effects to your presentation you should check your document to be sure that they work. You can check this by clicking on Play at the bottom of the Custom Animation task pane.
Emphasis and Motion Paths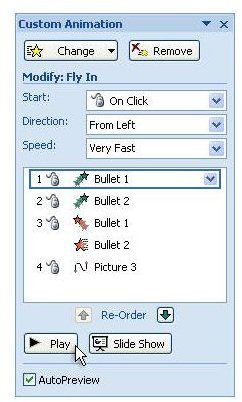 Adding Sound with your Animations
PowerPoint 2007 allows you to add some sound to your selected text/graphic that you have added an effect to. This can be a very effective way to gain your audience's attention; especially if you are utilizing speakers in the classroom setting or giving a presentation in a fully wired conference room.
To add sound, you would first place an effect (i.e., emphasis, exit, entrance, etc.) on your bulleted text/graphic. Within the Custom Animation task pane, and under the Custom Animation list, you would click on the arrow to the right of the animation effect that was applied, and then click Effect Options.
At this point, you would go to Enhancements within the Sound list. From this window you can do one of the following:
1. Select a sound.
2. To add a sound from a file, select Other Sound, and then locate the sound file that you want to use.
To continue to add sound to your effects, repeat steps 1 and 2 for each bullet of text/graphic that you want to add a sound effect to.
Remember to follow the steps above to check your added sound effect within your presentation to be sure that it is working properly. It is also important to note that the sound you place upon your text/graphic may sound differently on a personal computer versus a large conference room. For example, a soft "beeping" sound may meet your expectations when you hear it on your own computer. However, it may come across as a sonic boom within a conference room or seminar atmosphere. The key is to always test your presentation and consider your audience.
Sound Animations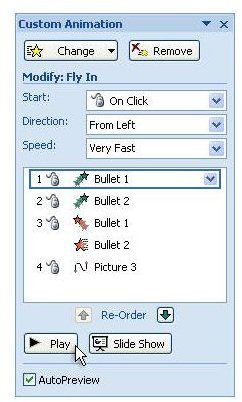 Animations and Individual Slides
In addition to adding fun and interesting effects to bulleted text or graphic art, you can also apply animations to individual slides within your presentation.
To mark a slide for animation, you would make sure you have the particular slide selected. On the Microsoft PowerPoint 2007 toolbar, you will click on the Animations tab. From this point, you can select how you wish to have the slide transition into the next slide. By placing your mouse on one of the selections, you will get a quick preview of what that slide would do in an animated fashion as you move to the next slide in your presentation.
In addition, you can also place a sound queue on the slide transition by clicking on the Transition Sound button from this work tab. You can further adjust speed to your animation as well as customize to either your entire presentation (for every slide) or for an individual slide. Finally, PowerPoint provides you with the option to automatically initiate the animation of your slide within a specific time frame by clicking on Automatically After. This is a very helpful tool if you are giving your presentation while away from the computer.
Animations with Slides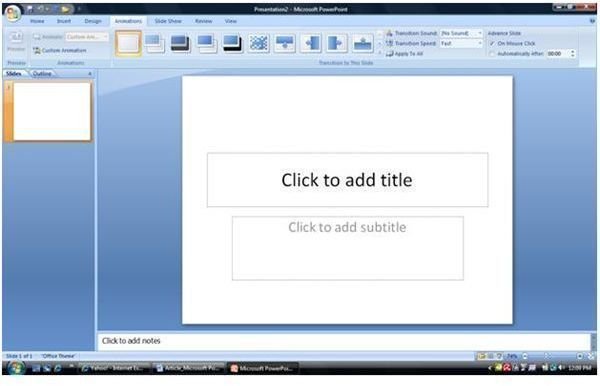 Conclusion
The use of animations within Microsoft PowerPoint 2007 can add pizzazz and flair to a presentation that might have been a bit bland in its initial form. The addition of an Entrance animation can introduce a slide or add visual distinction to the begining of your presentation. If you use an Exit, Emphasis, or Motion Paths to your text or graphic, this will also put emphasis on elements of your presentation that you wish for your audience to take note of. In addition, you can add sounds that can "wake up" your audience and also add a bit of humor to your document. Finally, if you would rather animate a slide instead of a specific bulleted text or clipart, you can place the animation on the specific slide or the entire presentation.
Whether you choose to animate text, graphic art, or an entire presentation, this tool is a great way to add distinction and to gain the attention of your audience.