Still using Old Computers? What to do with your old PC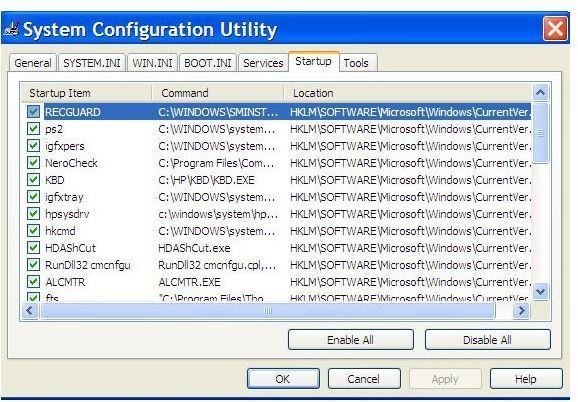 Start-up
Many of the programs you install on your computer will automatically set themselves up to load automatically in the background when you start your computer. In some cases this can be vital (for example, anti-virus scanners), and in others it can be helpful (for example, Microsoft Word can set itself up so that you can open it much more quickly). But if you have too many programs running automatically, it will take your computer longer to start up, and you may experience memory problems more often.
To change these settings, click on the Start menu and choose Run, then type in msconfig and press Enter. In the menu which appears, change the selection from Normal Startup to Selective Startup. Then click on the tab marked Startup and remove the tick from any programs you don't want to run automatically. Finally, click on OK.
You should only untick a program if you definitely know what it is and what it does, and you are sure you that don't want it to run automatically. If you are unsure about a program you can type its name into a search engine to see what it is, but always err on the side of caution.
The next time you restart your machine, you'll get a notification that Windows is in Selective Startup mode. This is simply a reminder rather than a sign of a problem, though you can choose to not display this message in the future.
Registry
The Windows Registry is a database of all the programs and settings on your computer. Over time, particularly when you delete or uninstall programs, this database gets out of date which can slow down or seriously confuse your computer. As it's not advisable to edit the registry yourself unless you are extremely confident about doing so, there are a range of free and paid programs which can 'clean up' your registry.
Before selecting a program you should read as many reviews as possible, both by expert writers and ordinary users. Be wary that some programs will run a 'free' scan and then exaggerate how many problems you have to try to get you to buy the paid edition. For more some tips on this, check out the series Editing the Windows Registry by Hand or with a Cleaner.
Delete unwanted files
Where possible you should try to leave around 10-15% of your computer hard drive empty. In technical terms, this is the equivalent of giving your computer breathing space. As well as keeping an eye on your Recycle Bin and emptying it fairly regularly, and uninstalling unwanted programs, it's worth occasionally checking for any large files you may have forgotten about. To do this, use the Windows search tool to look for any files above a certain size, for example 20MB. This may bring up large files such as downloaded videos which you'd forgotten about and no longer need.
There are several utilities on the market, such as SpeedUpMyPC 2009, that will perform many of the tasks from these last three sections for you. If you're short on time or worry that you might accidentally delete something you shouldn't, these products are worth checking out.
Defragmentation
Over time, your files will become physically scattered across your hard drive, which can make it much slower for your computer to find and access the data. Defragmenting is a free tool built into Windows which can rearrange the data on your drive to make it work much more efficiently. For more details, see the article: How and Why I Should Defrag my Hard Drive?
Memory
Upgrading your memory is usually the cheapest way to improve performance. Although it does involve opening up your PC, it's the simplest such upgrade there is, particularly on a desktop computer.
To check if you can upgrade your memory, you can use a free scanning tool such as the one offered here.
Images