Watch Network TV Online - Reviewed September 2009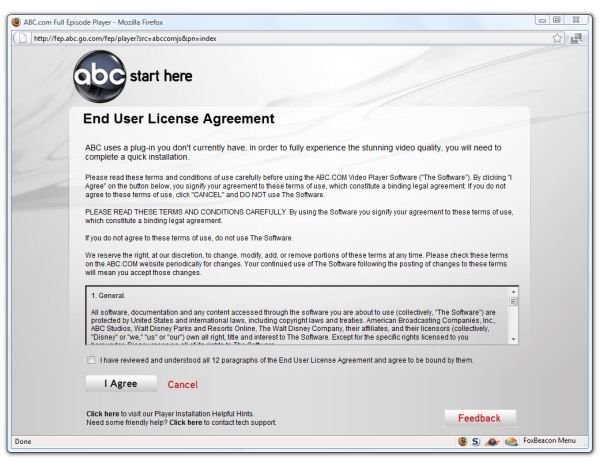 While a certain segment of the technology news is filled with the legal maneuvering of the studios and their front men, the MPAA, against copyright infringement, the TV networks, without much fanfare, have been releasing quality episodes of popular TV shows online. There are still a few rough edges exposed, but the experience is getting steadily better.
Online TV means online commercials. Realizing that the online viewer may be flighty, the networks tend to make them brief and less obtrusive than we're used to on network TV. What the studios receive from having their own online portals includes control over where their media goes. Sometimes it seems like the control is more important than the advertising – I recently watched several episodes of "House" with no commercials at all!
Here are the sites I visited.
ABC
ABC: https://abc.go.com/player
Available shows include Lost season 1 to 3 in "streaming HD," Pushing Daisies, Grey's Anatomy, and Ugly Betty. I watched an episode of Grey's Anatomy. It started with a ten-second Cannon camera commercial, and then it STOPPED. I had to "click to continue." It also kept the logo of my local ABC affiliate at the top of the stream. It seemed to be a 148 KBs stream. The player refused to go full screen on my PC, but selecting "Big" got me a 420 x 300 viewing window. I also tried the HD showcase. Alas, my DSL couldn't keep up. They do suggest that you have a 2MBs connection or faster and a high-end graphics card to view the 1280p stream. Selecting another episode crashed Firefox, but it restored correctly at restart. The ABC player is Flash based.
Update: When I came back to refresh this list, I found that "ABC.COM HAS A NEW FULL EPISODE PLAYER." (Their caps, not mine.) Clicking "Launch" launched a pop-up window that informed me, "ABC uses a plug-in you don't currently have. In order to fully experience the stunning video quality, you will need to complete a quick installation." Before this screen can be passed, one has to check-mark, "I have reviewed and understood all 12 paragraphs of the End User License Agreement and agree to be bound by them."
I actually read the entire EULA so you don't have to (unless you want to). It basically says that we are Disney and we own everything. Using our software doesn't make you own anything, and we can pull the plug any time we want. Furthermore, it may not work at all, and you can't blame us for that.
It also links to a separate page for the privacy policy, where I learn that Disney calls me a "guest." The first entry under what types of information they collect is "Information that you provide." This is usually enough to make me enter stealth mode, but I clicked "I agree." Then the next page said, "Why do I need to install something?" Firefox said it "prevented this site (fep.abc.go.com) from asking you to install software on your computer." (It's nice to be looked out for.) When I clicked "Allow," the link went to movenetworks.com. This is good news because the technology works great for Fox.com, and it should work great for ABC/Disney, too.
Then it said, "Restart Firefox to install the plug-in." Right. I'm actually typing this update in from . . . Firefox! (Sigh.)
And here's what the player window looked like at restart.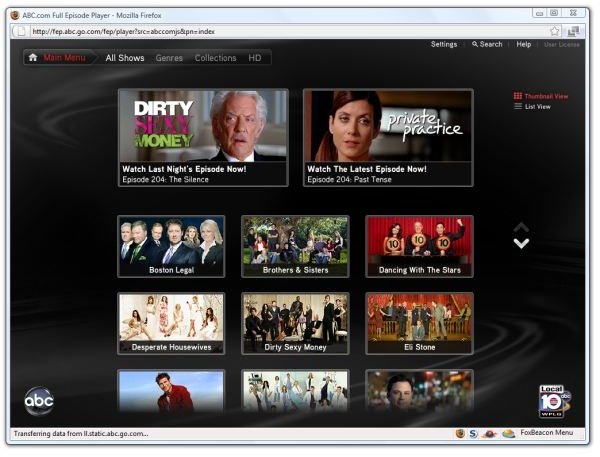 My rural DSL was not up to the task of running the player in full-screen mode, but the images below show the player running in SD (standard definition) and paused. When paused, the play window recedes to show an ad. I use Bitmeter to monitor my Internet throughput, and the pattern during playback reminded me of a lethal cardiac rhythm called torsades, which is French for "twisting of the points."
Images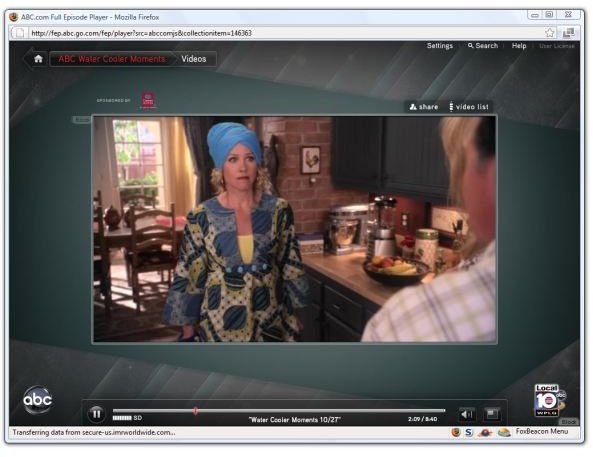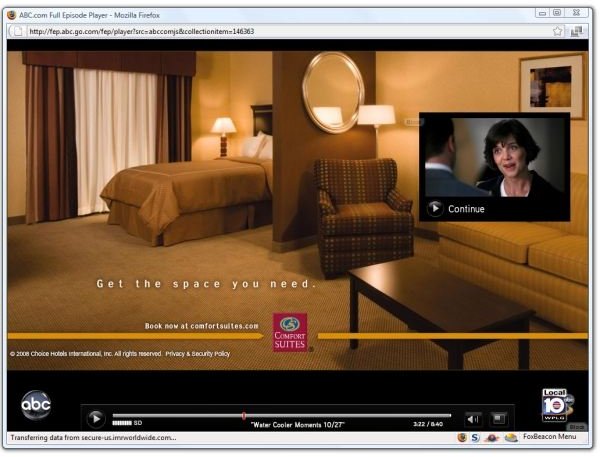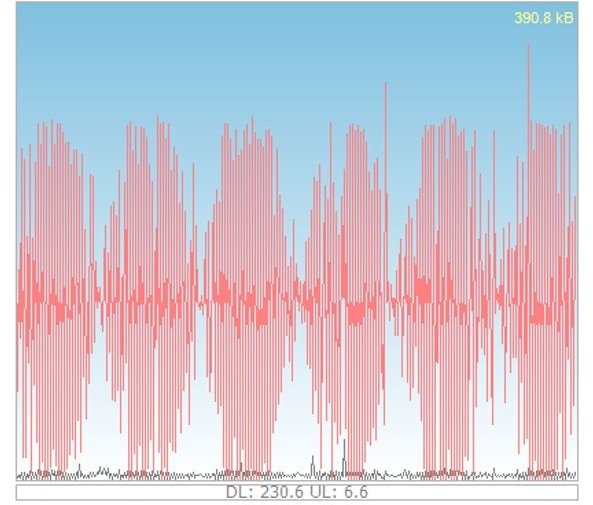 CBS
CBS: https://www.cbs.com/video/
This site features Survivor, several CSIs, Dexter, Jericho, and classics like Star Trek: The Original Series, The Love Boat, Twin Peaks, and MacGyver. I selected Jericho and found that episodes from season 1 #3 to season 2 #7 were available. It included short clips of "memorable moments," promos, and full episodes. Some are available with and without commentary. Full-screen worked, but was fuzzy and lagged. The embedded player size was 643 x 514, and my DSL had no trouble keeping up.
The controls disappear after a few seconds unless the mouse is hovered over the picture. In the image below, the controls are dimmed.
Update: I detected no changes with the CBS player. It still appears a little blocky.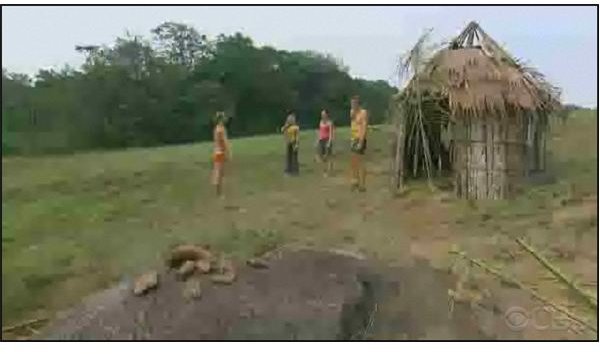 Next: NBC Direct, Fox, and Hulu.com
NBC
NBC: https://www.nbc.com/video/
Update: the last time I looked at NBC, I found that their "NBC Direct" viewer was difficult to install, and I never got it to work in on my PC. Let's try it again and see what happens.
Well, I can wrap this up quickly. After looking at NBC's end user license agreement, I can definitely say that NBC Direct is not worth installing.
From the EULA:
"The Service contains a library, storefront, and downloading manager to assist you in downloading Content for storage and/or viewing on your computer . . . YOU SPECIFICALLY AGREE THAT THE SOFTWARE MAY DELETE FILES AND CONTENT FROM YOUR HARD DRIVE(S) AND OTHER COMPUTER MEDIA."
And:
"The service uses peer to peer ("P2P") software to deliver Content files to your computer more quickly. P2P software works by using the processor and bandwidth function of computers in a network to deliver Content more quickly and efficiently . . . In order to use the Service, you hereby grant permission for the Software to utilize the processor and bandwidth of your computer for the limited purposes of (i) facilitating the transfer of digital files and communication between the users of the Software and the Services and (ii) pasting links to content in instant messages and RSS feeds."
And if that's not bad enough:
"Digital Rights Management: The service contains and enables digital right management technology that may be included with Content files provided to you via the Service, including technology owned by third parties such as Microsoft for Windows Media."
That's the worst EULA I've read since Google mangled the original Chrome browser EULA, which was quickly amended.
So NBC would like to put a storefront application on my PC to handle downloads that are encumbered with DRM and which sets up a P2P file sharing network that tells others what files reside on my PC by RSS feeds and instant messaging.
That's mighty precious of them, and I wonder how many folks are using this service without even knowing that their PC is talking with other PCs out the back door and that the NBC download/upload manager is sucking up the bandwidth that they pay for even when they are not using the application.
I suggest that you avoid NBC Direct like the plague.
Fox
Fox has graphic links for America's Most Wanted, Bones, and House on the front page. I selected an episode of House, and it was led by a 15-second commercial. Selecting full screen opened smoothly and ran inside the browser. This is the best big image I've seen among these sites. Site help says it's using the "Move Media Player" from Move Networks, Inc.
Update: I couldn't get the Fox viewer to work at all inside Firefox 3. It seemed to be a through-put problem, as the same video streamed fine to Internet Explorer. In IE, the Fox viewer still works great and the picture is fluid and detailed.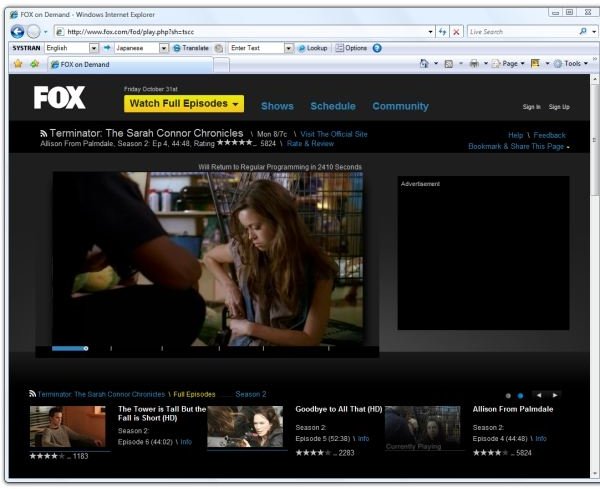 Hulu
Update: Hulu now have a desktop application that runs in Windows without needing a web browser. It works great, and you can find a Bright Hub review of it, too. Hulu Desktop Full-Screen TV for Your PC.
Hulu: https://www.hulu.com/
Hulu is a joint venture between NBC and News Corp. The viewer is Flash based, and it started quickly. Hovering the mouse pointer over the sides of the image brings up additional menu items. An interesting one is "Lower the lights" which darkens the rest of the webpage. I watched the "Nutter" opening scene from Ice Age, and the performance was fine. Full-screen worked fine. I also tried the high-definition option, and it worked fine in 480p.
Update: I really wondered how Hulu was doing after trying and refusing NBC Direct.
No worries. Hulu still works fine in Firefox 3 and looks great in the browser, "popped out," and full-screen. They have added much more content since the last time we looked.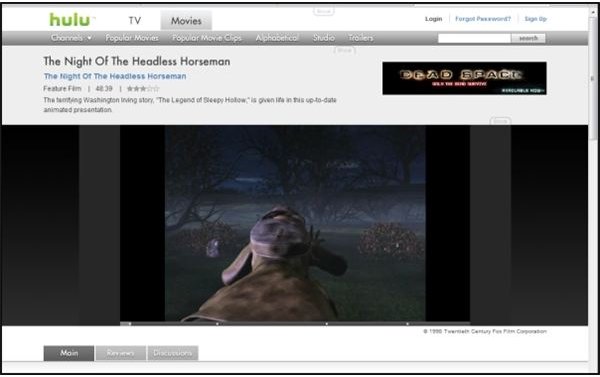 Finishing Up
So what are my conclusions?
They're a little rearranged since this was first written, but the recommendation last time was to use Hulu.com to get your fix of NBC programming until they straightened out the NBC Direct beta.Since NBC seems intent on taking over the user's computer, setting up a storefront and download/upload manager, and sharing files from your PC, not to mention using instant messaging and RSS feeds to tell others what DRM-encumbered files are on your computer, the recommendation now is stronger. Don't use NBC Direct at all. It's not good for consumers.
CBS only rates an honorable mention this time. Their program selection appears only a little bit better, and the other players based on Move Networks actually work better now.
ABC once again gets the artful award. Their application looks nice, and it works fine.
Fox's viewer did not work in Firefox 3, although it worked fine in Internet Explorer 7. We'll give them some time to work on that as FF 3 is still relatively new.
Hulu.com gets the top prize this time. They have a terrific selection of movies and television in their vaults, it streams flawlessly, and it works smoothly in the browser, popped out of the browser, and full-screen.
We'll look again in a few months and revisit this topic then if needed.
*
This article was updated on September 14, 2009.
Thanks for reading this. We hope you're enjoying reading and learning at the new Bright Hub.