The Best Free Music Streaming Websites and Why We Should Be Listening While We Still Can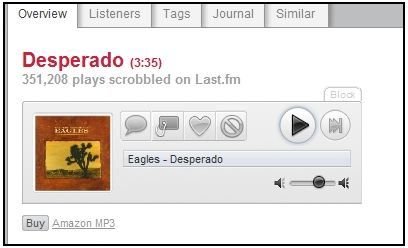 Finding New Music
Are you still listening to the same music that you did back in the day? If you've bought the same album over and over again on various formats, then you need to look at a new form of audio media which may even help you embrace a whole new music genre. You've probably begun to suspect that there is new music out there that you'd like, if only you knew where to look to find it?
Radio is not the answer. Radio makes it a lot easier to find music that you don't like.
Friends can help, but if you're the only boomer in an office full of young squirts, it's hard to get past the anonymity of the iPods, which stubborn you, you still don't have.
The music industry, of course, is very happy that you've bought that Eagles album on every known recording media since it came out, but now that you've reassembled the music library of your youth, some new artists would really like you to give them a listen.
The websites are last.fm and pandora.com. They both offer free music streams. The difference between them is how they approach finding related music.
Last.fm
last.fm uses "collaborative filtering" to determine what music to suggest. The idea is that if you like so and so, you'll also like this other so and so. Or if you like this so and so, other folks who also like that so and so like THIS other so and so, so you may too.
At last.fm, you can fill out a profile and tell them about your likes and dislikes, or you can simply name a group or artist and let the music start streaming. If you listen to a song to the end, the website figures that you liked the song and will offer something similar for the next song. If you skip the song, last.fm knows to try something else.
You can also download a program called the last.fm "Audioscrobbler." It "scrobbles" around in your iTunes collection and the playlists of some other popular audio players and reports back to the mothership. The site then streams music that is similar to what it finds that you already have.
The Last.fm Music Player
Pandora
pandora.com uses a different, more human approach. In fact, it's the front end of an ambitious project called the Music Genome Project®, which is described as "the most sophisticated taxonomy of musical information ever collected." Pandora hires folks with music degrees to analyze the music. They look for up to 400 different distinct musical characteristics.
To start at Pandora, pick a music group or artist that you know that you like. Pick, say, the Eagles, and you get "The Eagles Radio." After you've played several songs, it asks you to register with the website. At the bottom of the Pandora player, which runs in Adobe Air flash format, is a button that says "Guide Us." It offers choices like "I really like this song" or "I want to add more kinds of music to this station."
The Pandora Player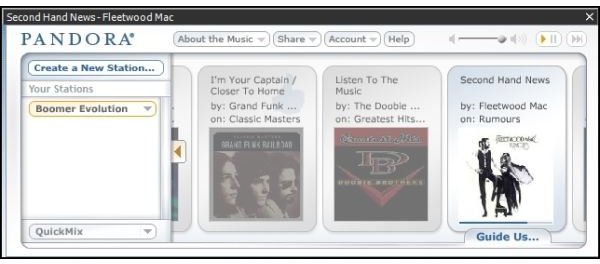 Interestingly, it also includes "Why is this song playing?" I just clicked that for a Moody Blues song (which I do like) and it says: "Based on what you've told us so far, we're playing this track because it features blues influences, a twelve-eight time signature, extensive vamping, a vocal-centric aesthetic, and minor key tonality."
Wow.
Pandora Menu - Why are we playing this song?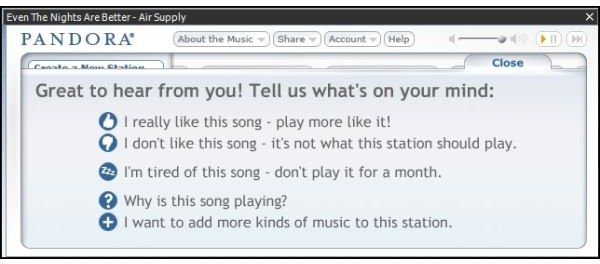 You also can name your station (mine is called "Boomer Evolution") and share it with other users. Hear a song you like? Click the up-arrow that appears when you hover over the album cover, and it offers "Buy… " and the choices are iTunes, Amazon CD, and Amazon MP3.
So there are two free music streaming websites that offer entertainment that they think you'll like as well as some new music every now and then. One works like Amazon.com – other people who bought this product also bought - and the other deals with the science of the music.
"Vocal-centric aesthetic." Pandora figured out that I actually like to be able to understand the words.
Great fun.
Rhapsody
Although not a free service, Rhapsody offers 25 free plays per month. This means that you can listen to the entire track of a song before making a purchasing decision. This differentiates Rhapsody's service from iTunes and Amazon, where you can only hear a smal portion of the song before purchase.
In June, 2008 began selling DRM (Digital Rights Management) free MP3 tracks. They now compete with Amazon for your DRM-free MP3 purchases.
The Rhapsody Player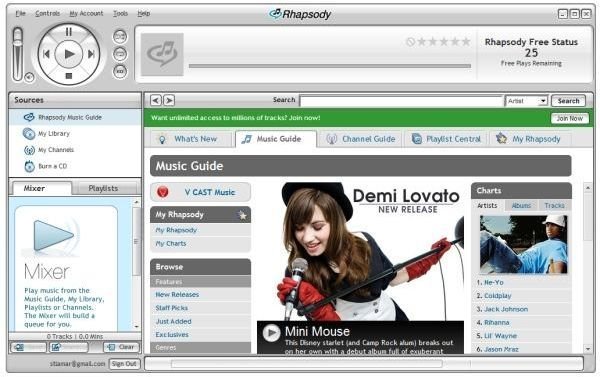 Ourstage.com
Add the website OurStage.com to the list as a good source for new music discovery.
This unique website tries to connect bands, filmmakers, fans, and industry professionals. After a content provider joins up and uploads his video or music track, he selects a "channel competition" to enter.
Then fans (who choose to do so) judge the content by comparing two similar or maybe dissimilar songs or videos side-by-side in sort of a kitten vs kitten way. The results are recorded and ordered by "Peer Relative Ranking." About that, their FAQ says, "The ranking or judging is done via two patent pending algorithms that serve up top ranking, middle ranking and relatively new uploaded material in a channel in 'somewhat' random fashion for someone to judge."
It is not required that a casual listener interested in music discovery participate in the judging – one can select a channel, click Play, and immediately begin to hear music that you most likely have NOT heard before.
There's lots more that you can do on OurStage, like setting up a profile that you can share with your friends, listen to music that's "racing up the charts," join fan clubs, create your own playlists, and chat with other users and possibly artists, if they are online, as well as judging new music.
After listening to OurStage for several hours, I think that OurStage is the best resource for finding new, fresh music just entering the system. It won't find music similar to Blue Oyster Cult or songs that you already have in your collection, but it will help you connect with some crisp new music sources that you may really like. You may even get to discover the artists before they're famous.
The Ourstage.com Player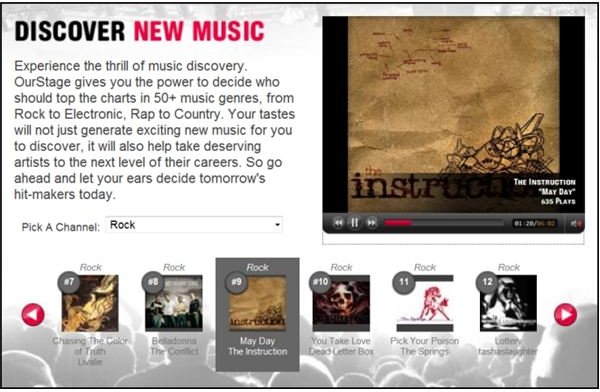 Further Reading
Trouble Ahead: Broken Down on the Information Superhighway
In the war against terrorism and media piracy the lines have been drawn - or have they? Highly visible is the conflict between the pipe owners and the content pushers, but are secret deals and treaties that affect the global use of the Internet, music, and movies being made out of the public eye? Read this to learn about ACTA - the secretive Anticounterfeitng Trade Agreement - and who's really behind it.
How to Surf Anonymously: Get Lost in the Crowd with Tor
When you're surfing the web, every data packet your PC sends out can tell the wrong people what you're doing and with whom you're communicating online. One method of anonymity is getting "lost in the crowd." Here we'll show you how.