Creating Screen Shots in Windows Vista the Fast and Easy Way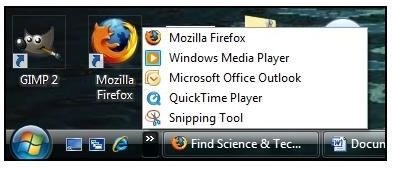 You probably already know that pressing the PrtScn button in Windows copies the entire contents of the screen to the clipboard. To work with the captured image, you then can use MS Paint or a similar application to edit, crop, and save the picture.
There's a faster, better way to take screen shots in Windows Vista. It allows you to outline the segments of the screen with the mouse pointer that you wish to copy, and then save the image in a variety of formats without having to start an image editing tool.
It's called the "Snipping Tool."
To enable it, click the Vista start icon and type "snipping tool" into the "Start Search" field. Vista will then pop up a dialog asking you if you would "like to add the Snipping Tool to your QuickLaunch bar." Click yes, and then the snipping tool will appear. Note that it may not appear immediately in the QuickLaunch area. (You may need to click the double-chevron icon to find it in the pop-up list.)
The Snipping Tool dialog has "New" and "Options" buttons. Clicking Options opens a new dialog. Of interest is a checkbox that says "Always copy snips to the Clipboard."
Image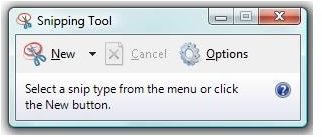 If you do not want to use another application to edit your image file, unselect this option. That will make the snipping tool use its own simple editing screen.
Image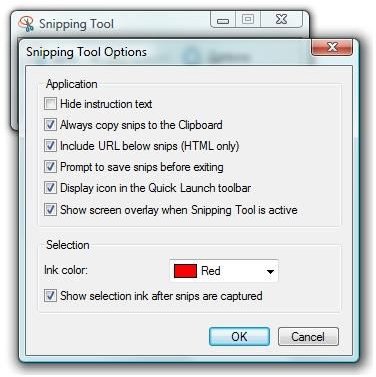 Clicking the down arrow next to "New" gives you the selection choices. Present are free-form, rectangular, window, and full-screen snips.
Image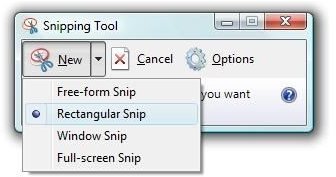 The snipping tool supports saving the captured image as a GIF, PNG, JPG, or HTML file.
You may think that saving an image as an HTML file is a curious choice. The file extension .mht refers to a "Mime HTML" file format. It's been a part of Microsoft Internet Explorer since 1999 (saving a web page as a "Web Archive") and is supported by MS Word and the Opera web browser (but not Firefox). Basically it saves the image like a MIME-encoded HTML email, and if you really need to do this, you would probably know why!
Image

Please note that the Snipping Tool is part of the Vista Tablet support tools. If you don't find it on your system, go to Control Panel -> Programs and Features and select "Turn Windows features on or off." Scroll down and check "Tablet PC Optional Components." Then click OK.
The Vista Snipping Tool is not the fanciest or most useful screen capture utility, but it's FREE and it's FAST. For those who frequently need to make screen shots of Windows applications, it is a very nice hidden feature inside Vista.
Images
Related Reading
How to Speed Up Vista's Boot Time
How to Create a Bootable Disc in Vista
Alternate Media Players for Vista
Setting Up Hands-free Incremental Backups in Vista