Review Overview for Live Search by Microsoft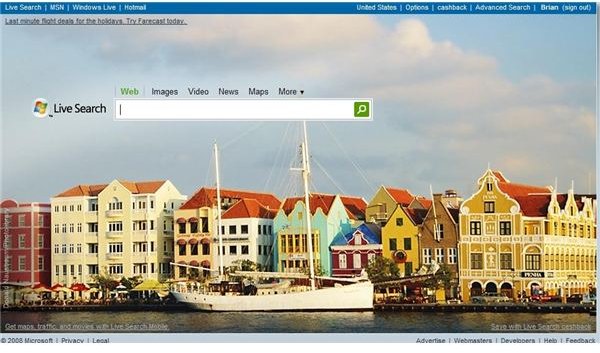 Live Search - What Is It?
Live Search is Microsoft's latest search engine portal. It is meant to replace the old MSN based search engine that was built back when the top competitor was Yahoo and "portals" were what would define the Internet.
Today, Google is the leader, and "search" is what defines the Internet. So, new look, new search engine. Let's look more closely.
As you can see, Microsoft has taken a page, sort of, out of the Google playbook. The overall simplicity of Google's landing page ensures that the page can load on even the slowest of networks because there aren't a lot of bandwidth using pictures or other features. Live Search is much slimmer than the old portal system, but Microsoft isn't just about search, it has other things it wants you using as well, so they've got a few extra links. The background picture helps to make sure that Live Search doesn't look exactly like they copied Google.
Live Search Quick Review (3 out of 5)
Quick Review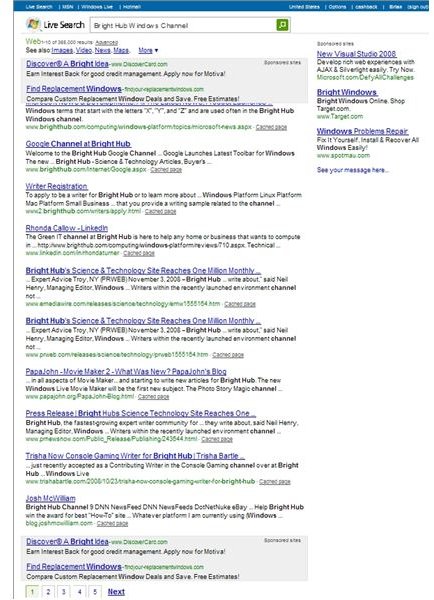 Type in a search and hit enter or click the little magnifying glass icon and you get the familiar search results list. No surprises with the formatting or layout. Sponsored searches, aka Ads, are at the top and along the right side. "Organic search results" go down the main part of the page with numbers at the bottom to move on to the next set of results.
For search options, Live Search offers a fairly limited array of choices. There is the "safe" (that is, no porn) option, as well as a place to set your location (for local searches) and language. You can choose how many results show up on each page, and limit your results to only pages in certain languages. Nothing revolutionary here, but nothing more is really required either.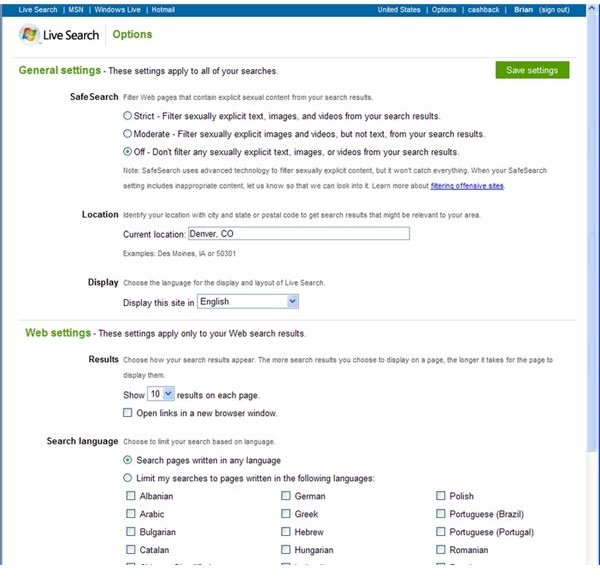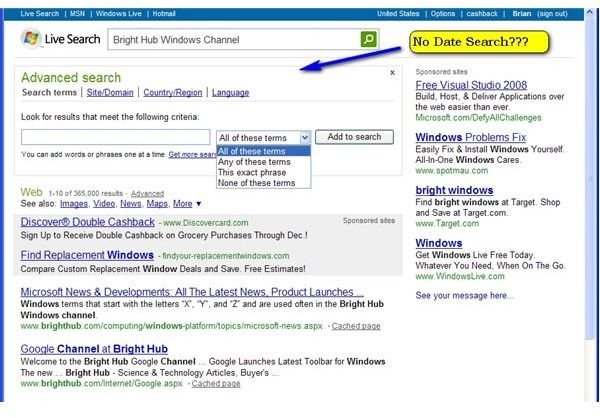 If you click on Advanced Search, you get options for performing a more specific search. This is where the trouble begins. Live Search doesn't offer a "Date" parameter for its searches, so you have no way of searching for the latest information on Britney Spears without bringing up articles about how she just married some no-talent back up dancer or shaved her head. We want to know what she did to embarrass herself LATELY. Geez.
The Verdict
On the surface, Live Search is mostly similar to Google's search engine. However, the lack of a date search feature is a crippling blow for this user. As a writer, I often need search engines to help me dig out the nooks and crannies of the Internet for information, contacts, and details. Last year's news is no good to me and lots of other users either. You can set the results to display by date instead of relevance, but then you risk getting plenty of junk at the top of your results, not exactly a good solution.
That single missing feature leaves us unable to recommend a switch to Live Search as your default option, but it might be useful for certain situations. Maybe we'll find a date feature as we dig deeper. Keep an eye out for the detailed review.
Coming Soon: The In Depth Detailed Live Search Review
This post is part of the series: Microsoft Live Search
Microsoft has spent big money improving its search engine and company executives regularly talk up the company's search efforts. Everything you did (and something you didn't) want to know about Live Search