Top 5 Best Websites For Great Deals - Monthly Top 5 Cool Websites Update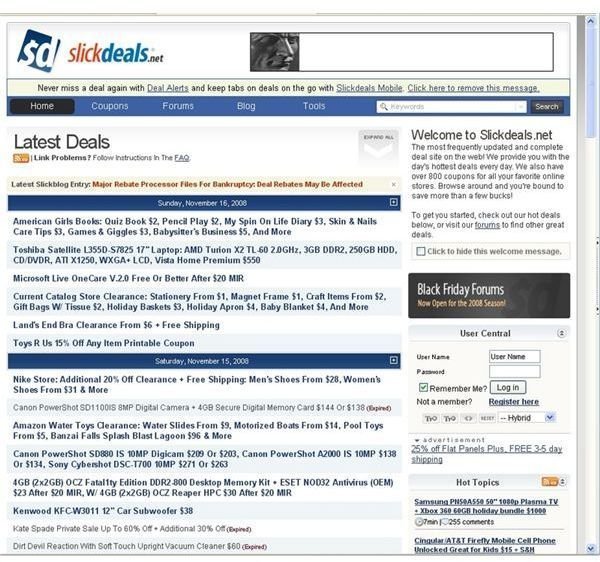 Top 5 Best Deal Finding Websites
Great deals on the Internet are a little bit like the X-Files. The deals are out there. But, just like Mulder and Scully have to slug through the world of tricksters and their shenanigans in order to get through the truth, we have to wade through the websites without great deals. Even worse, we have to sort through the websites that look like they have great deals, but really don't, and even worse, we have to avoid tricksters and other nefarious weasels. Let's do it.
Top 5 Deal Finding Website Reviews
I'm a deal finding junkie. If I had a therapist (can't find a good enough deal!) she would say that I'm addicted to finding great deals so that I can buy stuff. She ain't lying. I love a good deal. Wait, scratch that. Good deals are for chumps. I love a GREAT deal.
There are lots of "Good Deals" websites out there, but they aren't all created equal. Plenty of them are nothing more than a way get you to view ads, and others will point you to whoever will pay them the most regardless of how good the deal is. In order to find great deals, you need sites that you can trust and sites that are so dedicated, they never miss a deal. Here are the Top 5 Best Great Deals Sites.
Five Star Great Deal Sites (5 out of 5)
SlickDeals.net
The guys at SlickDeals are all about great deals. Unlike some other sites, they don't care about filling up the screen or making sure that a certain number of options are available each day. To them, a great deal is a great deal and nothing else counts no matter how few entries that gives them for the day. Check out that front page. I count two, that's it, TWO ads. (There are more along the side if you scroll down, but they aren't in the way.) What about the deals? There you go. Today, they list just six new deals. On SlickDeals, you don't have to wade through a bunch of mediocre deals to find the gold. Only the gold makes the front page.
What about the rest of the deals? Check out the forums. Line after line of deals submitted by and rated by readers and fellow deal hunters. So, if you are looking for something that isn't on the front page, just search or browse. If you have the ability to read it all, you'll never miss a deal.
DealNews.com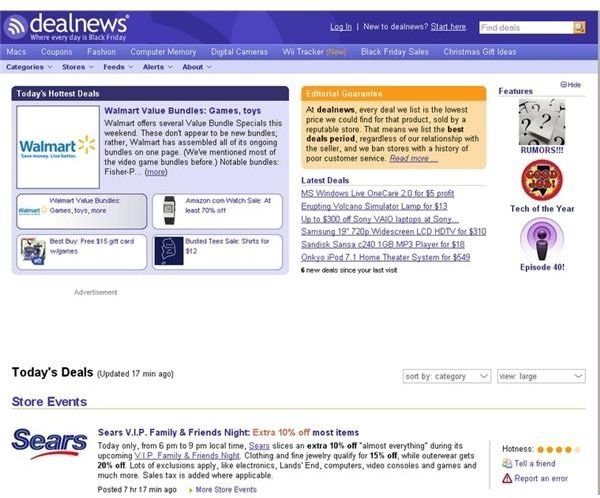 Same concept, different implementation. Where SlickDeals is laid out by day, the folks at DealNews figure if it was deal yesterday, then it is a deal today. Thus, their listing displays the whole gamut of deals that they currently think are great and not expired. They even GUARANTEE that the only way a deal makes their page is if it is the lowest price they can find.
Unlike SlickDeals, DealNews doesn't just list its top tier deals. They figure you might need a "good" deal if you can't find a great one. But, don't worry, these guys won't lead you astray. Each deal is rated, so you know if it is amazing or just ok.
GottaDeal.com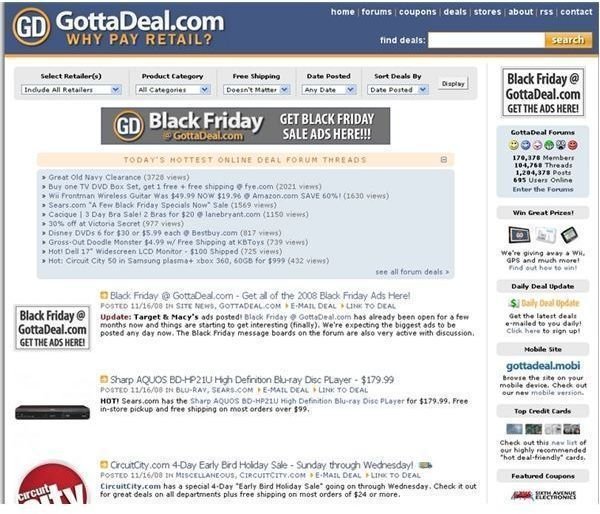 Another top bookmark deserving deal finding website is GottaDeal.com. GottaDeal takes the show 'em all approach, so you'll never leave without seeing several deals. But, they highlight the best of the best at the top of the page. How do they decide which deals are the "hottest"? By listening to their army of deal seeking users. Hot topics in the user forums are the hot deals on the page.
Each deal posted on GottaDeal comes with a couple sentence blurb explaining not just the deal, but where it fits in the great deal universe. You'll frequently see honest information like: It was $24 cheaper in May, but it is the best deal we can find now by $11. That helps a lot if you want to buy something but don't necessarily have to have it right now.
Deal Locker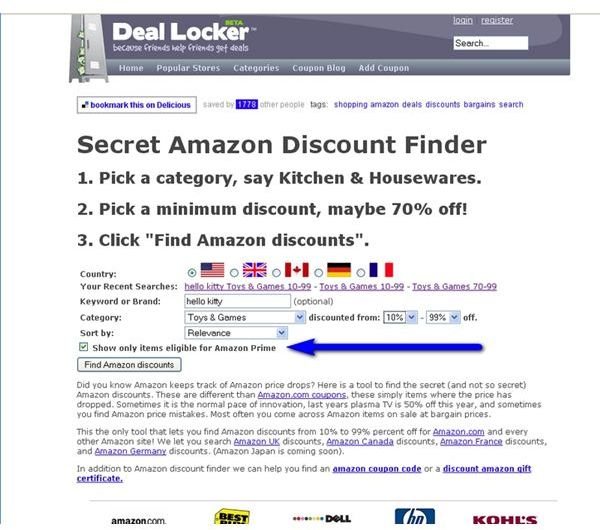 I hate Amazon.com these days. Their search is terrible, their price listings are phony thanks to "affiliated" sellers and you can't even get decent filtering thanks to affiliate merchants who lie about what category their item fits in. But, there is hope. At Deal Locker they claim they are a "secret Amazon discount finder." I don't know about that, but they have programmed out a nice website that helps you find the goodies.
Choose the category you want and then how much of a discount you want. Then, the true genius of the whole site, check the box that says "Show only items eligible for Amazon Prime". Now, I don't give a dead cat's butt about Amazon Prime, but if it is eligible for Amazon Prime, then it eligible for free shipping and that means that it doesn't come from those pesky other retailers who clog the site with their wares.
Search on Amazon for "Hello Kitty" in Toys & Games and you'll get over 1,000 results. Narrow it down to just the items with "discounts" and you'll still be way up over 200. Including plenty of shifty results like a Hello Kitty cup for just $1.89 (oh, wait, there's $6.98 for shipping!), and the inevitable we-lied-about-what-it-is-so-it-would-show-up-in-your-search products like Sanrio Chi Chai (some monkey thing) and "Glamour Kat" items, neither of which make it into the results generated by Deal Locker.
Four Star Deal (4 out of 5)
TechBargains
Don't letting the rating fool you, TechBargains is a killer deal site. The only thing holding it back from a full 5 star rating is that it is for, you guessed it, technology related deals only. So, if you want a great deal on an air compressor to help fill up the giant Hello Kitty inflatable castle you found for your two year old daughter (that whole Hello Kitty example makes a lot more sense now, huh?) you probably won't find it on TechBargains. But, if you need an external hard drive, new software, a USB drive, laptop, or new computer these guys will show you a plethora of sweet deals (No, it isn't word of the day toilet paper, I know the word because of The Three Amigos).
Other Cool Websites
There you go, the Top 5 Best Deal Websites. Don't miss last month's update:
Last Month's Monthly Cool Websites Update
Also, for great (FREE) software deals check out the Monthly Freeware Update