Samsung Q45 Review - Best in class high specification Ultra Portable Notebook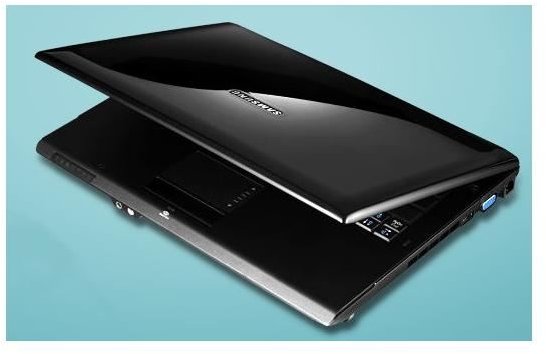 Specification
Price - $1400
Processor - 2.4 GHz Intel Core 2 Duo
Memory - 2 GB
Storage - 120 GB HDD
Width - 2.74cm to 3.58cm
Weight - 1.86 kg
While Samsung may not be renowned for manufacturing personal computers, they have dipped their toe into the ultra portable notebook market with a highly efficient and multi-dimensional notebook, in the Samsung Q45. With an robust casing and neat, compact design the Q45 looks professional and feels great in use. With an impressive set of features and a quality specification it offers much in terms of performance, connectivity, storage and visuals.
Weighing 1.86 kg the Q45 is one of the heavier ultra portable notebooks, primarily because it has a higher spec than most, and protective casing. Having made some adjustments to the design of the Q35, Samsung have done away with the silver chassis for a more slick look, and taking a leaf out of the Lenovo ThinkPad's book, have launched a professional, glossy black casing. However, as with the ThinkPad, this casing, while looking fantastic, is prone to scratches and 'grubby' fingerprint marks.
The Q45 has a 12.1" screen which delivers 1280 x 800 pixel resolution. The screen has to be one of the best in class, with its Samsung Super Bright Gloss Layer, making images bounce with color and vibrancy, whether in motion or still. However, as with the Dell XPS 1330 and unlike the Fujitsu Siemens Lifebook, the Q45 is not the best at deflecting light for multiple viewing angles.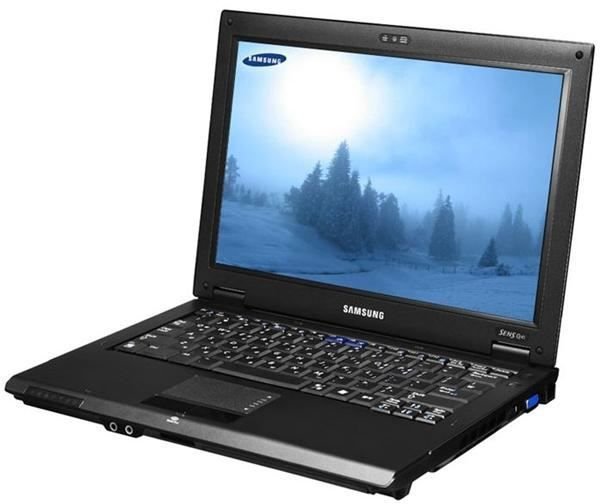 The Samsung Q45 has a keyboard that matches the ThinkPad, which has for a long time been the ultimate Notebook PC keyboard manufacturer. Keys are firm yet responsive and are beautifully spaced for minimal duplication of effort. Again the half-size function keys are not the easiest to use, that said, this keyboard works perfectly in any tight-knit situation. The touchpad is a proportionate size, scrolls evenly and mouse action is delivered easily. I would have no problem with this navigation aid, except that after a sustained period of use, the area around the wrist rest pad gets slightly warm. This is not a showstopper however, and certainly wouldn't make for an uncomfortable end user experience.
The Samsung Q45 comes with various choices of processor. All are high-powered, performance chipsets that can perform most tasks even those such as strategy gaming simulation, video suite editing and advanced presentation creation. Obviously the Q45 doesn't perform as well as dedicated notebooks and desktop PCs with their top of the range processing power, memory capacity and discrete bespoke graphics engines but for the gaming and business user you'll be hard pushed to find any application that cannot run supremely quickly on this device. The Q45 comes with Windows Vista Business as standard, a 2.4 GHz processor and 2GB RAM (expandable to 4GB) making it a very fast ultra portable. With an integrated Express chipset that can dynamically access system memory, and a discrete NVIDIA GE Force 8400 processor, with 128 MB of dedicated video memory, the Q45 has no problem running any application, however graphics intensive.
The Q45 has a 160 GB HDD which runs at 5400 RPM and with divided partitions is fairly responsive. It would be good to see a Solid State HDD included in the build but the recovery partition is a nice touch and a crucial feature for the ultra portable user who in todays climate demands back-up facilities that are quick and reliable.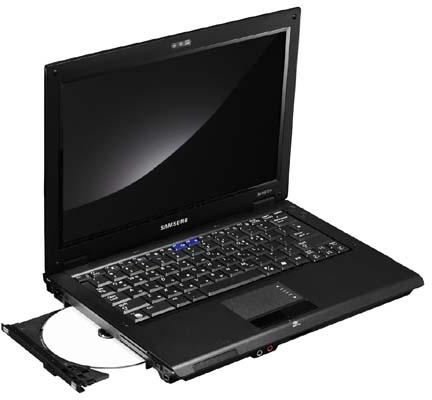 The Q45 comes with Wireless, Ethernet, Bluetooth, a multi-format jewel layer DVD burner, PC card slot, FireWire, microphone and headphone jack, flash card reader and USB (x2). There is also a 1.3 megapixel camera on the top of the screen which provides fairly reasonable still and video imagery, however the WebCam is in a fixed position, meaning the screen in its entirety has to be moved to position the camera for optimum viewing.
Another area where the Samsung Q45 is impressive is in terms of battery life. The six cell battery pack provided as standard gives between five and six hours of battery power, however this is reduced considerably when running WiFi as you'll get around three hours. Charging the battery is incredibly quick, taking less than an hour to fully charge, and there are options to install a nine cell battery pack if users require full day operability.
Conclusion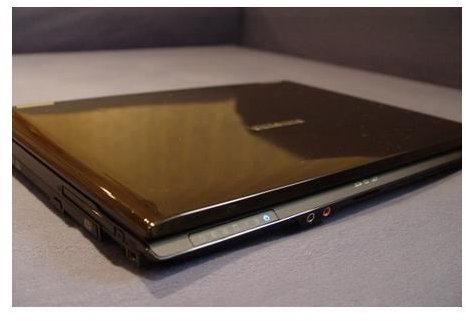 Where the Apple Mac book Air and Toshiba Portege R500 are the ultimate in ultra thin notebooks, the Samsung Q45, along with the Dell XPS 1330, is a truly exceptional performance notebook. It has an excellent build composition, robust yet manoeuvrable in equal measure and is perfectly balanced for mobile use. With an integrated WebCam, DVD burner and plethora of communication ports this is a supreme machine in every sense. It may weigh slightly more than some of the other offerings and does not look like something out of Star Wars! but it does look good, performs magnificently and in general will provide the end user with excellent service, battery life and features.
Concluding Part »> Grading the Notebooks
This post is part of the series: Top Ultra-Portable Notebooks Review
Looking for an ultra-portable notebook for mobile computing at your fingertips. Here we review the best in the new range of ultra-portables, looking at resilience, weight, performance and features.