Asus U2E Review - Ultra Portable Computing with a stylish finish and compact design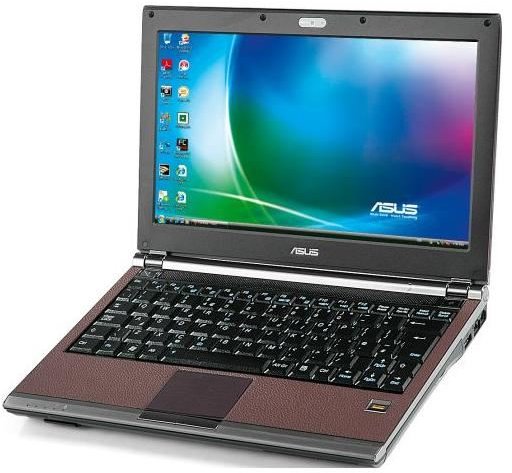 Specification
Price - $1800
Processor - 1.06 GHz Core 2 Duo
Memory - 2 GB
Storage - 120 GB HDD (32 GB Solid State option)
Width - 2 cm
Weight - 1.25 kg
Breaking new ground in ultra portable notebook design the Asus U2E is one of the best looking mobile computers on the market today. With its leather finish and compact design build this is a device to compare with the professional look of the Lenovo ThinkPad and Samsung Q45. At 1.25 kg it may not be the lightest unit in its class, which is a mantle that goes to the Toshiba Portege R500, but it is a beautifully light notebook with all the punch that is required for portable computer use.
In terms of design functionality the U2E is classically shaped to operate nicely in the hand or in a solid location. The leather finish provides excellent control, and covers the area around the keyboard which makes keystroke entry and touchpad manipulation very comfortable. Of course some potential buyers will be put off by this look and it is worth taking a look at the device in the flesh prior to making a purchase decision. As with any notebook you may be about to buy, don't just look at a few images, the odd review, and fancy 360 degree virtual tour, to make your decision. See one with your own eyes, I think the U2E will be a pleasant surprise.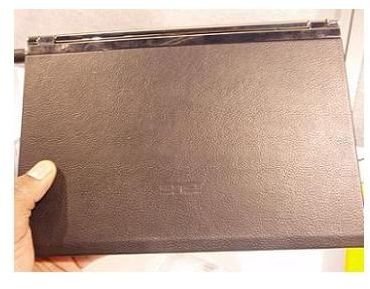 The overall design of the casing is robust, there is minimal heat or noise emitted from the unit, and the finishing's, such as the locking mechanisms and screen are solid, making this a wonderful device for ultra portable use. It certainly is a classic 'portable' when you look at the dimensions - 77mm x 194mm x 24mm and is lightweight, if not in the class of the Toshiba Portage R500, weighing in at 1.25 kg.
The 11.1" LED backlit widescreen display delivers a magnificent 1366 x 768 pixel resolution and crystal clear image quality. It is highly efficient on battery power and has best in class viewing angles, 'bouncing' reflection for easy viewing inside and outdoors. The end user experience is also enhanced with the installation of an excellent keyboard, which while not full-size is easy to use, housing firm keys and a responsive touchpad.
The Asus U2E has a very average ULV processor, running at 1.06 GHz, which isn't a tremendous amount of 'pop'. It is only an adequate performer in day-to-day use, is no gaming notebook and certainly won't produce graphics to create Finding Nemo! However it does have 2 GB of memory and expansion capacity for 4 GB, thus making the U2E quicker than you would expect. As a combination the 1.06 GHz processor and 2 GB of memory are suitable for standard application use and as the U2E notebook comes with Windows Vista Home, it can handle such a resource hogging operating system with its seamless 3-D graphics / Windows Aero platform. However in general, the U2E is slower than others in this review series and lacks real time processor power during multi-tasking.
One major area where the Asus U2E falls down is storage capacity. The standard model comes with a distinctly average 120 GB HDD which is divided into two partitions. The first houses the operating system and applications, the second is a data and recovery partition. Considering this is an ultra portable notebook this is not a considerably good idea, where processor, memory and storage are parts with premium importance, as such it is encouraging that Asus have incorporated a 32 GB Solid State HDD. However, while the benefits of Solid State are, quicker delivery, energy efficiency and resilience, at 32 GB the size is minimal.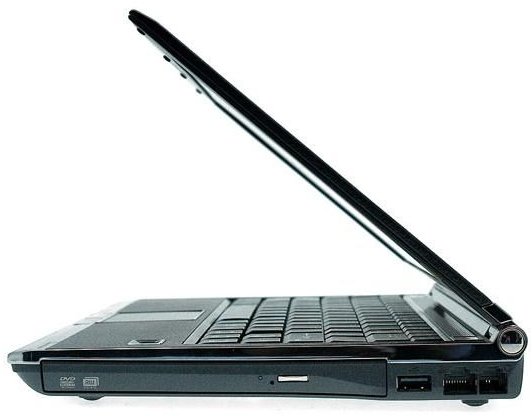 Considering its size and weight the Asus U2E doesn't compromise on features or connectivity. There is a multitude of slots, for example USB (x3), Video out, Webcam, Ethernet, Wireless A/B/G and Draft-N, and an integrated DVD burner. It certainly has more functionality options than the Apple Macbook Air. It also has an outstanding fingerprint recognition feature which offers heightened security.
In terms of battery power the Asus U2E is no Duracell Bunny! The standard three cell battery pack will hardly give you more than one hours use, certainly not during high intensity processing. The six cell battery pack as is also supplied as standard provides around two hours of power, which is nowhere near enough for most mobile computer requirements.
Conclusion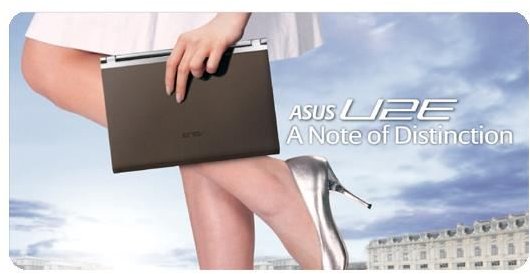 The Asus U2E is an ultra portable notebook with a slick, professional look. More compact than others in this range and although it only has an 11.1" screen it is no less impressive. The processor lacks real kick in multi-tasking activity, storage capacity is nothing to write home about, and battery life is considerably worse than others reviewed here. However with a compact design, stylish casing and advanced feature set, this is a notebook that can be very handy in the category of mobile PC companion. It does not come close to the Dell XPS 1330 or Samsung Q45 considering it has a similar price tag and performance is considerably worse, but if you were to need a stylish second option the Asus U2E is a solid offering.
Next »> Summing Up - Grading the Notebooks
This post is part of the series: Top Ultra-Portable Notebooks Review
Looking for an ultra-portable notebook for mobile computing at your fingertips. Here we review the best in the new range of ultra-portables, looking at resilience, weight, performance and features.