Toshiba Portege R500-12S Review - The lightest portable notebook on the market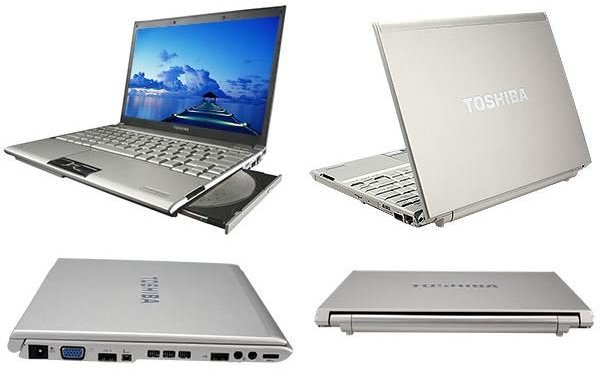 Specification
Price - $2500
Processor - 1.33 GHz Intel Core 2 Duo
Memory - 2 GB
Storage - 120 GB Solid State HDD
Width - 1.95cm 2.25cm
Weight - 779g
In direct competition with the Apple Macbook Air as the lightest ultra portable notebook on the market, the Toshiba Portege R500 12S is very impressive. It looks slick, even with a considerable amount of plastic finishing and has a professional aura encapsulated in the design and ergonomics. Furthermore, unlike the Macbook Air it does not compromise connectivity options or storage space for weight and size.
The 12.1" widescreen is a WXGA digitised touchscreen and LED backlit. It delivers 1280x800 pixel resolution and is a highly impressive feature of the device. Providing superb display quality at multiple angles it is perfectly visible in transit and outdoors. It is also most impressive under direct sunlight, something that cannot be said about many of the notebooks in its class. If we did want to be really picky we could look sceptically at the super fine, 'paper thin' screen and although I have heard no reports to suggest this it certainly doesn't look like it could take much abuse.
The easy clean, spill resistant keyboard is a worthwhile addition and one that others in this category of mobile notebook manufacture should take note of, such is its relevance in the current climate of heightened infection control risk. In general use the look and feel of the keyboard are excellent. The touchpad is reasonably responsive and can be turned on or off as the user requires. Along with the keyboard it is also able to withstand bumps and bruises, spills and thrills. There is also built in fingerprint recognition which is a nice touch. However the fingerprint reader software as supplied with the notebook is basic and does not offer anywhere near the level of password protection or service you can get from specialized security suites.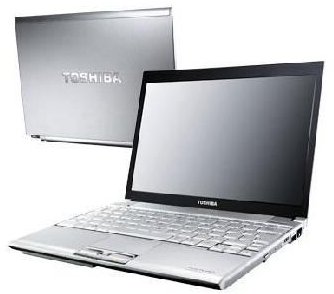 Powered by an Ultra Low Voltage 1.33Ghz Core 2 Duo processor and 2GB memory the Toshiba R500 offers only a marginal spec, one which only really suites the general business or home user. Begging the question is the price a little high? But with others in this price bracket offering similar processing punch this is a suitable offering for the current notebook market. Of course the gaming enthusiast or multimedia guru with a penchant for dynamic seamless graphics would need to look at upgrading the standard model or looking at a higher spec notebook such as the Samsung Q45 or Dell XPS but to the average user this combination of processor, memory and integrated graphics would fit the bill perfectly. It does run Windows Vista Business as standard and is perfectly suited for such an operating system. Also, as is the case with all Toshiba notebooks, the Portege R500 comes with some excellent utility programs - InterVideo, WinDVD, MovieWriter, Norton Internet Security 2007, HDD protection configuration software, network connectivity setup and power saving connections.
Fitted with a 120GB Solid State HDD there is an abundance of storage capacity which delivers information quickly and reliably, and such is the advanced build of Solid State HDD technology, users are less prone to damaging the unit or losing data during mobile use.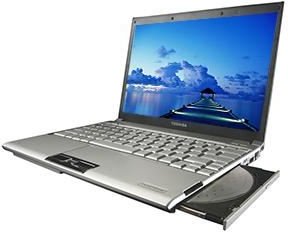 In terms of battery life the Toshiba R500 is reasonably well equipped to deliver extended life. While the eight hours as advertised is a bit rich you can comfortably get between four and five hours of use even when performing processor hungry tasks. You can also easily replace battery packs, replacing the standard six cell with a three or nine cell as you see fit. As with most notebooks in this range the battery pack is situated at the back of the device, and while this is not worth mentioning with most devices, such is the lightweight build and feel of the Portege R500, there is a considerable imbalance between the weight at the front and the back of the unit.
Most impressive of all, even with its extremely thin design the Toshiba R500 has not had to compromise on connectivity. As such it is equipped with considerable communications and media ports - USB (x3), Ethernet, i-link, FireWire, two audio ports, monitor out, SD and PC card slots, microphone and headphone jacks.
Conclusion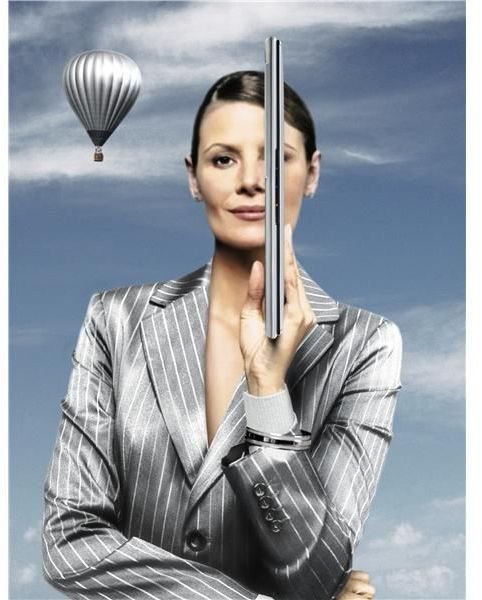 Many notebooks, and almost all of those in the Toshiba Portege range weigh less than 1kg but for the ultimate size and weight combination the Toshiba R500 is the daddy! If you're primarily concerned with getting a truly ultra slim, ultra light notebook then the Toshiba Portege R500 is superior to all. It may be rather pricey, but at 779g it is a seriously slender device that amazingly doesn't lose any significant performance or connectivity options, even integrating an optical drive. For basic communications, web browsing, word processing, information analysis and presentations on the go and with speed, this is the best of the best ultra portable. Pleasing on the eye, and under the arm it won't embrace the latest version of Call of Duty or Sims but for all-round performance, even for the executive user, this is a wonderful piece of kit.
Concluding Part »> Grading the Notebooks
This post is part of the series: Top Ultra-Portable Notebooks Review
Looking for an ultra-portable notebook for mobile computing at your fingertips. Here we review the best in the new range of ultra-portables, looking at resilience, weight, performance and features.