Stupid Pet Tricks With The Windows Vista Taskbar

The Taskbar is Resizable
To resize the taskbar to two horizontal rows or more, slowly pan your mouse over the top edge of the taskbar. When the icon changes to a two-way arrow, click and drag the taskbar upward.
Images


The Taskbar is Relocatable
You can click an open area of the taskbar and drag it to the top, left side, or right side of the screen. Be sure if going to the top, you move down any application windows before dragging the taskbar. If you don't, the top of the application windows will become trapped under the taskbar, forcing you to close the application . . . from the taskbar.
Images


Why is this a stupid pet trick? Chaitanya Sareen of the Microsoft Windows 7 Core User Experience team said in the Engineering Windows 7 blog that their research indicates that less than 2% of users put the taskbar anywhere but on the bottom of the screen.
Some other interesting statistics: only 4.97% of users auto-hide the taskbar, but 99.1% choose to keep it on top of other windows. 90.4% group similar taskbar buttons, and 95.06% elect to show quick launch.
What is Quick Launch? It's the first area to the right of the Vista Start button, where "Show desktop" and "3-D flip" are located. If you're interested, the main button area that comes next is called the "Taskband." Then comes the "Deskband" or desktop toolbar or gadgets area, and the Notification (nagging or "What was that?") area.
About grouping similar taskbar buttons, I detest that feature so much that I keep my taskbar at two rows, but that does lead to another question: how many windows, both applications and folders, does the typical user have open at one time? According to Mr. Sareen, almost 50% have 6 to 9 open, while 0 to 5 and 10 to 14 account for about 20% respectively.
The Taskbar is Lockable
To lock the taskbar so that it can't be altered, right-click an open area and select "Lock the taskbar."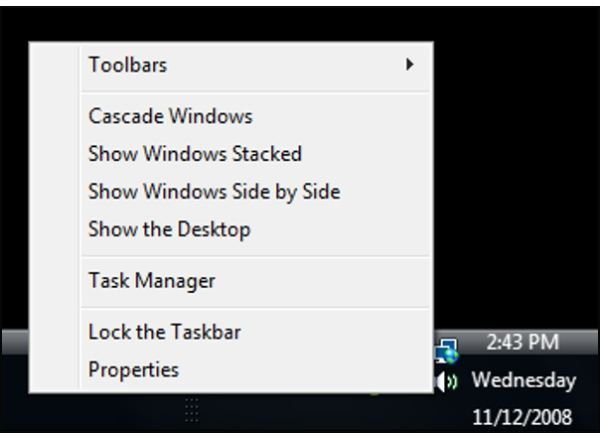 The Taskbar is Just Another Folder in Vista
That's right. Like the Vista Start Menu, the Vista taskbar is just a folder. As such, you can put other things like folders and programs in it. This can be very convenient if you have the taskbar always set to be on top, as it can give you rapid access to whatever you choose. Let's try to put the "Computer" folder in the taskbar.
Right-click and select Toolbars and New Toolbar. In the "New Toolbar – Choose a folder" icon, select the folder you want to add to the taskbar, and click "Select Folder."
Images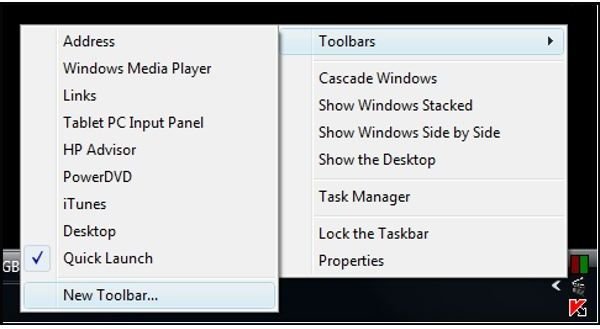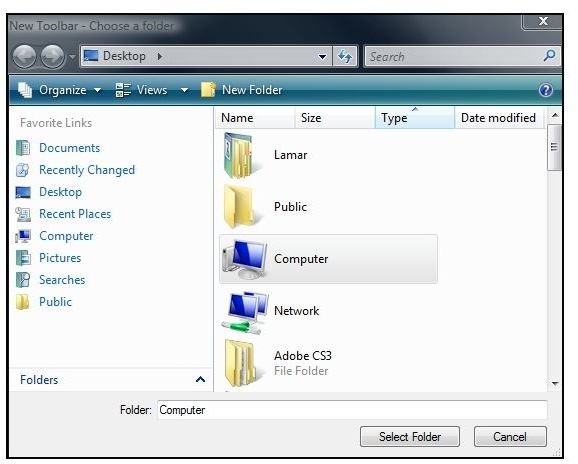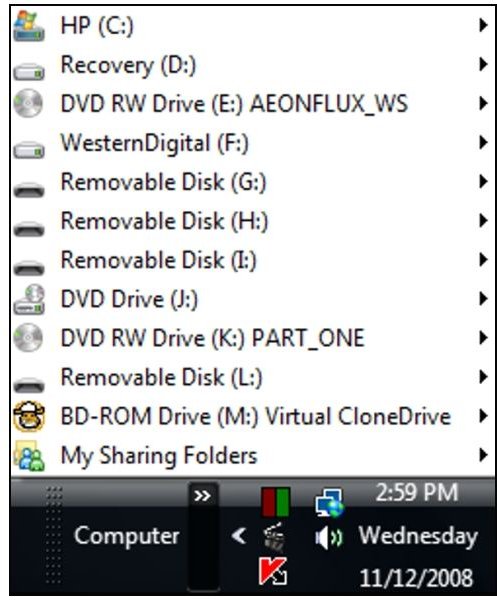 Missing System Tray Icons Are Fixable
It wouldn't be a Stupid Pet Trick without one serious bit of advice, and this one has to do with disappearing or vanished icons in the system tray. Usually, the ones involved are for volume level, network connections, and battery level. When going into the settings by right-clicking the taskbar and selecting Properties and then the "Notifications" tab, you find that the system icon options are present, but they are grayed out or disabled. That's annoying.
Here's something to try if you encounter this problem in Vista.
First, set a restore point.
1. Click start and type in "systempropertiesprotection"
2. If User Access Control is active, click Continue
3. Click Create
4. Enter a meaningful name for your restore point
5. Click Create and watch as it makes the restore point
6. Click OK to close the System Properties dialog.
Then press the Windows (Start) key on your keyboard and enter
regedit
and press Enter. In the Windows Registry editor, navigate to
HKEY_CURRENT_USER\Software\Classes\Local Settings\Software\Microsoft\Windows\CurrentVersion\TrayNotify
In the right pane, you'll see two "reg_binary" keys named IconStreams and PastIconStreams." Right-click each one and select Delete.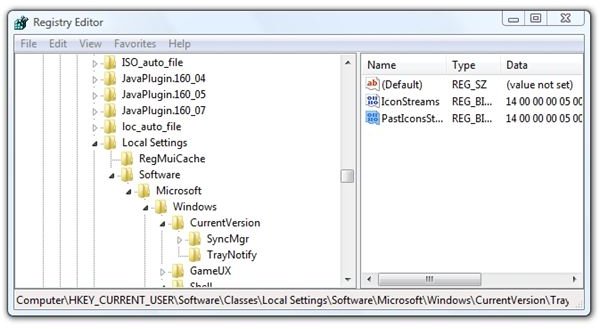 Then close the Registry Editor and restart your computer. When it reboots, your missing icons in the System Tray should have returned.
*
Congratulations. You've survived a Vista Stupid Pet Trick. Thank you for reading this article. I hope you are enjoying learning and reading (everything else) at the new Bright Hub.
Further Reading:
How to Block Third-Part Tracking Cookies in Internet Explorer and Firefox - Are you leaving tracks everywhere you go online? If your browser is sharing cookies with a website you're not even (knowingly) visiting, you've got third-party tracking cookies on your PC. This article defines cookies and looks at blocking a certain type.
How to Track a Stolen Laptop - It's a jungle out there. According to a recent report, 672,000 notebooks are lost in airports every year in the US and more than half are never recovered. It makes sense to assume eventual loss and take precautions before the loss or theft happens. Free tracking application Adeona can help.
Turn Your Vista Laptop into a Mobile Hotspot - Need to share your wireless Internet connection with your friends or colleagues? If they've got WIFI, the solution is easy and free. This article tells you how.
Is Using Vista's Hybrid Sleep Good for My Notebook - Curious about whether the new power saving modes in Vista are actually better for use on the desktop than on your laptop? Here we look at Vista's hybrid sleep mode and how hibernation and sleep are different from Windows XP.
How to Deauthorize ALL Computers in iTunes - If you go through computers the way I do, you've probably encountered the problem of running out of authorizations in iTunes.It's no longer the hassle it once was. Now it is possible to de-authorize ALL the computers at once, instead of doing them one at a time.