Can Microsoft Word Help Your Business?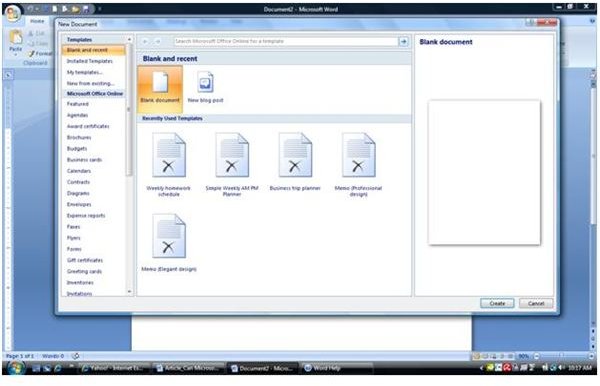 Microsoft Word 2007 and your Business
You might be wondering if investing in Microsoft Word 2007 would be worth it for your small business. The answer is yes! Whether you run a floral shop to an auto repair shop, Microsoft Word can definitely help you with your business processes and streamline your day-to-day activities.
Word 2007 is a powerful word-processing program that will give you the ability to create and share documents through the use of templates and tools that allow for easy interface with other computer programs.
What are some tools that can help me in my Business?
There are many tools that Word 2007 offers that you can incorporate into your day-to-day business activities to give your documents a professional and streamlined look.
Templates can be used to create business cards, budgets, and expense reports (to name a few) that will give you predefined content that can be customized to your specifications. This helps to reduce errors associated with copying and pasting frequently used content. The use of Quick Styles can save you time by helping you format your text and tables of information. Document themes are helpful when you want to add color, different fonts, and effects to your documents. SmartArt diagrams can be inserted into your document to display visual content effectively. Finally, Word allows you to share your document with business professionals, colleagues, customers, etc., even if they do not have Word 2007.
Templates
A Microsoft Word 2007 template contains sample content, formatting suggestions, or objects that can be used to quickly and easily in the creation of a new document. You can utilize the Microsoft Office Online selections or you can create your own template. Templates assist you with customization as well as standardization of format so that you can create documents seamlessly and efficiently.
Once you create your template, can you secure its integrity? The answer is yes. Templates can also be locked if you don't want someone else to make changes to your template. To accomplish this, you can set the file properties to "read-only" instead of "read-write" by right-clicking on the template file name and then selecting properties. From here, you would click on the general tab that is located next to attributes. You would then select "read-only" by checking the box and then clicking on the OK button. Remember, if you decide to make changes to the template, you must clear the read-only properties before you begin or Microsoft Word will prompt you to save the file using a different file name.
Word Templates
Quick Styles
With Word 2007, you can choose a set of styles that are designed to work perfectly together to provide you with colors and formats that will compliment your document.
Once you choose the Quick Style that you like, you can then apply the styles from the Quick Style Gallery while you continue to work on your document. Microsoft Word also allows you to apply a different Quick Style set at any time throughout your business document. Each set may include styles for several heading levels, body text, quotes, and titles.
To work with the Quick Style feature, click on the Microsoft Office button in the upper left-hand corner of the screen. Then select "New." When the window opens, you will notice that it is the same window in which you would choose a template. Instead of selecting a template, you would select "Blank Document." When your blank document opens, you would look on the toolbar under the Home tab and select the style(s) you wish to apply. You can also click on the Change Styles button to adjust the set, color, and font.
Word 2007 has a great tool that allows you to see how Quick Style will look in your document by pointing to a Quick Style set without clicking on it. It is an instant preview.
It is important to note that the Quick Style set will reflect the style that has been applied in the document. For example, if you have selected that all of the headings in the document have Heading 2 styles, then the Quick Style set will apply a Heading 2 style. The set will not fix formatting errors within your document so be sure that you analyze your document accordingly.
Word Quick Styles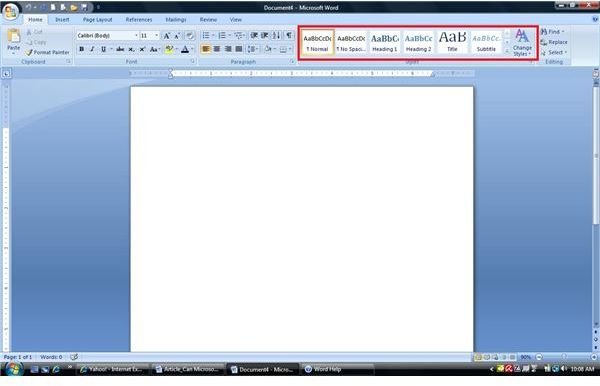 Document Themes
What are themes? Microsoft Office Word 2007 themes allow you to add color and graphics to your business document which gives visual depth and definition to your presentation. By clicking on the Page Layout tab in Word 2007, you would select the button that says "Themes." From here you can select from a variety of color templates and designs to add flamboyance to your business document.
It is important to note that if you don't want to have built-in themes displayed in your theme gallery, you can move the files (theme) to another folder. It is not recommended to delete these built-in theme selections because the only way to get them back is to reinstall Word 2007.
Word Document Themes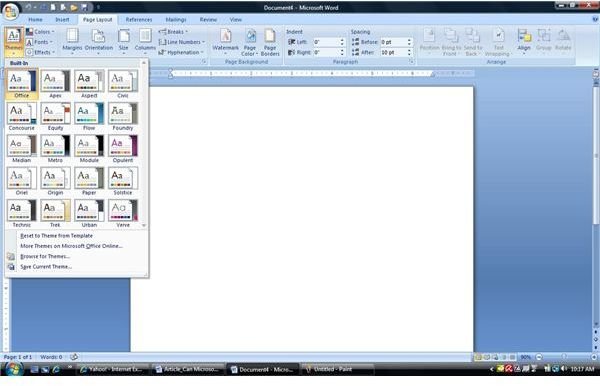 How about inserting a Chart or Graphic?
For some of us, moving between Word and Excel can be cumbersome when you want to insert a chart and/or table into your business presentation. By clicking on the Insert tab in Word 2007, you can select a table, picture, clipart, shapes, smart art, and charts to add to your document. This is extremely helpful and convenient when you want to stay working in your current document and not having to copy/paste from other programs.
What about SmartArt? This is a great tool that allows you to present your business information as a list, process, cycle, etc. with color and graphical design. When you click on the SmartArt icon, you can select from various designs and visual tools in which to display your information.
Word SmartArt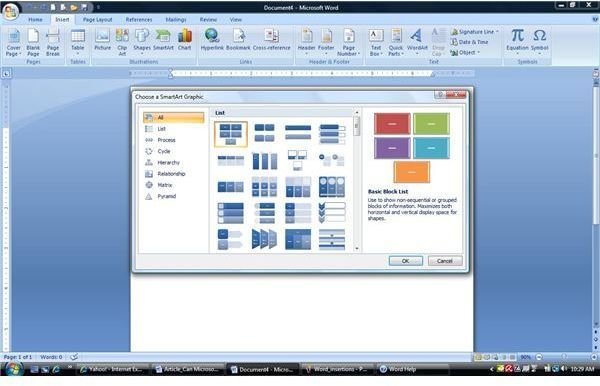 A Business Plus: Sharing your Documents
Microsoft Word 2007 also allows you to share your documents in a variety of ways with other businesses and/or partners and clients. Word allows you to save your file as a .pdf (portable document format) or as an .xps file (XML Paper Specification). These file extensions allow you to share your documents with others who may not have Word 2007. The Tri-Pane Review panel in Word also makes it easy to compare two versions of a Word document with the option of combining them together.
If you want to secure private information embedded within your document, you can use the Document Inspector feature which will help you to detect and remove unwanted comments, personally identifiable information, hidden text, or other information from the document so that private information is not compromised.
Conclusion
Using Microsoft Word 2007 as a tool for your business is a wonderful and efficient way to construct a variety of documents for your everyday business needs. In addition, Word documents can be easily shared with business associates and customers who do not have Word 2007. This provides proficient communication which will result in successful commerce and profitability for any business.