Greeting Card Templates for Word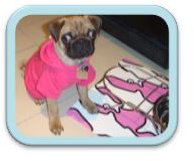 Please refer to the Microsoft Word Templates section of this six-part article series for further information.
Tips & Tricks
Here are some tips and tricks for customizing your own greeting cards.
Pictures. Photo cards make great gifts. Simply replace the default picture with one of your own and resize accordingly.
To insert a picture:
Select Insert > Picture. The Insert Picture dialog box appears.
Locate your picture in the appropriate folder and click Insert. The picture will appear on your current page.
Click the picture to select it and drag the sizing handle diagonally towards the centre to shrink the picture, or diagonally away from the centre to enlarge the picture. Crop the picture if necessary, to fit it on the page.
To customize picture frames:
If you are using Microsoft Word 2007, you can also customize the frame of your picture by clicking the picture. Thewill appear.
Select the Format tab beneath it. In Picture Styles, place your cursor over each border image to see the effects that it has on your picture. Choose the one that you think suits your picture the most and click it to apply the effects.
Click Picture Border to change the color of your border. Select a color from the Theme Colors or Standard Colors palette. If you do not see a color that appeals to you, click More Outline Colors to choose one from there.
If you want, you can also change the shape of your picture by clicking Picture Shape. Choose any shape from the list and click to apply it to your picture. Here in this example, I have created a rounded picture frame and colored it blue.
WordArt. Make a statement with some colorful WordArt. Choose from a variety of fonts, colors, and sizes to match the occasion.
To insert WordArt:
Select Insert > WordArt.
Click the style that you want and enter your text in the box. Choose an appropriate font size and style for your greeting card and click OK. The WordArt will display on your screen.
To customize WordArt:
Right-click the WordArt image.
Select Format WordArt. The Format WordArt dialog box appears.
Customize your WordArt by selecting the appropriate tab and applying the desired changes. Click OK to apply the changes.
Personalized Messages. Use a familiar quote, saying, or inside joke to customize each card. This will make your recipient(s) feel warm and appreciated. The Quotations Page https://www.quotationspage.com/ offers a variety of quotes that you can search for by subject, author, or date.
This post is part of the series: Working with Microsoft Word Templates
Learn how to downolad and edit Microsoft Word templates for brochures, greeting cards, certificates, journals, and flashcards.