Lenovo ThinkPad X300 Review - The best all round ultra portable notebook

Specification
Price - $2500
Processor - 1.2 Ghz Intel Core 2 Duo
Memory - 2 GB
Storage - 64 GB Solid State HDD
Width - 1.6 cm
Weight - 1.42 kg
Combining pleasant aesthetics, weight, size, price, performance, reliability and portability into one highly efficient piece of hardware the Lenovo Thinkpad is a brilliant solution for many mobile computer needs. The ThinkPad's casing is solid, but the highly attractive finish can scratch easily if mistreated or used in highly volatile environments. However, in general the ThinkPad X300 is built for mobility and delivers an excellent end user experience.
As with all ThinkPad's the keyboard is outstanding, practically eliminating the need for double entry or mistakes, such is the responsiveness and durability of keys. Alongside the keyboard there are some highly impressive 'quick' buttons to access the backup and restore service, and an excellent guide to port utilization / hardware connectivity. The backup service navigates you to a highly impressive rescue and recovery interface which allows you to copy files to an external drive, restore partition, or revert back to the clean, factory default disk image. Most impressive however is the quick access facility to find local wireless network hotspots. This is extremely useful, providing a clear visual indication of access points in the vicinity, their signal strength and encryption status. The X300's touchpad and trackpad are sensitive and responsive to action but for those who so desire, the trackpad can also be disabled from use.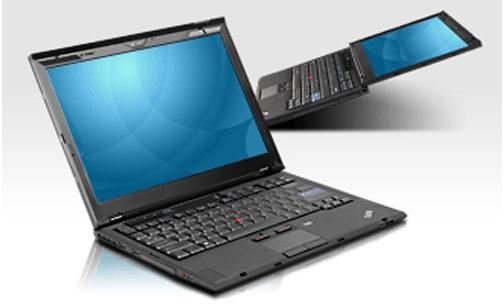 The 13.3" screen displays outstanding 1440 x 900 pixel resolution. Contrast, brightness and shading are appropriately balanced, and the ThinkPad's LED technology is energy efficient. It has been known however that some color combinations sometimes appear washy during high motion screen projection.
For performance the Lenovo ThinkPad X300 is one of the top three in class. The Intel Core 2 Duo 1.2 Ghz processor may not pack much punch but with 2 GB memory the device is remarkably quick to deliver applications and process multiple tasks. It certainly is adequate for the everyday business user or casual gamer.
With a 64GB Solid State HDD, storage capacity is not ideal, making this a horses for courses notebook, i.e. either look somewhere else or look to upgrade if you want extended storage space. Also be aware that this 64GB HDD has a recovery partition which reduces the amount of accessible storage space to around 40GB, which is cutting it fine and means you have to be selective in the games you play and media you can save. That said, Solid State drives are renowned for being ultra reliable, fast and supremely energy efficient.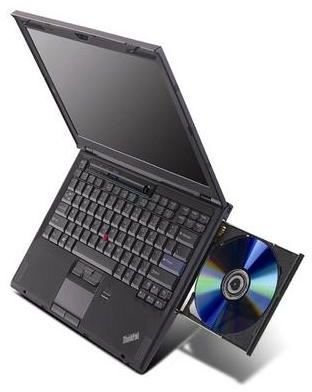 In terms of connectivity the ThinkPad comes with Bluetooth, Wireless G and Draft-N, a gigabit Ethernet controller, DVD burner and Webcam. Lenovo have not added the now almost irrelevant modem slot as it is a safe assumption that most users of such mobile notebook technology will connect via Wi-Fi, Ethernet or Bluetooth. There are also three USB slots which are far more sensibly placed than those on the Fujitsu Siemens Lifebook S6410.
For such a small battery pack (six cell) you can get an adequate three and a half hours of power from the device even during high intensity use, which is only marginally less than the Apple Macbook Air with its non replaceable internal battery, and considerably more than the Toshiba Portege R500. However, as with so many other ultra portable notebooks this will not be enough for users who require all day power. As such you can insert a three cell battery pack into the optical drive bay (adding 2mm of thickness to unit) to provide six or seven hours of operability.
Conclusion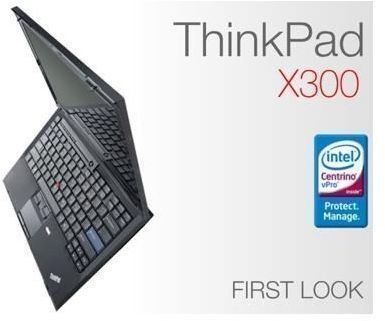 In conclusion the Lenovo ThinkPad X300 is arguably the best all round ultra portable notebook on the market today. Designed to be sleek and efficient, practical and portable. For a seemingly low end spec it performs admirably, even matching the Dell XPS 1330 in battery drain and multi task processing tests. The vivid 13.3" screen is even a match for the Sony VAIO. Lastly, it may have a high price but compared to the other notebooks in this category, at $2500 the ThinkPad X300 is very reasonable and the perfect mobile notebook companion for business. Combining pleasant aesthetics, weight, size, price, performance, reliability and portability into one highly efficient piece of hardware.
Concluding Part »> Grading the Notebooks
This post is part of the series: Top Ultra-Portable Notebooks Review
Looking for an ultra-portable notebook for mobile computing at your fingertips. Here we review the best in the new range of ultra-portables, looking at resilience, weight, performance and features.