Fujitsu Siemens Lifebook S6410 Review - Ultra portable notebook with advanced communications and performance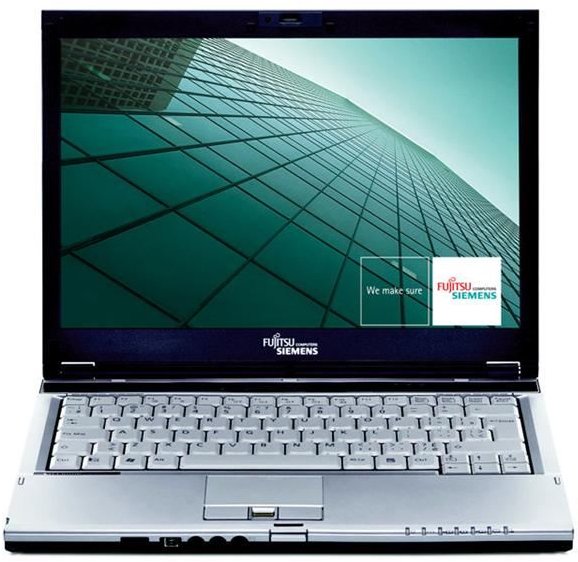 Specification
Price - $2500
Processor - 1.8 GHz Intel Core 2 Duo
Memory - 2 GB
HDD - 160 GB – or 64 GB Solid State available
Width - 3cm x 1.5cm
Weight - 1.7 kg
Any potential purchaser of an ultra light, ultra thin notebooks will look very closely at devices with a slick design build and mobility. This means weight distribution, balance, feel, and control are key factors in the purchase decision. In this regard the Lifebook S6410 is an excellent notebook with a slate grey chassis and elegant, slim feel. It looks both professional and highly sophisticated. It isn't as lightweight as some other notebooks in its class but at 1.75kg it is hardly a beast! All components are securely mounted and the locking mechanism is excellent. As a clamshell notebook it maintains its robust composition but there is a slight concern about the structural integrity of the wrist resting pad, in that it can get warm and doesn't feel secure, moving slightly when pressure is applied.
The 13.3" widescreen displays superb 1280 x 800 pixel resolution which is further enhanced by the Fujitsu Siemens CrystalView layer technology. Images are vivid and bounce with color. The screen casing is robust yet light and the hinge allows for easy maneuvering for quality viewing angles. At the top of the screen is a neat 1.3 mega pixel ConfCamera which projects well. Still images can be taken at 320 x 240, 640 x 480 or 1280 x 960 pixels, video at 320 x 240 or 640 x 480. If there is one gripe about the Webcam however it is that having a 'fixed' location means moving the entire screen to position the camera optimally. Thus a swivel mounted Webcam would be much more suitable, certainly for an ultra portable mobile notebook such as this.
The Lifebook has a responsive touchpad and excellent fingerprint scanner both of which are situated neatly and don't hinder use. There are also four 'quick access' buttons for notebook configuration. The 'E' button turns on 'Eco mode', providing information about functions, devices and power saving options. The 'R' button provides access to run the backup and restore support utility. A third button provides quick access to the Lifebook's configuration panel to tweak screen display, power management setting and HDD shock protection. A fourth button provides quick access to sign-on, sign-off and shutdown.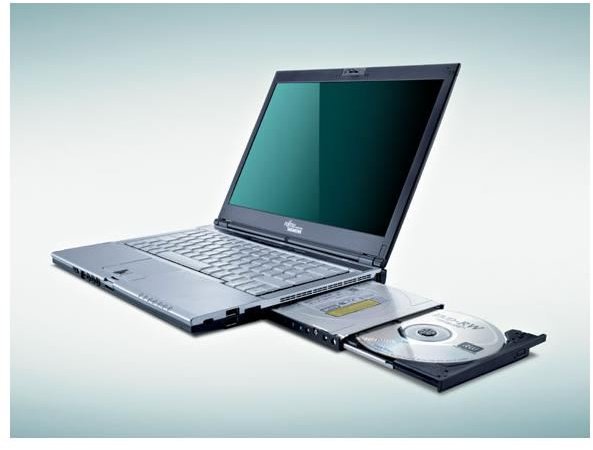 Powered by an Intel 2GHz processor and 1GB memory as standard, the Fujitsu Siemens Lifebook is suitably quick, and there is flexibility to install a 1.8, 2.2, or 2.4GHz processor and expansion slots for up to 4GB RAM. This personalization of specification is a considerable advantage and is not currently offered by others such as the Apple Macbook Air. The Lifebook also comes with Windows Vista Business as standard, which requires 1GB RAM, and if possible 2GB, for seamless performance.
With such a spec (and compared to the Dell XPS 1330) this is no gaming or advanced multimedia notebook. It is a practical, professional, business oriented device and in this regard the standard 80GB HDD is disappointing. It is certainly advisable to upgrade to a 120GB or 160GB HDD if you are going to require extensive storage capacity of multimedia or information. As for dynamics, all three HDD's run at 5400rpm and are shock protected to prevent data loss or corruption due to bumps and bruises. You can even configure HDD shock sensitivity depending on your logistics.
With Wired Ethernet, Wireless A/B/G and Draft-N, Infrared, Bluetooth and in built 3G connectivity the Lifebook caters for a wide range of communications standards. It also has extensive slots for USB (x3), modem, PC card, SD/MMC/'x'D media memory, VGA Out, FireWire, microphone and headphone jack. It would be nice to see the three USB ports positioned better, as peripherals with chunky connectors will struggle to fit into the slots, such is their vertically stacked positioning, however this is no major drawback for a device that isn't built to have external devices hanging off of it.
For battery power the Lifebook is one of the best in class. Although the eight hours as advertised by Fujitsu Siemens is stretching it a bit, the standard six cell battery will easily deliver four hours of memory intensive battery life and five hours during normal use. For those who require longer lasting power there is the option to fit a second six cell battery pack as opposed to an optical drive.
Conclusion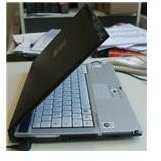 The Fujitsu Siemens Lifebook S6410 is a light and functional notebook which works extremely well in most mobile situations. The slick design lends itself to enhanced functionality and performance. With integrated 3G, Webcam and a supreme display it breaks new ground in ultra portable notebook computing. The Lifebook could be improved, by incorporating a swivel mounted Webcam and placing USB slots better but overall this ultra portable offers a highly effective mix of professional and personal notebook PC mobility.
Concluding Part »> Grading the Notebooks
This post is part of the series: Top Ultra-Portable Notebooks Review
Looking for an ultra-portable notebook for mobile computing at your fingertips. Here we review the best in the new range of ultra-portables, looking at resilience, weight, performance and features.