NaNoWriMo Project: Write a Novel from Your PC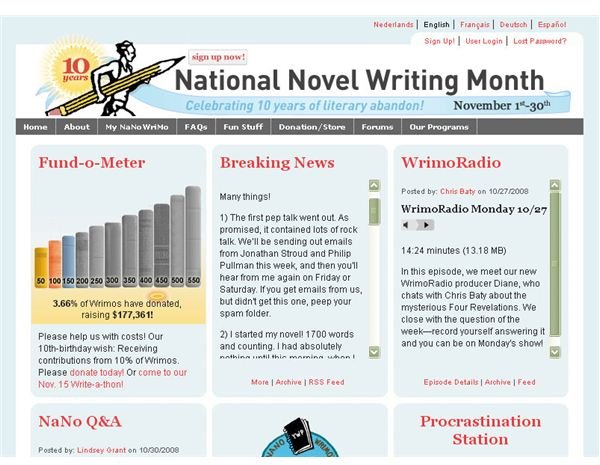 Have you ever wanted to try your hand at writing a novel, but just didn't know where to start? You're not alone, as is evidenced by the increasing number of participants in this year's National Novel Writing Month.
National Novel Writing Month, also known as NaNoWriMo, is an organization that has unofficially designated the month of November as a time for thousands of budding authors to try their hand at developing a manuscript containing at least 50,000 words. This effort, which began in 1999 with only 21 participants, has grown rapidly over the last few years and boasted over 100,000 entries in 2007. As writers are allowed to sign up any time during the month of November, we'll still have to wait a bit to see how many decide to participate in this year's challenge.
One of the things that makes NaNoWriMo so unique is its emphasis on quantity rather than quality. This is something that may cause pause for thought for several people. What's the use of just sitting down and spewing out 50,000 words of garbage? Shouldn't there be some kind of quality control?
According to the team at NaNoWriMo, one of the things that holds people back from writing is that many of us worry so much about making things perfect and polished that we never actually get anything written at all. So, to counter that problem, NaNoWriMo encourages people to just write and not worry about editing, flow, character development, and all those other things that are so important for a finished product. After all you can't "finish" something, if you never "start" it, right?
To help keep people motivated and to give advice to new writers involved in the project, NaNoWriMo also sponsors a very active users' forum. Here, participants can get tips on characters and plots, general writing, and even tricks on how to reach that 50,000 word goal. Moreover, this is a place where writers can gather and gain a little inspiration from others involved in the project.
In addition to the forums, Chris Baty, the founder of National Novel Writing Month, has published a book entitled No Plot, No Problem!: A Low-Stress, High-Velocity Guide to Writing a Novel in 30 Days that describes the NaNoWriMo philosophy and gives tips to those who want to be successful in the endeavor.
National Novel Writing Month is a non-profit organization and signing up to participate is completely free. However, the group does accept donations to help cover the administrative costs of running the web site and information portal.
This post is part of the series: Resources for the Novelist on the Windows Platform
Are you still trying to find the inspiration to write that first novel? There are a number of amazing resources available nowadays for authors, both new and old. In this series, we'll cover some helpful web sites and offer reviews of several Windows applications developed specifically for writers.