Inserting WordArt into Microsoft Word Documents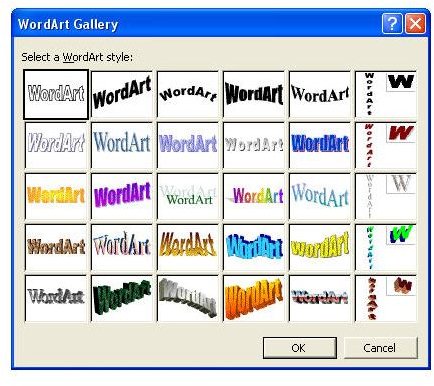 What Type of Document Should I Use WordArt With?
WordArt in Microsoft Word is useful when you are creating documents whose primary function is to gain the attention of the reader with an eye-catching graphic. For example, if you are creating flyers to post in your office for a holiday party, WordArt is a tool that you can use.
In addition to flyers, WordArt works well with Microsoft Word office bulletins, Word-generated greeting cards, award certificates, brochures, business cards, gift certificates, etc. For students, WordArt can also be used on a cover sheet to introduce a project or essay paper.
How Do I Insert WordArt Into My Document?
Inserting WordArt into your document is an easy process. For Microsoft Word 2007, you place your cursor (or mouse pointer) at the spot
in your document where you wish to insert WordArt. Click on Insert from the Microsoft Word toolbar and then click on WordArt.
When you click on WordArt, you then will select the appropriate style that you wish to use. Once you select the style, a box will appear where you can type in the text you wish to see displayed.
How to Customize Your Text in WordArt
Microsoft Word WordArt is an instrument which allows you to make various changes to how your information is displayed. You can change the font (size and type), effect of the display, alignment, and the ability to move the WordArt to another place within your document.
Changing the Font
Depending upon how you want your information displayed, you can select from a number of different fonts for your WordArt. It is important to take into consideration the readability of what you are presenting. For example, if you like a font that is very decorative and cursive, it may not be readable in the WordArt format. You can also manipulate the font with bold, italics, and underline which will affect the display. Always take your audience into consideration for maximum effectiveness when choosing a font type.
Adding an Effect
With Microsoft WordArt, you can add fill, outline, change the shape of the WordArt, add shadow effects, and add 3-D effects. This is particularly effective if you are posting your Word document online in a webpage format, inserting it into a PowerPoint Presentation, or displaying the document electronically during a meeting or through an electronic learning module. If you are using hard copy (paper-based) documents that you will print off for distribution, the effect tool works well if you are using a color printer to print off your documents. A black and white printer sometimes will have difficulty with determining the shadow depth of the WordArt textbox. Just remember to always consider your audience when choosing to add an effect.
Rotating your WordArt
A nice feature of Microsoft Word WordArt is the ability to rotate, flip, or shape the textbox into a personalized artistic addition to your document. In Word 2007, there is a box in the WordArt toolbar that allows you to manipulate the WordArt in various directions.
Rotation is an effective way to present your WordArt to highlight certain aspects of your presentation. For example, if you inserted a clipart figure and wish to add WordArt as a comment for the figure, you can manipulate the box in such a way to gain that specific effect.
Resizing WordArt
Once you have inserted your WordArt into your document, you also have the ability to change the size of the display, the overall shape, and the textbox itself. By clicking on the WordArt once it has been inserted into your document, you can shape the box according to the size you desire by clicking on the small sizing boxes around the WordArt. You can also readjust the shape of the WordArt by clicking on Change Shape. This will give you a variety of choices to choose from in order to get the effect you are looking for.
WordArt Alignment
It is very important to not only align the context of your document appropriately, but also to align the WordArt insert correctly in order to maximize the overall effect for your document. You can arrange the WordArt within the document through the use of wrapping around text, behind text, etc. This tool is helpful for whatever works best for how you wish to display the document. This process is the same for any inserted symbol or clipart that you place within your document. To properly align WordArt, you will select the box and then click on the appropriate form of alignment you wish to apply. Again, remember to consider your target audience as you manipulate the context and the WordArt box. It is always a good idea to have someone else critique your document. Sometimes what looks good to us may not look good to others.
Moving your WordArt
It is always a plus to have the ability to move things around when it doesn't look "just right". You are able to move your WordArt textbox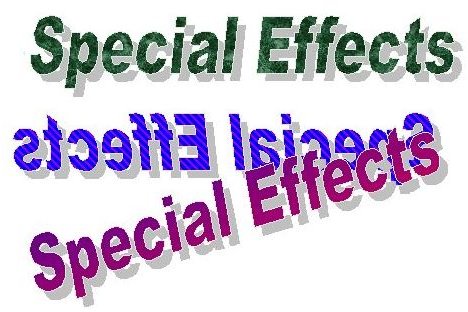 anywhere in the document if you are not satisfied with its original placement. By clicking on the WordArt box, you can click, hold, and drag the textbox anywhere in the document and then release it when you have the mouse cursor at the place where you wish to put the WordArt. Moving WordArt around your document when used with reshaping, alignment, font, etc., is an effective way to present your material.
Conclusion
The usage of WordArt in your Microsoft Word 2007 document is an effective tool to create decorative and visually stimulating effects to a variety of projects. By utilizing this fun and colorful style of communicating, you can add zest and boldness to a document that is sure to gain the attention of your audience.