Upgrading from Windows 8 to Windows 10 Using Windows Update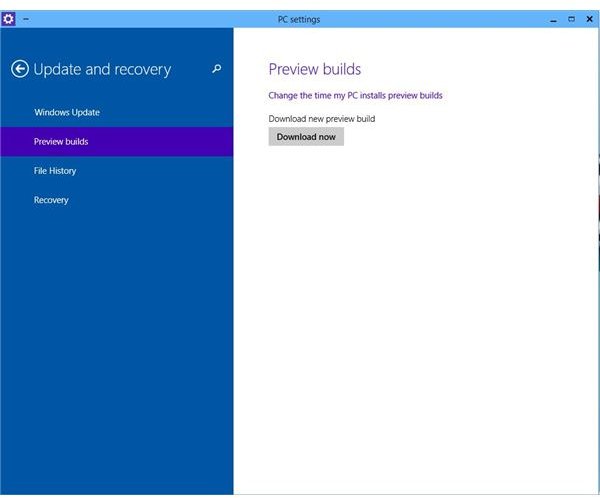 Or, what if you have Windows 7 or 8 and want to just upgrade to Windows 10 without messing with DVDs? Read on to find out how.
Windows 10
If you already have the Windows 10 Technical Preview installed, you should be able to upgrade to the latest build without completely reinstalling.
Under normal circumstances you need to go to PC Settings and then Update and Recovery. Here you should see a "Preview Builds" button that will allow you to upgrade (Figure 1). However, I ran into an issue on build 9841 where the new "Preview Builds" button was missing. If you find the button is missing there are two likely causes.
The first thing to check is that you have installed all important Windows updates. Go to PC Settings -> Update and Recovery and then Windows Update. Install all important updates and then reboot.
The second thing to check is to make sure you are logging into Windows as an Administrative user. If your user doesn't have administrative rights you won't be able to perform the upgrade.
Once you see the Preview Builds button, click it and then click the link to Download the new preview build. For older builds you'll really have no idea of how far along the download is – just a spinning circle to assure you something is happening.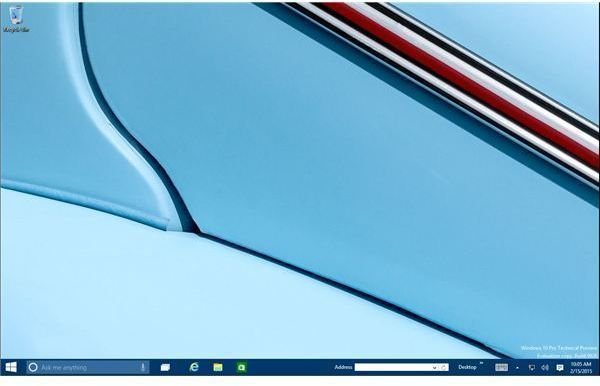 Once the download is finished you'll see the Download button has changed to "Install Now." Go ahead and click it to begin the upgrade. After some time, you will be prompted to reboot and install the update.
After proceeding, the Technical Preview will start upgrading to the latest version. This process can take a while – about 30 minutes in my case. After the install finishes, Windows will boot and will continue doing some prep work. After a minute you should be placed into the Windows Desktop on the latest build (Figure 2).
Windows 7 or Windows 8?
If you have a test system sitting around with Windows 7 on it, there is now an easier way of installing the technical preview. Simply go to https://windows.microsoft.com/en-us/windows/preview-download and click the Start Upgrade Now button (Figure 3).
Keep in mind that Windows 10 is in an early state and come April, the technical preview will no longer work. Do not install Windows 10 on your main machine!
If you're worried about the data on your machine, you may want to follow this guide on how to install the Technical Preview on a virtual machine.
Keep in mind this process will work for upgrading a virtual machine running Windows 7 or 8 as well. When you click the "Start Upgrade Now" button, a small file will start downloading. Once the file download completes, run it. The file will make some preparations and ask you to reboot.
After reboot, you'll want to start Windows Update again. After Windows checks for updates you should see "Install a preview of the next version of windows" and the Install button. Click Install (Figure 4).
After everything has downloaded you'll see a screen letting you know the preview is ready to install (Figure 5). Click "Let's get started." Read the license agreement and click Accept. 
After some upgrade checks you'll be able to start the upgrade (Figure 6). The computer will restart a few times during the process. After a while you'll be prompted to perform the initial set up. After initial setup you'll be taken to the desktop – mission accomplished!
Stay tuned for more coverage of the Windows 10 Technical Preview.