How to Turn Windows Defender On and Off in Windows 8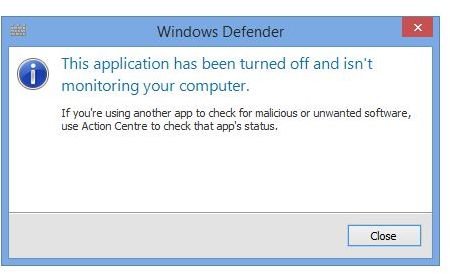 Much to the dismay of anti-virus companies, Microsoft integrated the competent Windows Defender in Windows 8/8.1, replacing Microsoft Security Essentials. However, if you purchased a computer with Windows pre-installed, this anti-virus program might be disabled to pave the way for trial editions of commercial suites. Even if the trial version expires and you decide not to pay for the full version, Windows Defender remains deactivated, leaving your computer unprotected. Attempting to launch Windows Defender in this scenario presents a warning that the utility is disabled and fails to instruct how to turn it on unless you chose to uninstall the program.
Finding Incompatible Software
If you're unsure what the other program is, the warning prompt may or may not shed light on the issue. You can, however, open the Windows Action Center to see the currently configured anti-virus program. To access this information, open Control Panel, click System and Security, choose Action Center and click the chevron in the Security section. The expanded information displays your security settings, complete with the currently used anti-virus program.
Armed with the name of the program, you can then venture into Programs and Features to uninstall it. Only after this program is removed can you turn Windows Defender on.
Uninstalling Other Anti-Virus Programs
1. Type "Programs and Features" in Windows Search and click Programs and Features from the search results.
2. Click the name of the other anti-virus program in the list of installed programs. If you have trouble locating it, type its name in the Program and Features window's search field.
3. Click Uninstall and follow the onscreen prompts to remove the program.
Turning Windows Defender On
1. Click Settings from the Charms bar and select Control Panel.
2. Click System and Security and then Action Center. You should see two notes that say Windows Defender is turned off. If you don't see these notes, click the chevron in the Security section to expand the information.
3. Click Turn on next to either note to enable Windows Defender and open its window.
4. Click Turn on if you see a notice that Real Time Protection is turned off. Alternatively, click the Settings tab, select the Real-Time Protection submenu, check Turn on Real-Time Protection (Recommended) and click Save Changes.
5. Click the Update tab and select U" to ensure your virus and spyware definitions are up-to-date. If you haven't been running Windows Defender, it's highly likely that the definitions are outdated, so this step is critical to your system's security.
Disabling Windows Defender
Should you ever decide to install another anti-virus program, you'll need to disable Windows Defender, so the two programs don't interfere with each other. You might also need to turn the anti-virus off when installing certain programs that invoke false positives for viruses; just make sure you completely trust the program before disabling your protection to allow installation.
1. Type "Windows Defender" in the Windows Search and select Windows Defender from the results.
2. Click the Settings tab and select the Administrator submenu.
3. Uncheck Turn on This Application and click Save Changes. If you receive a warning that Windows Defender is turned off, click Close. If you only mean to temporarily disable Windows Defender, be sure to later re-enable it by returning to the Administrator submenu, checking Turn on This Application and clicking Save Changes.