Mail Merge into Word Using Excel Spreadsheet Data: Office 2013 Tutorial
Getting Started
Before you jump in and start merging data, you will want to make sure your spreadsheet is set up correctly. Here are some tips:
Start by naming columns with the data you want to merge with Word. For example, in Figure 1 you can see I have some sample data including name and address columns.
This may seem obvious, but any data you want imported should be in your spreadsheet. It's a lot easier to update a single spreadsheet and do the import once rather than manually modify missing data in numerous Word pages.
Select the full set of data, click the Home tab and then Format as Table. Be sure to select the option that your table has headers.
Remove any unnecessary data or columns before you perform the merge.
Examples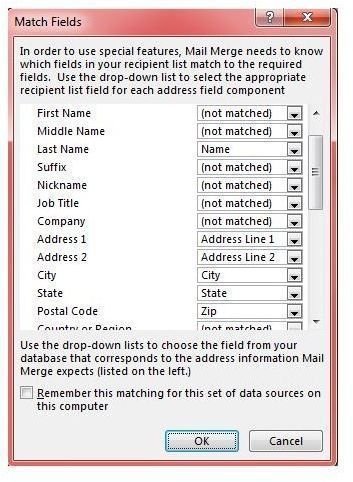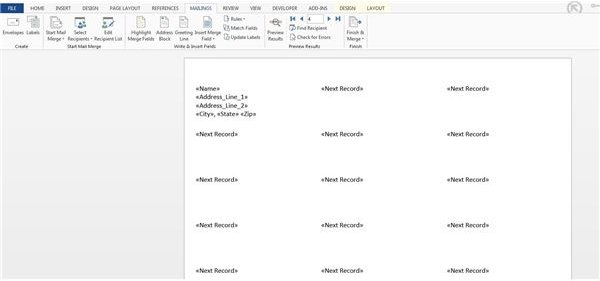 Start the Merge
Once you have your data ready you can start the mail merge.
Open up Word and click the Mailings tab.
Click Start Mail Merge and select the type of merge you will do. In this case, I'll select the Labels option.
When the Label Options window opens, select the manufacturer of your labels and select the product number. Double check to make sure the label size is correct and click OK.
Next, click on Select Recipients and then click Existing List.
In the Select Data Source window, browse for your Excel file and click Open.
Select your table that was created earlier and click OK.
Next, we need to build the fields that will be used in the merge. To do this, we need to make sure our columns line up properly with Word. Click the Mailings tab and select Match Fields.
Make sure each of your fields in the Spreadsheet lines up with a Word field. Just use the drop down box next to each Word field and choose a corresponding column (Figure 2). Click OK when done.
Now we need to add in the fields to our merge document. On the Mailings tab, select Insert Merge Field. Be sure to properly space out your fields by using line breaks and commas where necessary. You should have something like Figure 3 when you are done.
Now, click the Mailings tab and choose Update Labels. The rest of the labels should go from saying "Next Record" to your new format.
Click the Preview results button and verify your labels will show up correctly (Figure 4).
Once you are happy with the results, hit the Finish & Merge button and select the option you would like (print, edit or email).
That's all there is to it. As long as you prepare your Excel spreadsheet ahead of time, the actual mail merge should go smoothly. Good luck!