Windows 8 - Great for Tablets?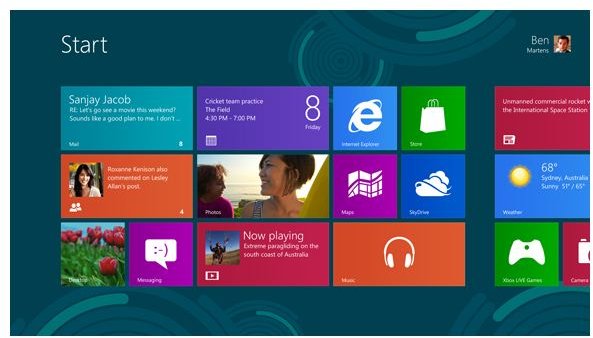 There has been plenty of negative press surrounding Windows 8 – I even wrote an article on how disappointing Windows 8 has been to date, but the press seems to focus solely on the negative. I'm going to take a different approach and look at Windows 8 strictly as a tablet device. How does it stack up against the monsters of Google and Apple? How is the store? What is the general user experience like?
Windows 8 as a Tablet
You know… it's not half bad. Actually, there are some really nice things about Windows 8 when using the OS for a tablet. From the rather attractive main user interface to the intuitive swipe shortcuts you can use, the OS has many things to like when used as a tablet. Instead of me appending "when used as a tablet" after every sentence, just understand that I really don't like Windows 8 as a laptop (non-touch) or desktop operating system. So instead of labeling me a hypocrite, please understand that my opinions in this piece are focused on using Windows 8 on a traditional tablet –a flat 11" screen with no physical keyboard.
User Interface
If you have used other tablets before, the Windows 8 Metro (now known as Modern) user interface will be somewhat familiar to you. The main menu will show various tiles of different applications. Some will simply be a static image while others are called live tiles. Very similar to Google Widgets, live tiles can connect to the internet independently and gather information. For example, a weather live tile can provide current weather information without needing to launch the application. Other live tiles include finance, sports and news.
If you swipe the main screen different directions, you will navigate to different areas. Swipe up and you will see a full list of all applications. Swipe left and you will see the properties "charm" or a sub-menu where you can configure settings for apps or the computer system. Swipe down on any app and you will close it or swipe right and you can quickly switch between applications.
The swipe gestures are intuitive once you know what the correct gestures are. After an hour or two of using the gestures, navigating the OS feels pretty natural.
Windows Store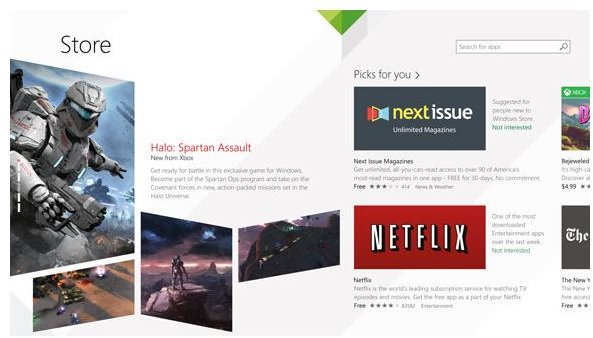 The Windows Store offers an attractive format for browsing and searching for apps. While the Windows Store is significantly smaller than its largest rivals are, there are still plenty of great apps available. For comparison, Apple and Google both have over 1 million apps available while the Windows Store had just over 140,000 apps as of December 2013. Think about how many apps you use on a regular basis. Maybe 10 or 20? Even if you're app crazy, you probably don't have more than a hundred apps installed. Many of Apple's and Google's million apps are clones of each other (just how many whoopee cushion apps do we need?) or are "scammy."
Finding apps in the Windows Store is easy and each of the big-name apps you probably use are already there, such as Netflix, Facebook, Skype and so on. There are also some Xbox branded exclusive games available only on the Windows 8 store.
The Reverse Elephant in the Room
While the Metro\Modern user interface is a rather large elephant in the room for a non-touch device, in the case of a tablet only device, it is nice to know I have a full OS capable of running any of my traditional applications. Assuming your tablet has any version of Windows 8 installed besides RT, you can run nearly any Windows 7 application that you want just as if you were using a Windows 7 computer. The cool thing is that using a touch interface, you can easily pull up the on-screen keyboard or use a stylus to type out notes or even give handwriting recognition a try.
What I'm trying to say is that while the Metro\Modern UI is a huge hindrance for a non-touch computer, in the case of a tablet, it does what it was meant to do: be pretty and be functional. In those two cases, Windows 8 succeeds.
So overall I would call Windows 8 a success as a tablet operating system. If Microsoft could disable the Metro\Modern UI for non-touch devices, I think I would be okay using Windows 8 on my non-touch devices. For now, I'll just keep using it as a tablet.