Can You Create QR Codes in Word or Excel?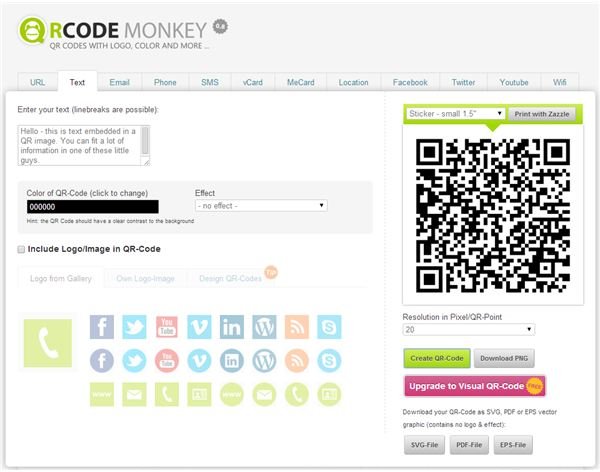 What Are QR Codes?
You can find QR codes –also known as 2D barcodes— on everything from product packaging to brochures and magazines. A traditional barcode can only hold 15 to 20 characters of data, but a 2D code can hold upward of 2000 characters of data. With the wide availability of camera phones that can act as barcode scanners, QR codes have taken off.
This article will show you a few ways to add QR codes to both Word and Excel 2013. Although native support for QR codes is not included in Word or Excel 2013, you do have a few options that can enable you to include them.
QR Images Are an Option
The quickest way to include a few QR images in your document is to generate one online, copy the image and paste it into Word or Excel. There are several free websites that let you generate custom QR codes. The two below even let you add details, such as a logo, and let you specify the type of QR code, such as whether it contains a URL, text or other types of information.
Here are my two picks for generating a free QR code:
QRCode Monkey This site is very easy to use. Start by selecting the type of QR code you want to create. They support URL, text, email address, phone numbers and several other types. Next, type in your message, pick a color and choose whether you wish to include a logo or other image. Once you have made your desired selections, click the button to create your QR code (Figure 1). Download the image and paste it into Word or Excel.
Visualead QR Code Generator This site offers many of the same options as QRCode Monkey, such as letting you visualize the code and change many of the options including color and even the type of symbols used in the code itself.
Third-Party Applications

If you need to include multiple QR codes, such as one for each row in an Excel document or in a mail merge, third-party tools can help.
OnBarcode
One tool I found to add QR codes to Word and Excel is offered from OnBarcode. They offer two separate add-ins for Word and Excel, priced at $99 each at the time of publishing. Once you install the software, it adds a new set of buttons to the Add-In ribbon tab in the corresponding program.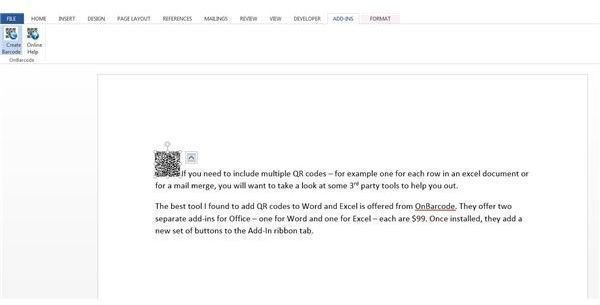 Click the Create Barcode button and a small window opens on the right side of the window (Figure 2). Select the QR code barcode type and enter your data. Make sure your cursor is placed in the spot where you want your barcode to appear and click the Generate button. You will now see your barcode (Figure 3). You can go back and modify the properties of the barcode if desired.
OnBarcode is easy to use, but they lack official support for Office 2013 at the time of this writing. The only products supported are Word and Excel and each are sold separately.
StrokeScribe
My favorite tool for adding barcodes to Office applications is StrokeScribe. StrokeScribe offers an ActiveX plugin with Office add-in. Although StrokeScribe can be used similarly to the OnBarcode product, you can also call the ActiveX plugin from within VBA to create barcodes programmatically. The StrokeScribe offers a free edition or various commercial editions ranging from $50 for a five-user license or $110 for a site-wide license as of publication.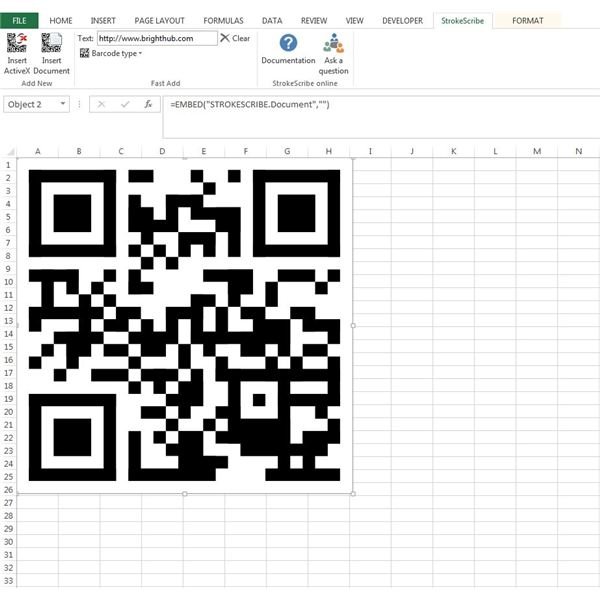 After installing the ActiveX and Office add-in components, you will see a StrokeScribe ribbon tab. Enter text, select a barcode type and click Insert Active X. The nice thing about StrokeScribe is you add an object, not a static image. While OnBarcode codes can be resized, you are simply stretching the image. Quality degrades as the image is smaller. StrokeScribe, on the other hand is able to generate the image for any size. As you can see in Figure 4 you can make the codes quite large. You can double-click the barcode to edit and further tune the settings for the image.
StrokeScribe is easy to use for adding only a handful of barcodes or for filling out your entire spreadsheet with them.
I hope this article helped demystify the ubiquitous QR code and gave you some practical ways to add them to any projects you're working on.