Great Add-ins for PowerPoint 2013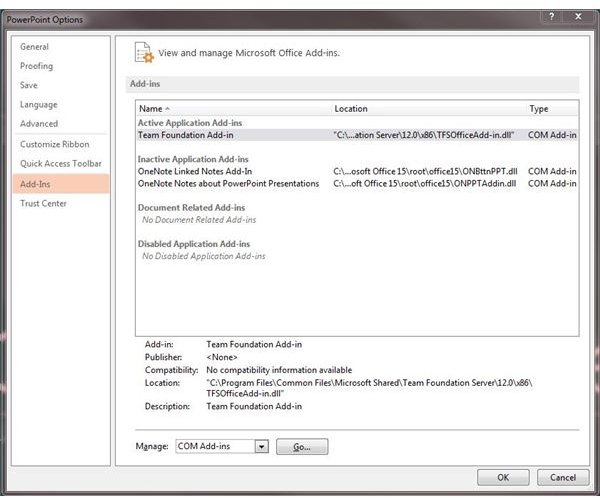 The first thing to know about add-ins is that there are good ones and bad ones. Good add-ins can be great time savers or give you access to new features while bad add-ins can cause PowerPoint to slow down or even crash.
Add-ins are managed by navigating to File, Options, Add-ins. In Figure 1, you can see I have several add-ins installed – some are active while others are inactive.
Types of Add-ins
COM
There are two types of add-ins – COM and PowerPoint. COM add-ins are created in order to use a single add-in within multiple applications such as the Microsoft Office suite.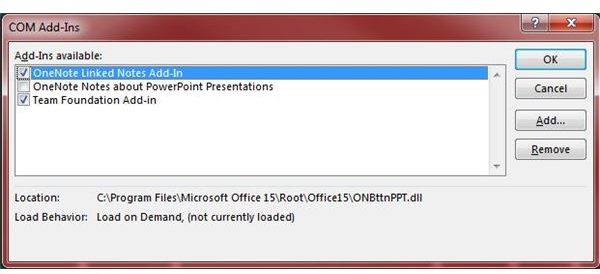 To view COM add-ins make sure the "Manage" drop down box states "COM Add-ins." Click Go. As you can see in Figure 2, I have a OneNote COM add-in installed. As OneNote can integrate with other Office applications, this add-in is COM add-in.
To disable a COM add-in just deselect the checkbox next to the item and click OK.
COM add-ins are typically installed and removed from the main application. In the case of the OneNote add-in I'd need to remove OneNote to uninstall this add-in from PowerPoint.
PowerPoint Add-ins
Add-ins specific to only PowerPoint will be listed under the PowerPoint add-ins. From the Manage drop down select "PowerPoint" and then click Go. Once you have an add-in installed you can choose to unload it or remove it altogether using the available options. Apps can be installed using a traditional download or via the Office Apps menu. To install an app from the Office store use the Insert Menu and then choose "Apps for Office."
Favorite Add-ins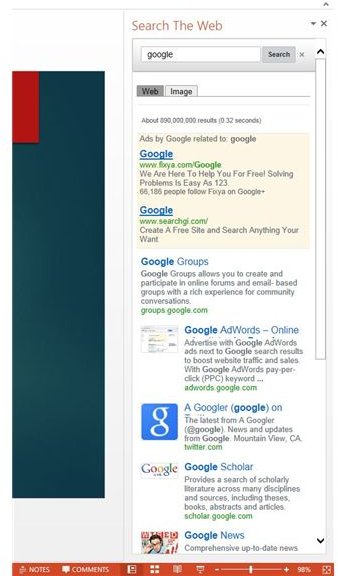 Below is a list of some of the more popular add-ins and my favorites for PowerPoint 2013.
Search the Web – Seems like a simple concept right? Search the web while using PowerPoint**.** Any new links that you click on will open in your browser, but without taking your focus away from PowerPoint. Search the Web is free (Figure 3).
Office Tab – Do you tend to have a lot of presentations open at the same time? Office Tab may be the perfect answer to help keep your desktop organized. Office Tab allows you to open multiple presentations within PowerPoint just like you do with modern browsers. Office Tab is available from the ExtendOffice website and costs $25.
Office Timeline – One of my favorite add-ins is Office Timeline. This tool comes in a free and premium version and allows you to very easily create great looking timelines (Figure 4). I keep my main schedules in Microsoft Project but whenever I need to simplify a schedule for executive management I use Office Timeline to whip up a great looking project plan to use in PowerPoint. The Plus Edition for individual users is $39 for each user while business copies are $49. Again, there is a free edition that has plenty of capabilities. Give it a try!
Oomfo – If you're looking to incorporate some more advanced charting and reporting capabilities into PowerPoint, Oomfo may be a good option for you (Figure 5). Oomfo gives you tons of control over the types of charts you insert and even lets you do some basic interactions with the chart during a presentation. It's a neat add-in and best of all, it's free.
Add-ins can extend the core functionality of PowerPoint and turn your presentation into something truly unique. If you have a favorite add-in that I didn't mention, be sure to leave a comment below!