Fixing Common Problems in PowerPoint 2013: Basic Troubleshooting Tips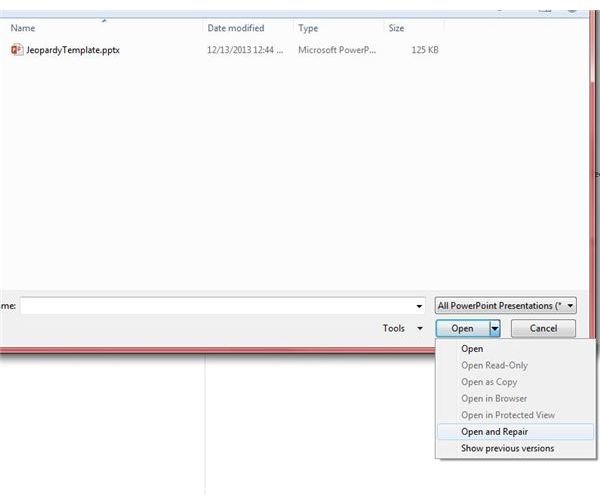 Files Won't Open in PowerPoint
If you can open PowerPoint without issue but run into problems when opening a file, you'll want to focus your efforts on fixing the file.
The first thing to try is to open the file on a second computer. If you don't have a second computer handy you can upload your file to Microsoft SkyDrive. When you click to open the file in SkyDrive, it will open in PowerPoint web app. This should confirm whether the problem lies with the file or your Office installation. If the file opens fine on the second computer or in SkyDrive, continue on to the below sections.
If the file still won't open, you may have a corrupt file. PowerPoint can attempt to repair the file when you open it. To repair a file, open PowerPoint. Click File -> Open and browse to the location where you have your file. Next to the Open button is a small drop down. Click it and select Open and Repair (Figure 1).
The file may or may not open depending on how damaged it is. Unfortunately there isn't much more you can do if you run into a corrupted file. Hopefully you've got a backup stored somewhere.
PowerPoint Crashes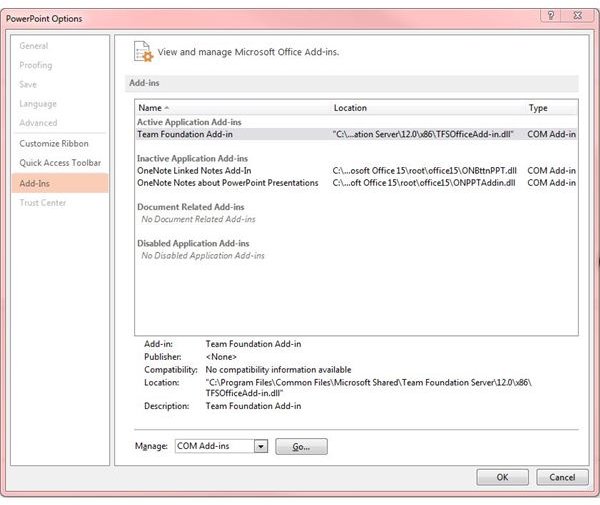 If you start PowerPoint but it crashes while it opens or shortly thereafter you may have a corrupt or incompatible plugin installed that is causing the issue. To troubleshoot this, first start PowerPoint in safe mode. Safe mode disables any 3rd party add-ons which should give you a stable PowerPoint experience.
To start PowerPoint in safe mode do the following:
Click the start button
Type "powerpnt /safe" (note – that's not a typo – powerpnt is the executable name for PowerPoint).
PowerPoint will open directly to a blank slide. If PowerPoint opens correctly proceed to the next step. If PowerPoint crashes again skip down later in the article for how to repair your PowerPoint installation.
To disable add-ons, make sure PowerPoint is running in safe mode.
Click on File -> Options -> Add-Ins (Figure 2)
Make sure COM Add-Ins is selected and click Go…
Disable one of the checked Add-Ins and click OK.
Close PowerPoint and start it normally. Did it crash? If yes, repeat steps 2-7 again but choose a different add-in to disable. Repeat until you've found the add-in causing the issues. If it didn't crash you've likely found the cause of the issue. Check with the vendor to see if they have an updated version of their add-in or remove it completely.
Repairing PowerPoint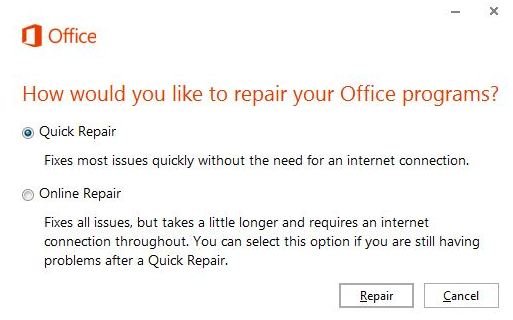 If you are still having issues with PowerPoint and you don't think the issue resides within the file itself, you may need to perform a repair of Microsoft Office. This operation will reconfigure and reinstall Office to be the in the same state it was when first installed.
To perform a repair, follow these steps:
Click the Start button.
Type "remove programs"
Click "Add or remove programs" from the search results.
Scroll down to Microsoft Office 2013 and click the Change button.
In the box that pops up you can try doing a quick repair (Figure 3).
Once the repair operation completes try opening PowerPoint again and see if you run into any issues. If you continue to have issues, consider running the repair again but use the Online repair option.
I hope these tips will give you a solid base to start troubleshooting the most common PowerPoint 2013 errors. Good luck!