What's New (and What's Gone) in Microsoft PowerPoint 2013?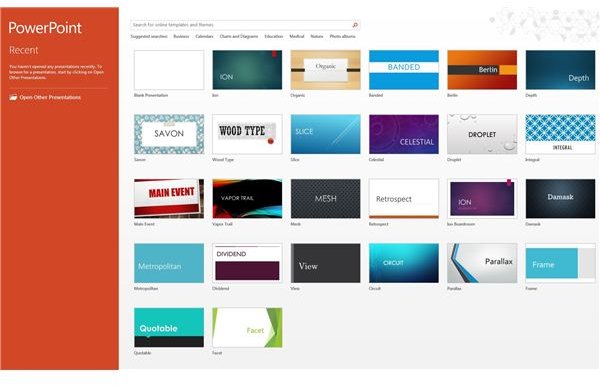 Bring in the New
Let's start with the good – new features! As Office has been around for a long time, completely new features are pretty rare. What you do see with this version of Office though is several much-needed improvements to existing features.
Getting Started
Instead of opening a blank presentation, PowerPoint will now present you with a useful start page. This page offers links to recently opened presentations, a visual display of various templates and a search bar that allows you to quickly find templates (Figure 1).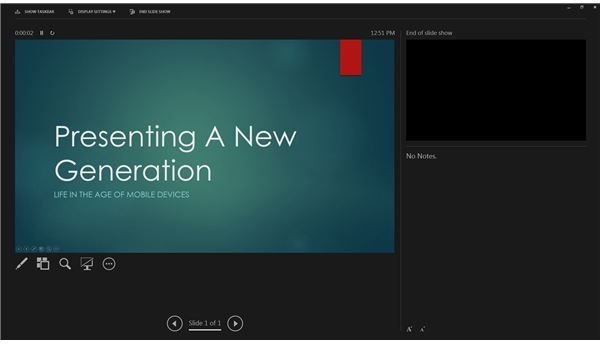 Making Presentations Easier
Presenting has always been a bit iffy – especially when presenting in new environments. Where will your presentation show up? Will I be able to review my notes on a presenter screen? Presenter View lets you rehearse your presentation and, best yet, you don't need any extra monitors hooked up to do so (Figure 2).
Presenter View also gives you several tools to make your job as a presenter easier – you can now zoom in on slides to give impact to a specific area. The Slide Navigator allows you to quickly jump to a specific slide while your audience views the main presentation. PowerPoint can also detect the monitors hooked up and will automatically choose the right display for your main presentation and Presenter View.
Presenting Online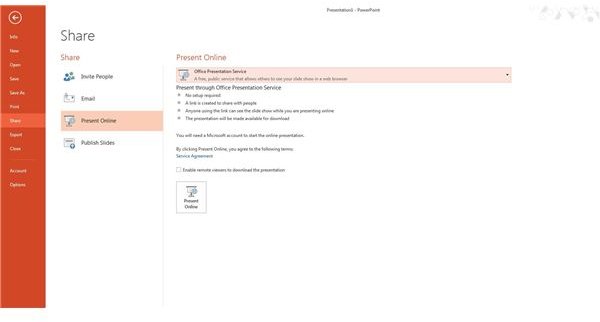 PowerPoint 2013 lets you easily host meetings online using the free Office Presentation service or Lync meetings. Participants can view the online meeting can join from nearly any internet connected device (Figure 3).
Improvements for Designers
Several improvements in the design of slides has been made in 2013. Instead of picking out a theme and having to adjust colors, PowerPoint now lets you pick theme variations which offer the same style of the themes only with different color schemes.
Working with objects is now more intuitive as guidelines appear as you drag objects next to each other. When you animate an object using the motion path type animation PowerPoint will now show you a ghost image of where the starting and ending object will be.
Say Goodbye to the Old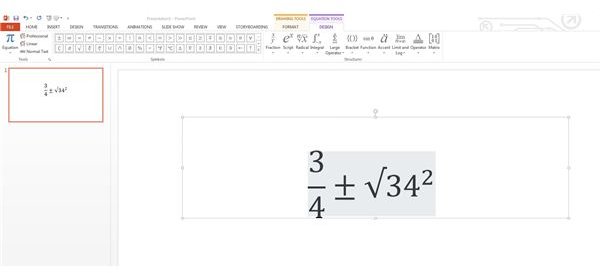 Let's dive into some of the features that have removed as of PowerPoint 2013.
Although Microsoft claims the Equation Editor is officially discontinued on their official list of discontinued features for PowerPoint 2013, they have built in an easy way to insert equations. Simply click the Insert -> Equation button and start building out your equation (Figure 4). Frequently used equations can be added from the Equation button while more complex functions can be easily created using the symbols and other equation structures. Note - PowerPoint 2013 does allow you to edit equations in Equation Editor 3.0 to maintain backwards compatibility with earlier versions of PowerPoint so if you're used to the Equation Editor you can still use it.
The Picture Manager was also removed in PowerPoint 2013. Microsoft replaced it with Windows Photo Gallery that is part of the free Windows Live Essentials pack. Another option to replace it is to install only Picture Manager from an earlier version of Office. Perform a custom installation and only select the Picture Manager from the Office Tools section.
Another large change is the removal of the Clip Organizer. Back when computers weren't always online, Microsoft used to bundle vast amounts of clip art with each version of Office. Instead of taking up the space, Microsoft removed the clip organizer and lets you perform online clip art searches through the Insert Online Pictures button.
The final two main changes are the way in which people without PowerPoint view presentations. Instead of offering a PowerPoint 2013 viewer, Microsoft wants users to utilize the free PowerPoint Web app. Also, presentations are no longer able to be saved to HTML. Instead Microsoft wishes for people to save their presentations to SkyDrive and users can view the PowerPoint from the embedded web viewer.
As you can see, many new features have been introduced in PowerPoint 2013 while a few components have undergone significant changes or outright removal. Which new features are your favorites – and what do you think about the retiring of certain capabilities?