Creating and Adding Signatures in Microsoft Outlook 2013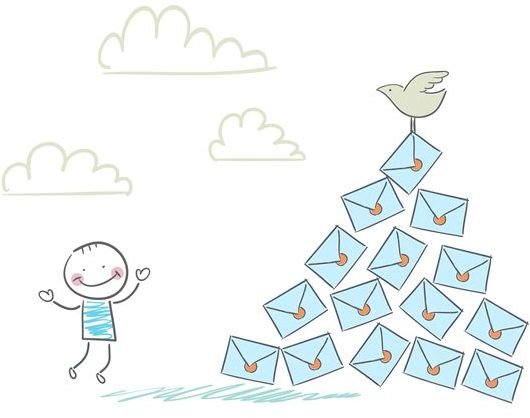 Why Signatures?
Do you find yourself constantly typing your name on every single email you send? "Thanks! – Ryan" may get old after you've typed it the third time in an hour. Why not make life easier on yourself and set up an email signature?
Outlook 2013 makes it easy to add your signature or even a block of text to every email. What if you want to use multiple signatures? Or use one signature for new messages while you use a different one for replies? Let's dive in and learn more about signatures in Outlook.
Getting Started
This article will focus on Outlook 2013, but much of this functionality also works in earlier versions of Outlook. To get started, make sure you have Outlook 2013 installed and you have a working email account set up.
Next, think about the design of your signature. Are you using your signature for personal use or for business? If you're using your signature for personal use you can do anything you'd like. Your signature could be as simple as "Thanks! - " or something a bit more complex with a graphic or hyperlinks.
If you are using your signature for business make sure you consult with your IT department to make sure they aren't already adding signatures to outgoing mail. One quick way to do this is to send yourself an email and see if it has a signature.
Business signatures should have your name, business name, address and phone number. You may also want to add a disclaimer at the end of an email noting any privacy policies you have in place or confidentiality notices. It's also not a bad idea to include your business logo in the signature to make your signature look a bit more professional.
Creating Your Signature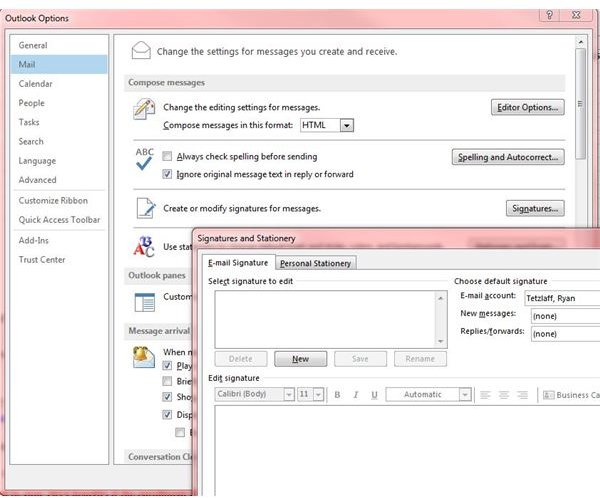 To create your first signature, start up Outlook and navigate to File -> Options. Click the Mail subheading in Outlook Options and then click on Signatures (Figure 1). The Signatures and Stationery window will open. The E-mail Signatures tab should be selected.
Click the New button.
Give your signature a name. Note that you can create multiple signatures.
Type in your signature. A common business signature would consist of your name, title, company name, address, city, state, zip and phone number. Keep in mind you can modify the font size and color as you see fit.
You may also want to add the URL for any relevant websites. To do this, just type the URL of the site – it will automatically format as a hyperlink.
If you wish to add a graphic, click the Insert Picture icon and select a picture.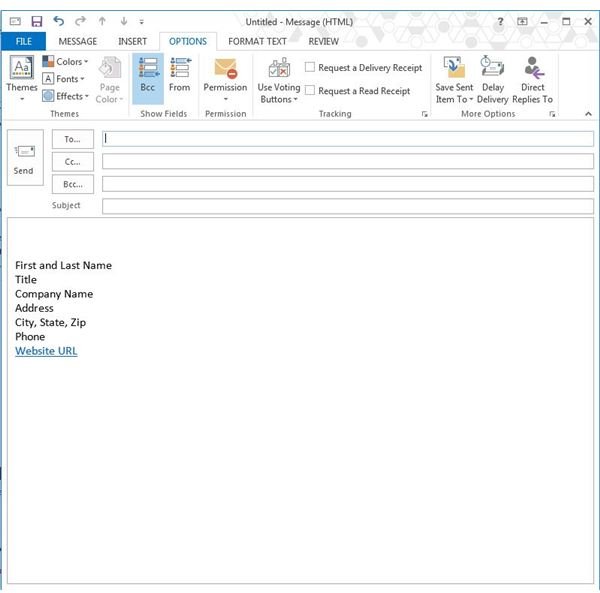 When you're finished you should have something like the signature in Figure 2. Click the Save button to save your signature. Go ahead and create a more simplistic second signature following the same steps we just went through. This second signature will be used for email replies and messages that we forward. Remember to save your signature when you're done.
Now, we can use the drop down boxes under the 'Choose Default signature' area of the window. Select the appropriate signature for each scenario and click OK (Figure 3). Now when you open up a new message you should see the appropriate signature show up (Figure 4).
If you don't want signatures to be automatically added to every email, you can disable the default signatures in the previous steps and manually add them. To manually add a signature, open a new message and under the Message tab select the Signature drop down. Select the appropriate signature and it will be placed in the email (Figure 5).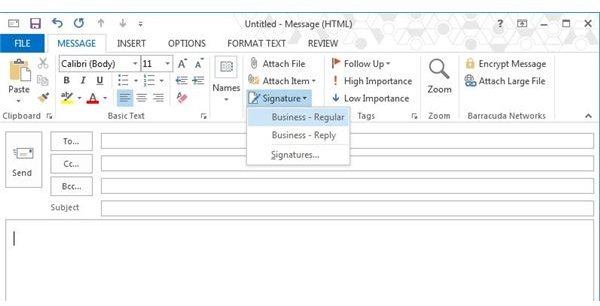 You can get pretty creative with your signatures – don't be afraid to test some different formats and see what works best for you.