How to Save Your Powerpoint Presentation as a Video & Share in MS PowerPoint 2013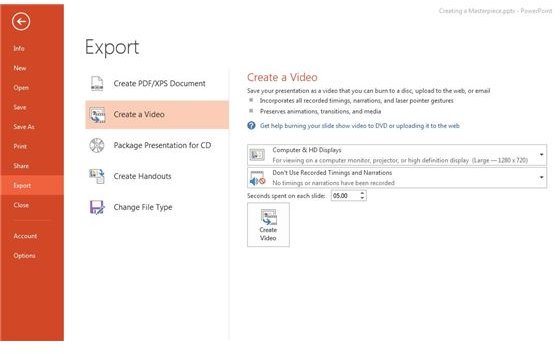 Creating a DVD of your Presentation
This option will let you save your presentation as a video. You can choose to simply animate your presentation that would be playable online or on a DVD or you can go through and fully narrate your presentation using audio and pointer gestures.
Start by creating your presentation as you normally would. Add your slides, animations, text and other media content. Save your presentation and double check to make sure the content you have is exactly what you want.
Click on the File menu and select Export. Next, select 'Create a Video'. As you can see in Figure 1, the default option will create a video for use on HD displays using 720p and will spend five seconds on each slide before moving to the next slide.
Note that the better the quality, the larger the file size will be. Try to match the device your audience will be using with the output of the video. If most of your audience will be using mobile devices to view your presentation you may consider lowering the resolution to 424x240 or the "Portable Device" setting.
Next, you need to decide if you want to use the timing you built into your presentation and whether or not you want to record narration. Let's add some narration to our presentation. Click the drop down and select Record Narrations. In the Record Slide show window select both check boxes and click Start Recording (Figure 2).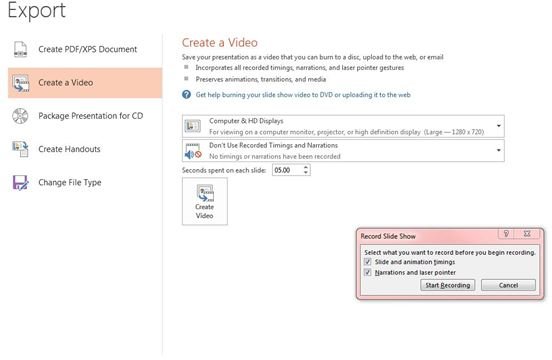 You will be taken to your presentation and in the top left corner you will see a timer and a few buttons (Figure 3). The far left button will let you advance your slide. The two vertical bars will pause recording. The first set of numbers indicate the amount of time you've spent on the current slide while the right hand set of numbers indicates the total amount of time spent. The backwards arrow will let you repeat your current slide – essentially erasing anything you've already done for the current slide.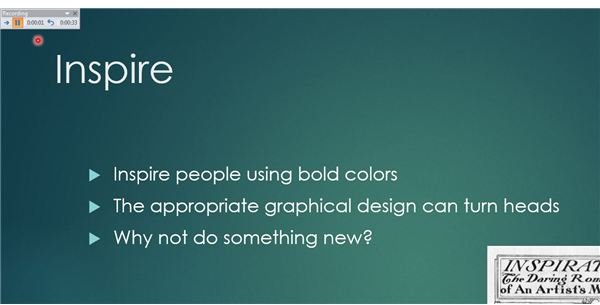 Be sure to turn on the laser pointer while you are talking so users can follow along with what you are talking about.
Once you've hit the last slide and advance forward again, you will be taken back to the Export menu. You can now preview your video by selecting "Preview Timings and Narration" under the recording menu. Once you are done, you can click the Create View button. Select a location to save your video and click OK. You will see a small progress bar along the bottom of the screen indicating the progress.
Once your file has been created you can easily burn it to a DVD using a DVD creation tool or you can host the file on your website or internal file server.
Sharing Your Presentation
If you'd rather give your audience web based access to your presentation as you give it, one simple (and free) way is to use the Office Presentation Service. As long as you have an account tied to your Office suite you can upload your presentation to the service for free. Go to the File -> Account page to check if you're logged in and to create an account if you aren't.
To use the Presentation service, go to File and then Share. Click on the option to Present Online and then make sure Office Presentation Service is selected (Figure 4). Click the option to enable remote viewers the ability to download the presentation if you desire. Next, click Present Online.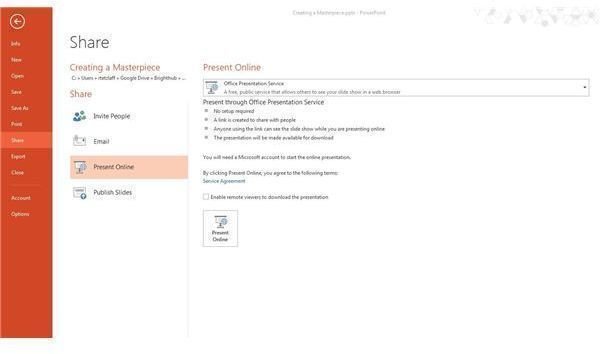 You will get a final reminder letting you know about the terms of the service – click Connect to upload your presentation. After your presentation has uploaded you will be given a unique URL you can email to participants (Figure 5).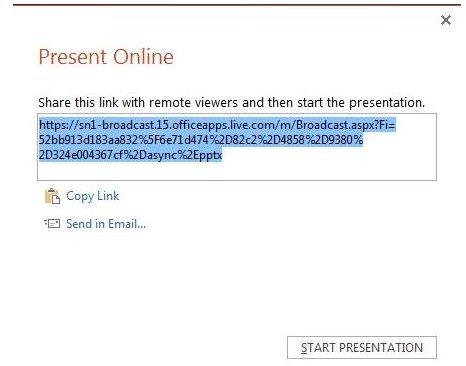 Keep in mind that participants will only be able to view your presentation as long as you are in PowerPoint and using the Share Online feature. As soon as you exit PowerPoint any participants will be dropped.
That's all there is to creating a video of your presentation and sharing it online. Both are great ways to get your presentation out there and shared with the world!