What Won't Windows 8 Kill? Apps? Apple? Microsoft?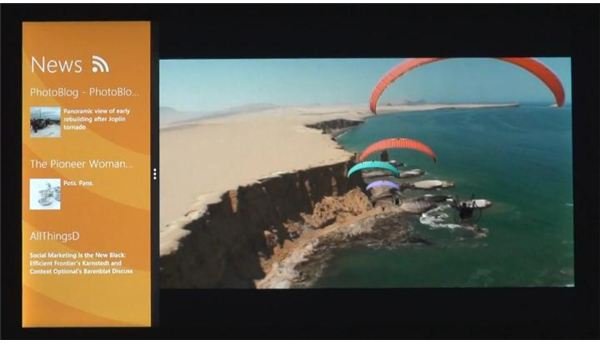 Scheduled for release sometime in 2012, Windows 8 is set to redefine desktop computing (and Microsoft) as a pleasurable, finger-friendly experience that people will be talking about.
Gone is the staid, keyboard and mouse-centric experience of office computing, replaced instead by a new, fun image, crystallized in the colorful live tiles of the Windows 8 user interface, known as Metro. Live tiles are great, enabling users to find information without launching the application tasked with collecting that particular data. Meanwhile fans of the traditional Windows desktop can still reach it (ideal for running legacy applications) but the majority of the action in the new OS takes place on the Start screen.
Expectations are high for Windows 8, but are they too high? Traditionally, Microsoft has big successes with every other release of its ubiquitous OS, and a critical failure with the others. Windows 7 is one of the successes, so is Windows 8 being set up for a huge fall?
Or will it really set the opposition running away, screaming and calling for their moms?
Windows 8: Building Expectations
The main attraction to Windows 8 is of course its striking new user interface. Thanks to Windows Phone, the Metro UI has been seen as an intelligent new way of providing a fast and responsive touch screen, but this is only a single element of Windows 8 - after all, Microsoft also needs to cater for netbooks, desktops and laptops without a touch screen.
Beyond the slickness of the Start screen, however, demonstrations have revealed a pleasant system of applications that can multi-task, be dragged from the side of the display and launch remarkably quickly. Add the apparent integration of the Zune media player for viewing photos and video clips and access to Microsoft's own app store slap bang in the middle of the Start screen and you can see clearly that Microsoft are going for a completely new look. Windows 8 will likely represent a whole new dynamic for the OS, one that we can see the beginnings of in Microsoft's current "it all starts with a Windows 7 PC" campaign - you only have to look at the tile-based emblem that they are currently using.
Redefining Software on Windows
Now no-one is saying that this great new operating system is delivering us into a brave new world - certainly no one with any authority - but what it will do is help to change the way in which Microsoft is viewed. For too long now the tech giant has been looked upon as a profit-driven behemoth interested only in rolling out buggy software so that it can charge its corporate customers for extra support.
To what extent the above is true isn't the issue here - this is the common conception of Microsoft, something that has been hard to shake with operating systems that closely resemble those that went before.
Flipping Windows around into a completely new computing experience is going to have a big effect. One would hope that to begin with Microsoft can persuade the OEMs to back-off on the inclusion of quite so much bloatware, something that tends to harm the Windows experience for domestic users. To cover any perceived shortfall of software, several Microsoft apps are expected to be included (if the developer preview release of Windows 8 is anything to go by) and these will be presented front and center as tiles on the new Start screen; if this doesn't give new users enough, the app store will.
As for killer apps, we will have to wait and see just what Microsoft pulls out of the bag. The media player is looking pretty tasty, however.
Is It an Apple Killer?
Where Windows 8 is really being built up is as a competitor for Mac OS X 10.7 Lion.
But hold on a minute, isn't Windows 7 already a competitor for that? Well, it depends on how you look at things. Some might say that Windows 7 competes with Snow Leopard; it's confusing.
In fairness, Windows 8 isn't a competitor for Lion, mainly because Apple missed the boat with their latest revision to the Mac OS X platform. Windows 8 is essentially the next generation of desktop operating system, far more user-focused than the most recent iteration of OS X.
Don't take that as a dismissal of Apple, however. They just haven't let us in on what is next for their desktop operating system. But based on what we've seen with the finger gestures in Mac OS X Lion their answer to Windows 8 will be pretty interesting.
While the disappointment of Mac OS X Lion might put a few people off Apple computers over the course of the operating system's life, it's not like Windows 8 can unleashes ants from the USB ports to whisk Apple products away from consumer hearts. Apple isn't going to go under because Microsoft finally released a unique operating system.
At worst, the balance of power in the innovation stakes might alter. Slightly.
Will Windows 8 Kill Microsoft?
A few grumblers on the web - whose raison d'etre seems to be to usher in a new anti-progress dark age - seem to think that a touch-focused user interface for a major operating system is a mistake.
Really, all Microsoft are doing with Windows 8 is extending the user interface dynamic put in motion by Apple in Mac OS X Lion, that of gesture control (it's worth noting that the latest versions of Ubuntu are gearing up for tablets and gesture control devices). It's the next logical step, and enables Microsoft to release the same software across desktops, laptops and Intel tablets. Even the existence of an ARM version (designed for low-end, Android-style tablets) is exciting.
How could Windows 8 possibly kill Microsoft? After the Microsoft VIsta debacle, they're surely learned from their mistakes. The success that the Metro user interface has had in rebuilding confidence in their mobile business proves that Microsoft are listening to user feedback, and with Windows 8 they are potentially ahead of the game.
The Windows Vista Killer
In fairness, Windows 8 is unlikely to be carry out any of the homicides it's accused of plotting. While it might stem the tide of people abandoning Windows for Apple Mac computers and finally gives Microsoft a foothold onto low-end tablet computing as well as providing a desperately needed boost for its high-end tablets (devices that pre-date the iPad), Windows 8 can't single-handedly destroy the opposition or its money spinning app market.
The reality is that Windows is finally changing shape for the first time in 17 years. Windows 8 gives Microsoft an opportunity to redefine its desktop platform in much the same way as it did its mobile platform in 2010. It is no coincidence that they are using the Metro user interface with which to do this.
However, there is one thing that will be killed by Windows 8 - the horrific memory of Windows Vista. That can only be a good thing.
References