Choosing Office 365 for Small Business

What Is Office 365?
Office 365 is an internet or 'cloud' based service which allows you to utilize popular Microsoft Office and Server products for the cost of a monthly subscription. Microsoft takes care of the IT support, upgrades, installation and all hardware allowing you to focus on the productivity that these tools can bring to your organization.
Microsoft offers two Office 365 plans – one for 'Professionals and Small Business' and a plan for 'Midsize and Enterprises'. For the purpose of this article, we'll focus on the Small business plan.
What services does Office 365 offer? I'll show you in the next section. If you're wondering about that 'other' prominent cloud-based productivity suite offered by Google, take a look at Arun Kumar's article comparing and contrasting Office 365 versus Google Docs.
What Is Included?
Exchange Online
Microsoft can host your domain (if you hav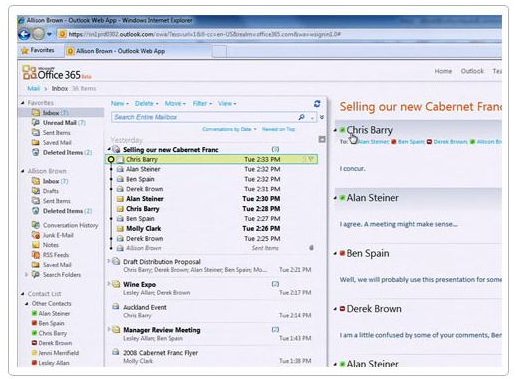 e one) or create a new domain and host your mail on their Exchange servers. This allows you to utilize Outlook Web Access or your own copy of Microsoft Outlook 2007 or 2010 to retrieve mail.
Office 365 gives each user a 25GB (gigabyte) mailbox and allows attachment sizes of up to 25MB (megabytes).
The mail service also includes Microsoft Forefront Online – a security tool that integrates with Exchange Online in order to scan for malware and protect you from viruses.
Office Web Apps
Office Web Apps are simply online versions of popular Office applications like Word, Excel, PowerPoint and OneNote. Much like Google Docs, Office Web Apps allow you to create and store documents online – from any Internet connected computer or mobile device. Take a look at Arun Kumar's great article covering Office Web Apps in depth.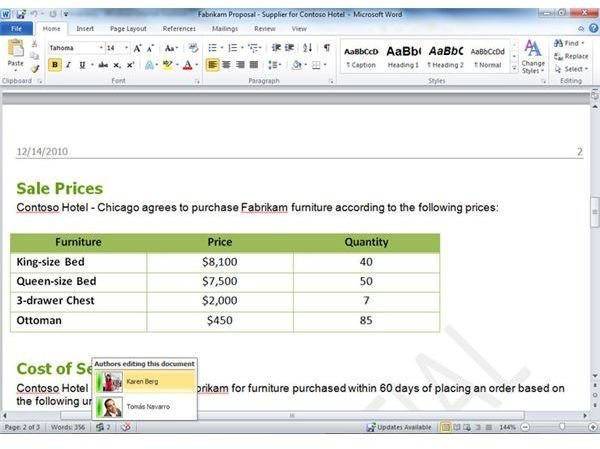 SharePoint and Web Content
Office 365 includes access to SharePoint for internal collaboration. SharePoint allows you to create intranet sites in order to help facilitate communication and aid in storing and managing documentation. Office 365 also allows you to set up a simple public facing website in case you don't already have one.
This version of SharePoint also allows for creation and management of simple Access databases and web forms. For more information, check out our article on SharePoint 2010.
Instant Messaging and Web Meetings
Office 365 also includes Microsoft Office Lync, which allows you to instant message, voice call, video call and host online meetings. This tool is especially useful if you need to host meetings with several external parties or if you have people out of the office frequently. Microsoft Lync is the newly renamed Office Communication Manager.
Pricing
Pricing of Office 365 for Small Business is based on the number of users that will take advantage of the service. In order to keep it simple, Office 365 comes bundled with all of the above products for a price of $6 per user per month – no matter which services you do or don't use. The catch is that there is a limit of 25 users. Anything more and you'll need to move up to the Midsize and Enterprise plan which runs closer to $24 per user per month – depending on the quantity of licenses and features enabled.
If you want to also get a copy of the latest Office client you also have the option of subscribing to Office Professional Plus 2010 for an additional $15 per person per month. This allows you to download the full Office Professional Plus suite for use on clients when not connected to the Internet. For more information on the various Office suites, take a look at my article on Office 2010 Editions.
Choosing Office 365 for Small Business
Whether or not you choose to use Office 365 will depend on a few different things. If you answer 'yes' to most of the questions below, Office 365 may be a good fit for you.
Do you have a reliable internet connection?
Do you have a limited IT staff?
Do you want a (relatively) fixed monthly price for your Microsoft purchases?
Do you like to keep on the latest version of Microsoft Office products?
If you answer 'Yes' to most of the questions below, an on-premise solution may be a better fit for you.
Do you already have client versions of Exchange, SharePoint and Office in place already?
Does the thought of Microsoft keeping all of your data protected keep you up at night?
Are you okay with larger capital expenditures in favor of saving money in the long term?
Are you okay upgrading your Office apps once every 4+ years?
The best way to know for sure is to take advantage of Office 365's 30 day trial. Give it a free try first, and if you like it then you can pick up your subscription from there.
I hope you found this guide useful – be sure to leave comments below!
References