How to Dual Boot Windows 8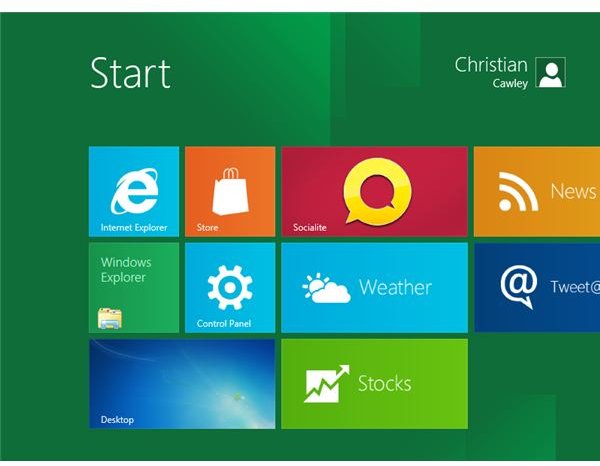 The recently released Windows 8 Developer Preview is continuing to attract attention from both professional developers, journalists and people interested in getting a an early look at the future of Windows.
Currently echoed in Microsoft's advertising campaigns on TV, online and in print, Windows 8 is a marked departure from previous releases, optimized as it is for tablets and touch screen devices.
However running the OS can lead to problems - you either need to run it in a virtual machine or dual boot In order to remain able to use your computer as you might usually expect.
Dual booting any pair of operating systems comes with a few risks, and running Windows 8 alongside Windows 7 is no different. Along with requiring additional hard disk space, Windows 8 may well require drivers for some of your devices - something that may not be possible right now. Performance can be affected as a result, so be aware that this is a preview release of Windows 8, and full functionality should not be expected.
One other note: the final release of Windows 8 is expected to block dual booting under certain security configurations, so this guide is intended purely for anyone using the Windows 8 Developer Preview.
Preparing Your PC for Windows 8
Before installing Windows 8 as a dual boot operating system, there are a couple of things that you will need to prepare.
First of all, you will need to make sure that you have enough hard disk space. Around 30 GB should suffice, but this must be on a hard disk device that does not have any dynamic partitions, otherwise the installer will refuse to install the OS. Your best bet is to create a standard partition for Windows 8 on an existing disk with no other partitions.
Naturally, you will also need to download the Windows 8 Developer Preview, and burn this to disc.
To get your copy, go to https://msdn.microsoft.com/en-us/windows/home/br229518. Here you will need to sign into your Windows Live account and then register to download Windows 8 Developer Preview. The file is 4.8 GB so make sure you have enough space; you will also need a blank DVD to burn this for the install.
Installation requires a multi-core CPU, 512 MB of RAM and at least 20 GB of spare hard disk space.
Installing the Windows 8 Developer Preview Alongside Windows 7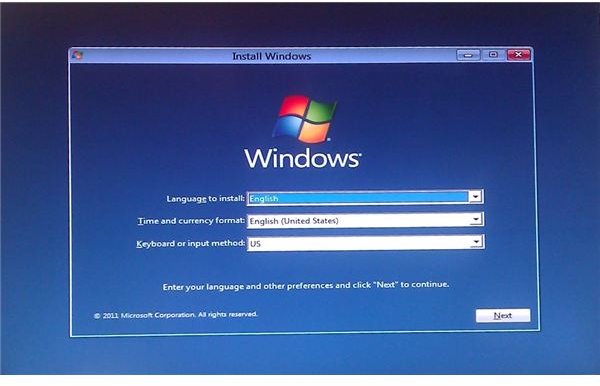 With the file downloaded and burned to a blank DVD, you will be ready to install Windows 8 Developer Preview. In order to do this successfully with Windows 7, begin by inserting the disc and restarting your computer.
When your computer restarts, you should be prompted to press a key for the computer to boot from the optical drive - if not, you will need to change the boot order in your system BIOS (check the motherboard manual for more information),
The Windows 8 setup will shortly start, and you might notice that it bears a resemblance to the Windows 7 setup screen. Begin by the correct Language to install, Time and currency format and Keyboard or input method - each of which can be selected via drop-down menus - and then click Next.
You will then be prompted to Install now, so click the button to move onto the next screen, where you must agree to the terms of use and then click Next once more to select the installation type.
Select the Correct Installation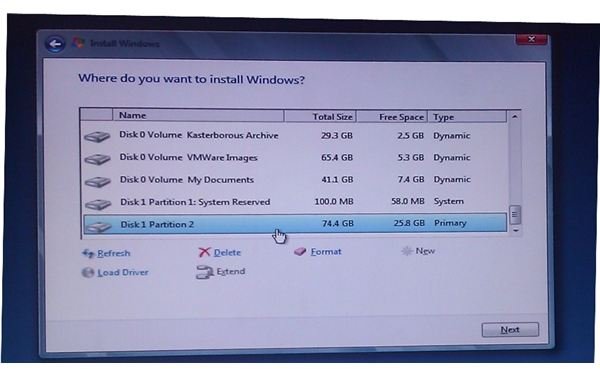 With Windows 8, you can choose to Upgrade the existing operating system or, via the Custom option, install the OS depending on your own choices. The upgrade option is not recommended unless you have no interest in running Windows 7 again; as Windows 8 drivers are in short supply, this is not recommended.
Choose Custom (Advanced) to proceed, and identify and select the correct hard disk partition. With this selected, click Next, and setup will then proceed to install Windows 8 Developer Preview on your computer!
At this stage, you can take a short break and leave the installation alone for a short time. Note that on high-end machines the installation will be pretty quick, so don't leave it for too long.
Configuring Your Account and the Dual Boot
With Windows 8 installed on your computer, you will be prompted to sign in, using either a Windows Live account or by creating a new local account. If you choose the Windows Live option, you will need to confirm this via email, otherwise Windows 8 may block you from accessing your new OS.
When Windows 8 is first booted, an OS choice screen will be displayed. Via this Choose an operating system menu, you will be able to select which OS you wish to be the default option. This means that whichever is chosen, when your computer reboots or starts up it will automatically boot into the default operating system if you are not able to reach the computer in time to select from the menu.
At the bottom of the screen, select Change defaults or choose other options and then Choose the default operating system. In the resulting menu, Windows 7 will be listed, and once selected this will be the main OS. However if you want to play with Windows 8, all you need to do is select it in the boot menu.
Enjoy this easy, no-nonsense dual booting courtesy of the Windows 8 Developer Preview!
References
Screenshots provided by author.