Removing Software in Windows Using IObit Uninstaller 2.0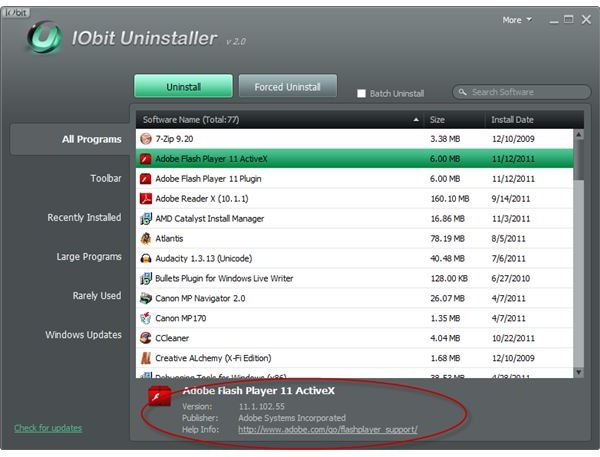 Removing Software in Windows
Uninstalling programs on a computer is easily done by using the built-in Add or Remove Programs utility in Windows, or by using the standard uninstaller that came with the software itself. However, some users are experiencing problems with the computer after removing a program because the uninstaller failed to remove all the files, drivers or registry keys. There are known incidents that some files and drivers from antivirus, anti-spyware and firewall programs will remain in the computer which can cause problems when you install other similar protection software. It is why some security software vendors have developed a custom uninstaller of their software, but it can be time-consuming for computer users to search or download additional uninstaller software.
Fortunately, there is a software developer that provides a program that lets you uninstall any type of program installed in your computer. IObit is offering a free program to uninstall software and unwanted programs in Windows without the need to install any new software. Let's find out in this IObit Uninstaller 2.0 review if it's worth using this program to permanently get rid of programs in Windows.
System Requirements and Installation (5 out of 5)
What is neat with IObit Uninstaller is there is no need to install it in Windows. You only need to save the uninstaller file on your hard-drive or any removable drives, e.g. USB or flash drives and then start using to remove or uninstall programs in Windows.
Vista and Windows 7 users will only need to allow the User Account Control (UAC) prompt to launch the uninstaller by IObit. It is recommended to use this program using a user account with administrator permission so programs will be removed without a glitch.
The uninstaller from IObit runs on 32-bit and 64-bit editions of Windows 7, Vista and XP. If your organization or personal computer continues to use the unsupported Windows 2000, you may also use IObit's uninstaller.
Features and Options (5 out of 5)
It is easy to use this IObit program to remove any software in a Windows PC. The user is provided with several options and the program includes the following features:
Uninstall software using the standard or advanced removal procedures.

Run a powerful scan on the computer to remove remnants and registry entries of already removed programs.

Remove an entry of a software in the list of programs. Note that using this option will not remove the program from the computer.

Open the file folder of the software using Windows Explorer.

View the registry entry of the program using the Registry Editor in Windows.

Search the selected program from the Internet.

Sort the list of installed programs by software title, size and install date.

The option to view only the installed toolbars in Windows, if any.

The option to view only the recently installed programs or the large programs in Windows.

The option to view the rarely used programs and list of installed Windows updates.

Batch uninstall programs.

Forced uninstall software from Windows.

Search for software in the list of programs.

Export in a text file the application list with time stamp of the export process.

Log activity of the IObit Uninstaller program and remove any logs.

A handy command to open the System Restore program of Windows.
IObit Uninstaller 2.0 supports several languages, e.g. Spanish, Deutsch, Italian, Chinese, etc. All of the above features and options are working properly except one of its options which you can find out more by reading the next section of this review.
Performance (4 out of 5)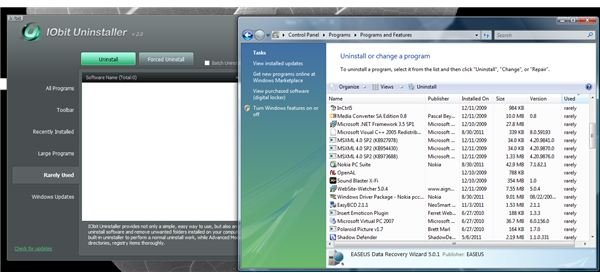 I've compared IObit's detection ability on the program's hard-drive usage and the detection by the built-in Add or Remove Programs utility in Windows and found that the standalone uninstaller program by IObit is quite accurate in determining the total size used by a program. An example is it detected that Driver Sweeper uses 234.03 MB, but Windows utility only display the size as 160 MB.
In Windows Vista, the Add or Remove Programs utility will not display the version number of the installed software unless the user configures it to show. With IObit, you don't have to do anything else because each program in the list will display the version number in the lower section of the user interface.
Removing a program or programs (using batch uninstall, advanced, standard mode) using IObit Uninstaller 2.0 worked without issue. The powerful scanner is able to detect remnants in the computer's hard-drive and some left over registry keys.
The only major issue with its performance is that the uninstaller program by IObit has problems displaying the list of rarely used programs in Windows. It failed to display even a single program that I rarely used where Add or Remove Programs utility is able to detect them.
Price to Value (5 out of 5)
It's free of charge and does not require that it be installed on your hard-drive. It does not change any settings in Windows or your web browser. IObit Uninstaller will use the default Internet browser if you will use the option to search the Internet.
Conclusion
IObit Uninstaller is a great program to remove previously installed and/or unwanted software. Its forced uninstaller will help users to remove nasty files added by spyware or malware. I'm impressed with the Uninstaller 2.0 because it was able to scan the remnants of already removed software. However, it is not recommended to use this program in removing hardware drivers such as a display driver, sound driver, etc. I recommend using the free Driver Sweeper for any hardware driver removal process.
References