Adobe Dreamweaver CS3 versus Microsoft Expression Web - Which is Better?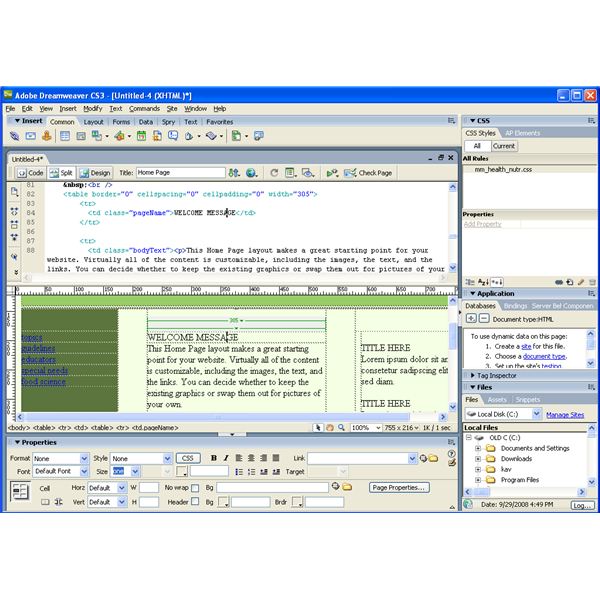 Adobe Dreamweaver CS3
Adobe Dreamweaver CS3 is one of the most popular HTML editors ever. It has a nice and easy to master user interface, excellent CSS capabilities, tons of templates to start with, and it integrates very well with other applications from Adobe's Creative Suite like Flash. Managing your style sheets is an easy task in Dreamweaver. Dreamweaver even adds explanatory comments to the provided CSS codes which is very helpful to both beginners and advanced users. You can also check out how your web pages would appear in mobile gadgets with Adobe Device Central.
Another important feature of Dreamweaver is the inclusion of the spry framework for Ajax. Spry can be described as a JavaScript library of code snippets which can be classified into Spry Effects, Spry Data, and Spry Widgets. It's a quite useful feature, but probably only advanced users would be comfortable with it.
Dreamweaver offers excellent user assistance with an extensive in-program help system which facilitates browsing and searching of topics.
Microsoft Expression Web
Microsoft Expression Web is an HTML editor which replaces Microsoft FrontPage. Part of Expression Studio, Expression Web supports most common web technologies, and its biggest strength is perhaps the excellent integration with Microsoft Visual Studio and other products of the Expression Studio.
It can open/import an existing web site via FrontPage Server extensions, WebDAV, FTP, or HTTP. Like Dreamweaver, Expression Web also has templates of various types to facilitate designing but its template base is not as extensive as Dreamweaver. Expression Web also supports the W3C accessibility standard which allows designing pages for people with disabilities. Although Expression Web replaces Microsoft's old HTML editor FrontPage, it doesn't retain the same feel of FrontPage in it. That is, for a beginner it may take some time to get used to the Expression Web designing environment.
Expression Web can also import Adobe Photoshop files to create website graphics. Creating and managing your styles with Expression Web is extremely easy with its design-focused tools providing a visual hierarchy of styles with drag and drop interface to manipulate them. Expression Web also has great rich data representation features which allow you to manipulate data from any XML source with ease.
Expression Web is a great tool to create modern web pages with the latest technologies, and it is very easy to manage the code with it. However, Dreamweaver remains the one with more features, and ot has better integration with tools you may need for web development. Though Expression Web also has great integration with other Expression Studio products and Visual Studio, some tools are still lacking, such as a video editing tool like Adobe Premiere. However, Expression Web's features should be enough for most beginning web developers to get started. If you are looking for a more complete package, and you want your website accessible from mobile gadgets, Dreamweaver will suit you more.
Images