How to Sync Outlook to Google Apps

Collaboration Tool and Sync Tool by Google
Education, business and government users can take advantage of the free sync tool by Google called, Google Apps Sync for Microsoft Outlook to the free and widely-used collaboration and communication suite by Google. If your organization have migrated to services provided in Google Apps, such as Google Groups, Gmail, Google Calendar, Docs, Sites and Talk, it make sense to take advantage of Google Apps sync tool for Outlook because you will be able to continue using Microsoft Outlook that your employees or volunteers prefer to keep using as e-mail client.
Installation and System Requirements
The sync tool by Google for Outlook program requires a Google account and a Gmail email address to synchronized email, contacts, calendar and notes in Outlook to Google Apps. The JavaScript in browsers should be enabled before you can download the tool.
Google Apps Sync for Outlook will run on 32-bit and 64-bit editions of Windows 7 and Vista. It will also run on 32-bit edition of Windows XP. The free sync tool supports Microsoft Outlook 2010, 2007 and 2003. Outlook 2007 with Service Pack 1 users should install the hotfix mentioned in Microsoft KB959642 or simply use the latest available service pack 2 or 3 for Outlook, before installing Google's sync tool.
Installing Google Apps Sync is quite easy because the installer will automatically install the required components, including the migration tool on any desktop that administrators would like to use in setting up a sync user or importing data to Google Apps Sync. It is recommended to keep the Internet connection active to allow the installer in downloading the necessary components for the installation of the sync and migration tools.
Administering
Administrators can manage Google accounts or Gmail email address that are allowed to access and share the calendar, notes, contacts and email of the company, organization or group. However, the domain administrator should enable the following settings in Google Apps control panel before any Google account or Gmail accounts can use the sync tool:
Enable Google Apps Sync for Microsoft Outlook for my users.

Enable Calendar service (required for users to be able to create profiles).
If the staff will use smartphones such as BlackBerry, Windows Mobile, Symbian using Microsoft Exchange, the domain administrator should make sure that "Google Apps Connector" is also enabled for their users.
If any of the allowed Gmail and Google accounts will have trouble to sign-in using the free Google sync tool for Outlook, the administrator can easily solve this by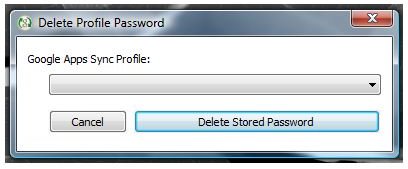 , instruct the affected user to restart Outlook and then sign-in again.
As you already know, domain administrators can configure the any available Google Apps services to their users via Google Apps administrator control panel, https://www.google.com/a/cpanel/primary-domain-name, where primary-domain-name is the domain name you used to sign up for Google Apps.
Using the Sync Tool
If your organization has migrated to Google Apps but you prefer to use Microsoft Outlook program to collaborate, you only need to download Google Apps Sync for Microsoft Outlook installer (see references below for the download link). Execute the installer and proceed to sign-in using your Gmail email address or Google account so you can access the calendar, email, notes and contacts that are shared within your organization using Outlook program.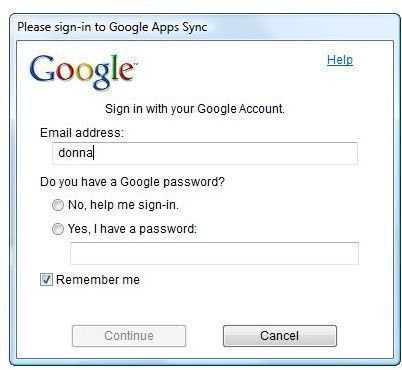 If your administrator has downloaded it for you already, simply open Run Advertised Programs in Windows control panel, select Google Apps Sync from the list of programs, and click Run to install Google Apps Sync.
The application will prompt you to create Google Apps profile for use in Outlook. It will also provide an option to import data (optional) from existing Outlook or Microsoft Exchange profiles. You have an option to import task, journals, notes, calendar, email, contacts, junk mails and deleted messages. To speed up the process of importing, you don't need to choose junk and deleted emails to import, unless you prefer to transfer those messages.
Note that if your old Gmail messages aren't synchronized in the cloud, you need to turn off AutoArchive feature in Outlook and turn it on again when the sync tool has finished with its task. You can turn off AutoArchive in Outlook 2010 by clicking on the File tab, select Options and then select Advanced in the left pane. Click AutoArchive settings button and make sure that the box before "run autoarchive every…" is not checked.
If you did not choose to import Outlook or Microsoft Exchange data, simply open Microsoft Outlook program. A prompt will be displayed by Outlook to choose a profile to use. Choose your Google Apps profile in the drop-down menu of the Outlook prompt, to begin using your new account. As soon as Outlook opens your Google Apps profile, it will start synchronizing with your Google account in real-time and start using Google Apps service in Outlook or web interface of Google Apps.
Note that you can configure Outlook to make Google Apps profile as default profile so you are no longer prompted by Outlook to choose a profile. You can set it up in Windows Control Panel > User Accounts and Family Safety > Mail. Click "show profiles" button, select "always use this profile" radio button and then click OK.
Do you have useful tips in using Google Apps Sync for Microsoft Outlook? Are you experiencing problems with the free sync tool? Let us know by posting a comment below.
References