Is It the End for Windows Media Player?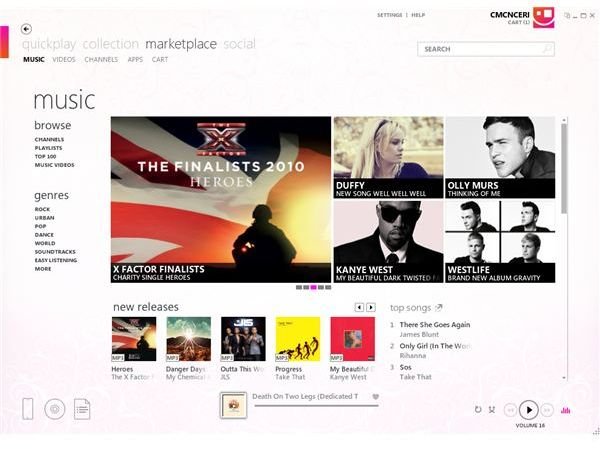 It's clunky, it sometimes displays the wrong album art, and various audio and video files won't play natively. You could build a house on its resource footprint and it isn't great at syncing to mobile devices either.
Yet Microsoft has continued to persist with Windows Media Player as the default option for playing back music and video clips in Windows since the days of Windows 98, and for most users there is no obvious likelihood of this ever changing.
If your general impression of WMP is of an application that is good when it works well but often fails, and that you think Microsoft should have introduced a replacement years ago, well… actually hold that thought.
Microsoft has issued a replacement. They just didn't know what to do with it, and so omitted to share this information with their users.
The Zune application has been available for a couple of years now, and as well as being the ideal desktop media player that handles movies, music, TV and photos, it is also designed to sync with media players and Windows Phone while providing you with access to the Zune Marketplace to purchase music and video.
What's Wrong With Windows Media Player?
If you like your software firmly anchored in the 20th century, then there is every reason to love Windows Media Player, with its acres of menus, alternative views, visualizations and other dated tools.
Perhaps I'm being unfair – you can rip and burn discs with WMP, go online and listen to Internet radio, create playlists and even stream media from your computer to another device in your home (for instance an Xbox 360) and at one point you could even shop online…
…and this is really the problem, isn't it? Microsoft doesn't care about Windows Media Player. The current version, as seen in Windows 7, was released in 2009, not too long before the Zune desktop software was released. Zune does everything that Windows Media Player used to do and more, so why would anyone persist with the dreadful old software when a slicker, more relevant alternative is available to use right now?
Which Zune?
Now the problem with talking about Zune as if it is the best thing since sliced bread is the fact that Microsoft has once again sounded the death knell for the Zune hardware platform, a range of media players that have been absent from marketplaces since the release of Windows Phone.
So let's clear up the confusion. There are three Zunes:
The (now cancelled) hardware
The integrated media player on a Windows Phone
The desktop sync and media application
We're talking about that last one.
Following the removal of the Zune hardware line up it seems likely that future confusion can be avoided. After all, you wouldn't want to try and install an archaic MP3 player in your PC, would you?
Getting Used to Zune
Fortunately, the Zune application is really easy to use, regardless of whether you use it to sync your Windows Phone, subscribe to podcasts, or just to manage your media library.
The application has some similarities to Windows 8 too, featuring a version of the Metro user interface which is set to become the single most iconic aspect of Microsoft's next operating system. This makes perfect sense as Zune is expected to find its way onto Windows 8 where it will be one of the key bundled applications.
You simply can't afford to miss out on trying Zune right now, if only to get an idea of how easy it is to use with its clear and intuitive user interface!
Zune Is to Windows What iTunes Is to Mac OS X
Despite these nomenclature-based confusions, the Zune desktop application is the go-to app for anyone looking for a way of syncing data to an MP3 player or Windows Phone as well as playing back movies, music and photos, ripping and burning discs and downloading music and movies to your computer.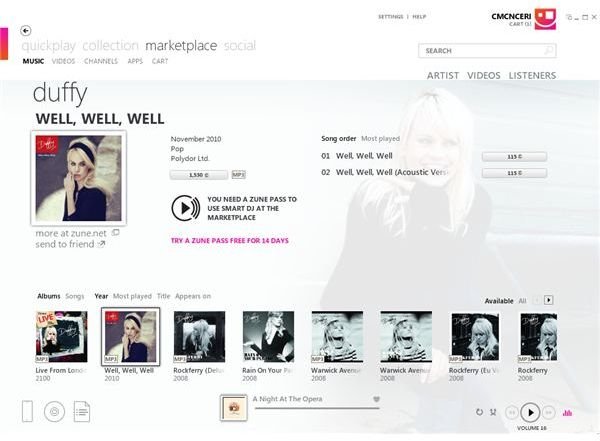 Thanks to the Zune Pass subscription service you can even download an unlimited number of tracks to your PC per month, and keep a small number of your favorites.
Like iTunes, Zune is incredibly easy to use. While the user interface might be quite different from anything you've ever seen before (and it discards with the dated notion of "visualizations" in favor of pan-and-zoom album art or slideshows from your pictures library) it is remarkably simple to use.
Creating a new playlist is easy, as is finding new music via the Smart DJ tool. Zune handles all popular audio and video formats, allows easy management of your media library and is also able to download and sync podcasts to your MP3 player.
Why Are You Still Using Windows Media Player?
In short, Zune does everything iTunes does, but with a little more style. This is mainly due to the Metro user interface language that Microsoft is adopting. Ultimately this will help to redefine Microsoft's public face away from the "Start menu" of Windows and towards the new, stylish and slick user interface that can already be seen on Windows Phone, Xbox 360 and preview releases of Windows 8.
In fact, Zune is a great taster of how Windows 8 will work. For this reason alone you should have tried it out by now, but ultimately you need to get rid of Windows Media Player today and head to www.zune.net and enjoy the next generation of computer media players.
Zune is compatible with Windows XP SP3, Windows Vista SP2 and Windows 7.
References