Windows 8 and Office 365 - Could This Be a Potent Microsoft Combo?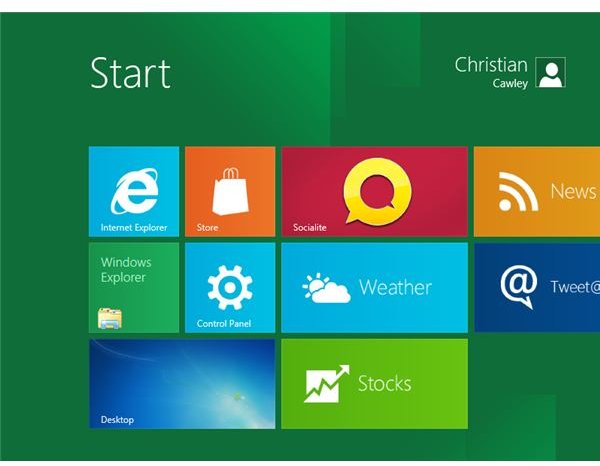 You've no doubt heard of Microsoft Office 365, the new cloud-based version of Microsoft Office designed for corporate users, and you've probably heard of Windows 8, the tablet-optimized release of Microsoft's operating system set for launch in 2012.
But did you ever think that they might be intended for extremely close integration?
We all know that the world of computing is changing. Mobile phones have become miniature offices capable of handling emails and typing up ad hoc notes, while notebook computers have become ubiquitous for any employee who regularly attends meetings.
In recent years the rise of the tablet computer (as opposed to the high spec tablet PC) has been partially attributed to corporate purchases, but a major drawback for Apple is that there is no version of Microsoft Office for iOS. As a result, the convenience of having a tablet for note taking in meetings is made pointless because of the effort that needs to be made to get those notes off your tablet and onto a computer running Microsoft Word.
Windows 8 will be ready to use on desktops, notebooks and tablet computers. The convenience of a lightweight handheld device running Microsoft Office applications is going to be a reality in just a few months' time.
Windows 8: Connecting to the Cloud
Numerous cloud computing features are present in Windows 8, from widgets displaying news and weather to the (optional) use of a Windows Live account to sign into the operating system. There are various advantages to this, and with Windows Live domestic users will have their settings saved to the cloud.
Similar arrangements are set to be put in place for corporate users. There are some indications that server upgrades will be required to allow roaming profiles to be implemented more widely within organizations using Windows 8, so like Mac OS X, iOS and Android, Microsoft's new operating system will have a heavy reliance on cloud storage and services.
This is a bit of a diversion from the current state of play. Within organizations, storage options are available as part of SharePoint or perhaps on an individual's server-based "home" drive. For domestic users of Windows, remote storage is limited to tools such as Dropbox and Windows Live Mesh.
Office 365: Cloud Syncing for Word, Excel and PowerPoint
Where things get particularly interesting for Windows 8 is in the mouth-watering prospect of accessing Office 365 or Microsoft Office Web Apps. Whether or not the Windows 8 device in question has the hardware to run the software natively doesn't matter.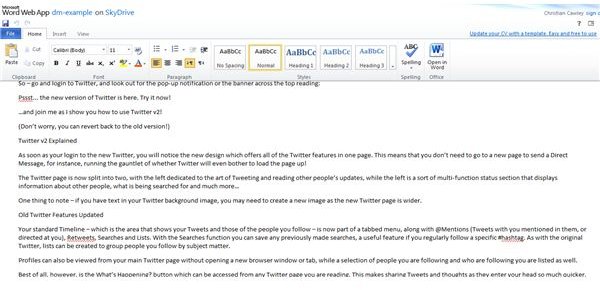 The magic – the potency, if you will – of this combination is considerable. If you have Windows Phone access to a Microsoft SharePoint environment or have the Mango update installed then you will already have been given a taste of how powerful an integrated cloud computing version of Office can be.
So what does all of this mean?
Well, it's simple. Microsoft doesn't provide a version of Office for iOS, and Android only has Google Docs (which might be compatible but it is occasionally buggy, especially on Android tablets). Apple meanwhile has been working very hard on attracting corporate customers with space age promises of new ways of working and flexibility, but ultimately there are problems as described above.
The result of this is that when Windows 8 tablets come along, Apple's corporate market share for iPads is set to reduce noticeably. More interestingly, there is likely to be an impact on iPhone sales within the same market as organizations opt to give their users Windows Phone alongside Windows 8.
Big Business Needs Microsoft Office
To a casual user, one cannot overstate the importance of Microsoft Office to big businesses, small and medium enterprises and even sole traders. While there are plenty of exceptions where open source and Linux alternatives are in use, the majority of businesses use Microsoft products for their day to day desktop work.
As things stand, Windows 8 is set to have the same minimum system hardware requirement as Windows 7. There are also plans for a version that will run on devices equipped with ARM processors, the type that are used in Android tablets.
This is why Office 365 is so important to Windows 8. Standard applications designed for 32-bit and 64-bit Intel processors will not work on an ARM device. But a cloud-based application that runs in the browser is a different proposition.
Why Corporations Won't Turn Their Backs on Windows and Office Yet
Make no mistake, Windows 8 is making Microsoft's competitors and partners sit up and take notice. The current existence of Office 365 offers a tempting glimpse of what the future holds.
Some time ago before HP decided to put the webOS platform out to premature pasture, I speculated here on Bright Hub that they were perfectly placed to leverage their existing server hardware business and deliver an iPad-beating solution to the major corporations that are HP clients.
As Microsoft partners, HP must have been aware of what was coming next from Redmond. As there is little explanation for abandoning webOS so soon after purchasing it, this at least makes some sense, and should give you an idea as to the way in which Microsoft is about to revolutionize the way we work with Windows 8 and Office 365.
References
Screenshots provided by author.