Live Search Cash Back Review: A Comparison to Pricegrabber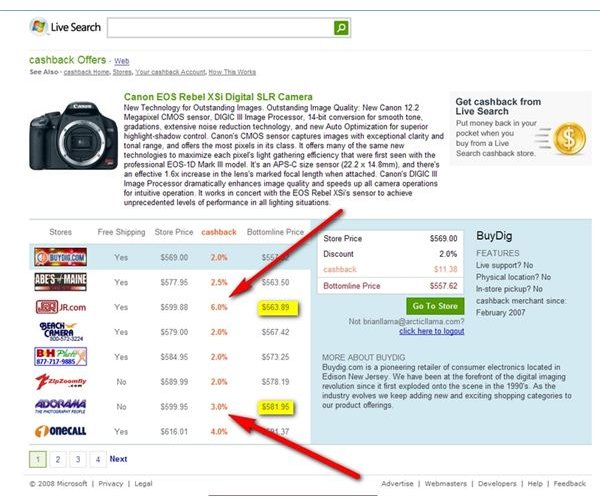 CashBack Search Results Quality
Is Live Search any good?
As with any search, the more specific a user is, the better the results. At first glance, Live Search seems to be one of the least accurate in returning results. A search for "Canon Rebel XSi" has the top three results as Camera Armor Rebel XSI, Blue Crane Digital DVD, Introduction to the Canon Rebel XSi, and another Camera Armor result. However, Live Search has several actual cameras next. Even better, there is an easy way to narrow the results without having to search again by choosing "Digital Cameras" from the menu at the left. One could also choose Cases, Lenses, Batteries, etc…
However, Microsoft's Live Search suffers from the same tricks the other sites do. After selecting Digital Cameras and sorting from Low to High price, the first result is a battery, then a book, then a cable. Until shopping searches start penalizing stores that engage in this kind of search fraud, you have to dig deep to find what you really want.
Even after narrowing the results further by selecting Canon Brand from the options at the left, Live Search still did a terrible job of giving us the XSi model versus the other XT, and XTi models, apparently having focused too much on just finding any old Canon Rebel. This means the Live Search "Low to High" price sort is worthless since those other older models are obviously going to be cheaper.
Live Search also does a terrible job of aggregating like results, with the black and silver models each having their own entry. Screen after screen of Live Search Cash Back results say "1 Vendor" because each and every tiny difference in wording triggers a new entry in the results. You'd have to click at least 10 results to make sure you were getting the lowest price on an apples to apples comparison.
For this search, PriceGrabber did much better than Live Search to bring back the items we actually wanted, which were the cameras, and give us a screen full of results and prices that we can use to shop with. There is still plenty of duplication and merchant trickery at PriceGrabber, but it is easier to filter out since we can ignore the onesie-twosie results and focus on results that are good for 23 merchants, 22 merchants, and so on.
Best Prices at Live Search ?
Here is where it gets interesting. By finally getting an apples to apples comparison, which took searching on Canon Rebel XSi 12MP and selecting Digital Cameras in the options, I found the exact same camera on both PriceGrabber and Live Search at Adorama, a well known name in the photography industry.
Go to JR.com and get 6.0% cash back! That makes their similar $599.88 price drop to $563.89 and now we are talking about some real money, almost $30. That will help cushion the blow.
Not bad, for spending a few minutes of time on a new search engine.
(Although this is more about finance than technology, you can save even more money by combining Live Search CashBack with a cash back credit card. You just have to be smart about it. – Note: this will open a post on my personal finance blog about this topic. The site, FinanceGourmet, is not affiliated with, nor endorsed by Bright Hub. )
Read article 2, Live Search Cashback! in this series to find out how to sign up for Windows Live Cashback.
This post is part of the series: Microsoft Live Search
Microsoft has spent big money improving its search engine and company executives regularly talk up the company's search efforts. Everything you did (and something you didn't) want to know about Live Search