Microsoft Live Search CashBack Opportunity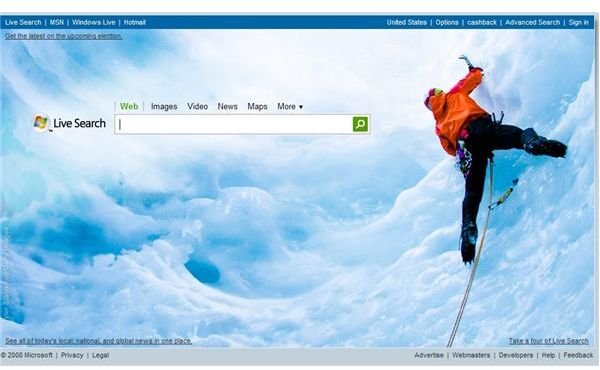 CashBack
Microsoft's CashBack program works similarly to other shopping portals. A user starts at Microsoft's Live Search site, www.live.com and logs in with a Windows Live ID. After signing up for CashBack, the user searches for products or items they are interested using the standard Live interface. However, instead of getting normal Internet webpage results, the user gets product oriented results, not unlike shopping.com or pricegrabber.com
How It Works
CashBack is a free program. The Windows Live ID required is also free. In fact, the Live ID comes with some nice features including online storage and file sharing, and email. Microsoft hopes this is step one in enticing users to use more of Microsoft's online offerings.
Now, Microsoft isn't dumb. They've had people coming at them from all different angles for a very long time now, so the CashBack program comes with some well thought out rules and procedures to minimize problems. Users must be at least 18 years old, have a U.S. mailing address and if the user wants their CashBack deposited into a bank account, it has to be a U.S. bank. (Actually, none of these are Microsoft's rules, these are anti-money laundering, and Patriot Act, requirements.)
Unlike the SearchPerks program, users are not required to use Internet Explorer to participate in the CashBack program. Users have to separately activate their eBay account to qualify for CashBack, though this is well worth it as Microsoft has offered 30% or more CashBack at certain times on eBay purchases, making this a huge hit with the online deal sites.
From the search results, the user is taken to the online store. The good news is that the user does not have to buy the product they searched for. In fact, any purchase made during the same browsing session (as long as you don't close your browser) at the site is qualifies as long as the user made their way to the site via Live Search. Once a purchase has been made, the vendor reports the information and the CashBack appears in the user's account, usually between 24 and 48 hours later, although some merchants apparently take longer.
The CashBack stays as "Pending" for up to 60 days. This is to ensure that you don't return the item after getting your money. The pending period can be shorter if the merchant's return period is shorter. For example, if a merchant only allows returns for 30 days, then the Pending period may be shortened to 30 days, though it isn't always done.
An account needs at least $5 worth of CashBack before a payout can be made. Users can be paid via PayPal, direct deposit to a US bank account, or check. There is a limit of $2,500 in CashBack per calendar year. However, a single purchase that causes a user to go over the limit still counts, so someone with $2,450 who buys a big screen TV doesn't lose out.
Using CashBack Live Search
There is a difference between the CashBack Live Search, and regular Live Search. Regular Live Search will not qualify for CashBack so it is important to use the right one.
This is Live Search – No CashBack

This is CashBack Live Search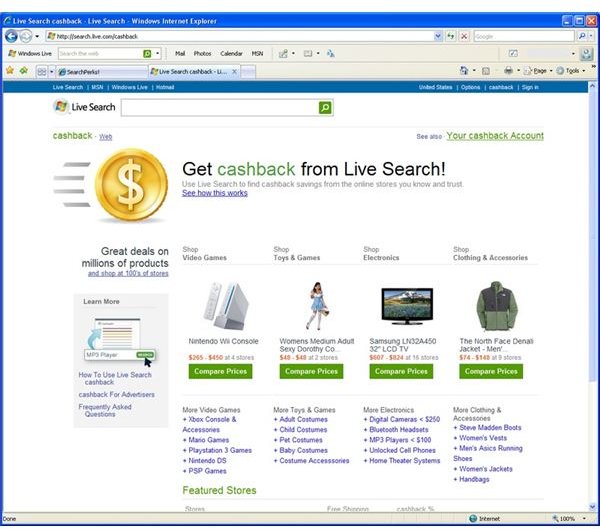 This post is part of the series: Microsoft Live Search
Microsoft has spent big money improving its search engine and company executives regularly talk up the company's search efforts. Everything you did (and something you didn't) want to know about Live Search